Can You Book an Online Notary in Miami?
How much time does the notarization process usually take? Getting your documents notarized can be an energy-draining nightmare!
What is the most convenient way to get your documents notarized with a notary in Miami? to get an answer to this question and book an appointment with a Miami notary in no time!
What Can a Notary in Miami Do?
A notary in Miami is authorized by the state of Florida to perform the following notarial acts:
Administer
Witness

The signing of:

Additional

legal documents

Certify

Safety deposit boxes contents

Verify

Vehicle identification numbers (VINs)

Take

Acknowledgments

Attest

Copies of documents

Perform

Wedding ceremonies
Once completing a notarial act, a notary public needs to provide a statement and finalize the process by placing the notary signature and stamp.
Is a Notary Public in Miami Expensive?
Some U.S. states regulate notary fees and set maximum amounts notaries public can charge for their services. Florida is one of these states, so a notary in Miami cannot charge more than:
$10 for jurats, affirmations, acknowledgments, copy certificates, or protests

$20 for verification of VINs

$25 for online notarization

$30 for wedding ceremonies
While these are maximum sums for notary services, a mobile notary in Miami will charge you additionally because he or she will have to come to the location of your choice. You may have to pay travel fees to compensate for the time, gas, and other expenses. Should you want mobile notaries to visit you late at night or during holidays, their fees will be even higher.
How To Choose a Notary in Miami
There are several types of notaries public in Miami to choose from:
, and we will connect you with an online notary in a matter of minutes!
DoNotPay Ensures Online Notary Services With Ease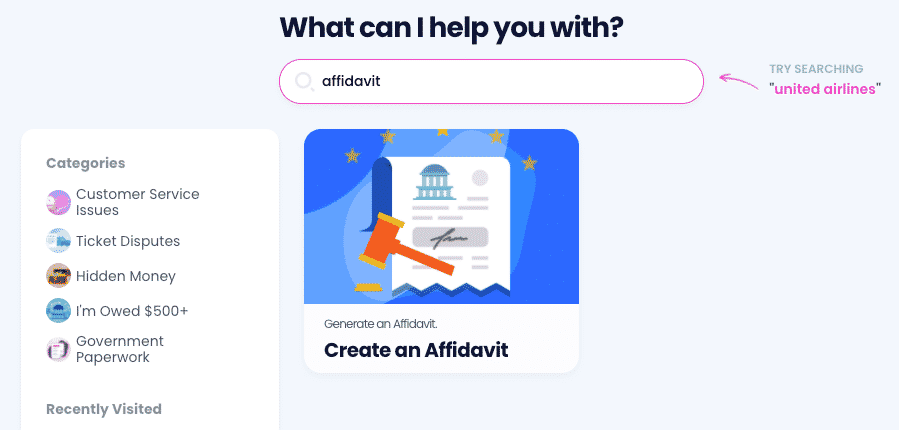 To avoid the tedious process of looking for, contacting, and visiting a notary public, you should choose DoNotPay's convenient remote virtual notarization.
We collect up-to-date data on online notaries public from different states and can easily connect you with one who works 24/7.
What should you do? and go through these quick steps:
Select our

Notarize Any Document

feature

Upload a document you want to have notarized

Enter your email address
That's it! We will email you a link you should follow to schedule an appointment. You can use our app from any U.S. state, including:
The beauty of our AI-driven app is that lots of features are integrated, so apart from being able to get your documents notarized, you can also prepare a contract or document for the notarization using our app.
Create Your Contracts Smoothly With DoNotPay
Creating a contract does not have to be a complex and costly process. If you do not possess the knowledge and do not want to turn to a lawyer for help, use DoNotPay's Standard Legal Documents feature to draft the necessary document.
Some of the contracts we can tailor to your needs include:
Bill of Sale

Promissory Note

Non-Compete Agreement

Quitclaim Deed

Independent Contractor Agreement

General Business Contract

Residential Lease Agreement

Estoppel Certificate

Intent To Purchase Real Estate

Operating Agreement

Prenuptial Agreement

Non-Disclosure Agreement
Where To Look for a Miami Notary
Miami or Florida notary search can be wearisome since you need to take some time to go through lots of information, websites, or places to pick a notary public to meet your needs.
While DoNotPay can connect you with a Miami notary smoothly, if you would like to try to find one by yourself, you can look:
Online

At nearby places
Use the Internet To Search for a (Mobile) Notary in Miami
You can browse through lots of websites to select a notary public, including the Florida Department of State, Notary Public Stamps, 123Notary, Yelp, or American Society of Notaries.
Search for a Notary Public in Miami in Public Places
Lots of public places employ notaries public so you can make an appointment with one there. Here are some businesses that might have a notary on their staff:
Banks

, including

Wells Fargo

and

Bank of America

Shipping companies, such as

UPS

Police departments

Real estate agents

Accountant offices

Insurance agents

Public libraries

Credit unions

Courthouses

Law offices

AAA

stores
How Else Can DoNotPay Help You Find and Save Cash?
Our Missing Money feature helps you find any unclaimed assets in your name in any state. An additional perk is that you can claim your money right in the app—no need for further research!
We can also make sure you don't pay for any unfair parking citations and get the rightful compensation from airlines for any canceled or delayed flight.
Don't let big companies scare you into not claiming your warranties or insurance. DoNotPay helps you file these claims and appeal any rejections in minutes, which brings you closer to getting your money.
We can also delay your bill payments, get your college fees waived, or sign you up for paid clinical trials to earn some extra cash!
DoNotPay Keeps the Spammers Away
Whether you're dealing with email spam, text scammers, robocalls, or severe harassment, DoNotPay can help.
Use our virtual credit card or the Burner Phone feature to sign up for free trials safely—without revealing your real info. DoNotPay will make sure that no company can reach you when you use our tools.
We provide a fake email address, credit card info, and phone number that are in no way connected to your real data.
We can also help you cancel services or request a refund without you having to contact the company directly.