Find a
Notary in Irvine
and Get Your Documents Notarized Without a Hassle
If you want to get a notary service in Irvine, California, you should be familiar with all available options. Getting documents notarized doesn't have to be a drag as long as you know how to finish the process as effortlessly as possible. 
We will walk you through the possibilities of getting a notary in Irvine and show you how to get any document notarized in the blink of an eye!
What Can You Expect From a
Notary Public in Irvine
?
A notary public in Irvine witnesses the signing of legal documents.  They fulfill their duty by confirming the signers':
A notary in Irvine notarizes a document by placing their signature and stamp on it. 
Except for notarizing wills, affidavits, powers of attorney, and other legal documents, notaries can: 
How Can I Get a Document Notarized in Person in Irvine?
You can get a document notarized in Irvine by visiting a local notary or hiring a mobile notary. Check out what each method entails in the table below:
In-Person Notarization Methods

Details

Potential Drawbacks

Visiting a local notary's office

This method requires you to:

Schedule an appointment

Head down to the notary's workplace with a document you want to get notarized and an ID document

Pay the fee

Sign the document in the presence of the notary

Collect the notarized document

Visiting a notary can be time-consuming and tiresome. Depending on the notary's availability, you may have to wait for days or weeks to get an appointment.

Forgetting your ID, signing the document before your appointment, or leaving blanks in the doc you want to get notarized can cause you to repeat the process from the beginning

Hiring a mobile notary

To use the mobile notary's services, you should:

Find a mobile notary

Call to schedule an appointment (they are

available 24/7

)

Meet the notary at the agreed time and place

Sign the document in their presence

Pay the

established fee

Get the notarized document

Mobile notaries can accommodate your schedule but at a higher price. Since they have to come to you, mobile notaries charge significantly for travel expenses
How To Find a Notary Public in Irvine
Finding notaries in Irvine doesn't have to be a chore. There are many online databases with information on the available notaries public in the area. Some of them even rank the notaries according to clients' experiences. The most popular websites are:
Can I Get a Document Notarized Online in Irvine?
Online notary services have revolutionized the notarization process. Many states allow permanent online notarization, and others have temporarily joined them due to the coronavirus outbreak. 
California currently forbids remote online notarization but strongly recommends using mobile notaries' services during the pandemic. If you consider mobile notaries too expensive, California does allow out-of-state online notarization—i.e., getting your documents notarized by a notary from a different state.
Online notarization is more practical and less time-consuming than other methods. It involves:
Scheduling the appointment online 

Signing the document in a virtual environment

Getting a notarized document with an electronic stamp and signature instantly
If online notarization sounds appealing, turn to DoNotPay and finish the process in a few clicks!
How Can DoNotPay Help Me Get My Documents Notarized Online?
If you subscribe to our app, we will connect you with an online notary in minutes. Here is how the process works:
Find our

Notarize any Document

feature

Upload the document

Enter your email address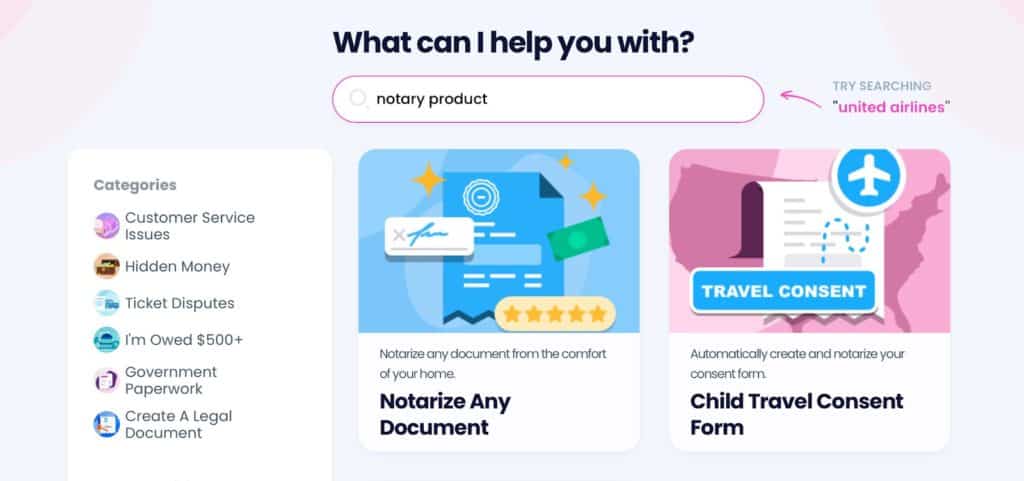 After you complete all the steps, we will email you a link. Follow that link to schedule an appointment with an online notary. You will e-sign the document on a video call at the scheduled time. The online notary will verify your signature and send the document back.
Using our app instead of any other comes with many perks. You can create, notarize, and fax legal documents from the same platform, which is bound to save you time and money.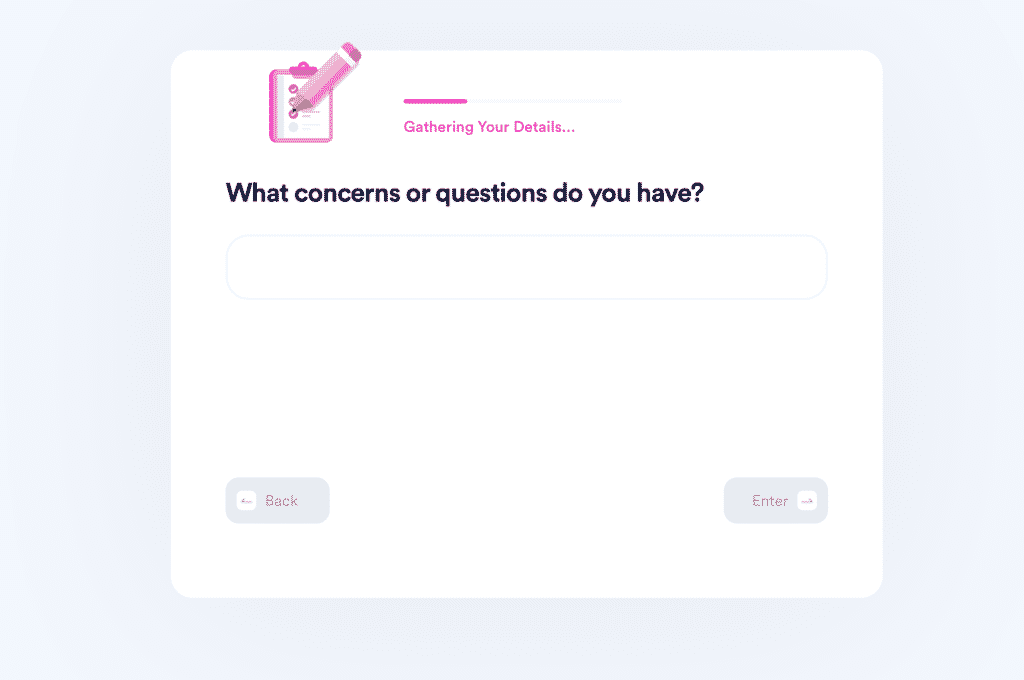 How Can I Create Legal Documents Using DoNotPay?
If you need to draft a legal document for personal or professional reasons, DoNotPay can help! We generate all kinds of business, real estate, and other contracts and agreements. Every agreement is tailor-made to fit individual needs and state-specific laws. 
To get your personalized contract, you only need to:
Find our

Standardized Legal Documents

feature

Choose the document you want us to generate

Answer some questions
Take a look at the various legal documents we can currently create for you:
DoNotPay Keeps Your Privacy Intact
DoNotPay can help you surf the web safely and securely. No need to provide your personal information to every company whose service you'd like to take for a test drive. Our Virtual Credit Card and Burner Phone products shield your data from prying eyes and dishonest merchants.
Feel like subscribing for a free trial? Make it truly free and avoid automatic membership renewals with our card. It can also help identify spammers and potential scammers who send bothersome robocalls and robo texts your way. As soon as they act on the virtual card number, DoNotPay will unmask them and demand compensation!
DoNotPay Can Help You Bring Any Business to Justice
Should a company refuse to grant you a refund or compensation, our app will help you take them to small claims court! 
We'll help you cancel the service in question to avoid any future charges, and we'll call their customer service so you can get info on your denied request. We'll draft the relevant court documents for your jurisdiction and give you instructions on filing them.
More Nifty Features That'll Make Your Day
You may not have breach of privacy issues or reasons to bring someone to court, but you surely have ample motivation to save or earn a few dollars here and there—especially if we catch you unawares!
DoNotPay can show you how to reclaim funds that you didn't know were under your name or make a denied warranty appeal to any company. We streamlined the processes of requesting refunds, college fee waivers, airline flight compensation, parking infraction dismissals, as well as applying to clinical trials that pay!