Get Documents Notarized Without Visiting a Notary in Huntington Beach
Most documents—including affidavits, living wills, power of attorney forms, and similar—require notarization to be legally binding. The standard notarization process is incredibly annoying, which is why everyone prefers booking a meeting with an online notary. 
As a Huntington Beach citizen, you're probably aware of the fact that California doesn't allow notaries to perform online notarization. Thankfully, you can get your documents notarized without visiting a notary in Huntington Beach, and our guide is here to provide the quickest solution. Subscribe to DoNotPay and connect with an online notary from another state in a jiffy!
Huntington Beach Notary Duties From A to Z
The following table shows which notarial acts notaries in California cities can perform and explains what each notary has to do during notarization:
Notaries in Huntington Beach Can:
Notaries in Huntington Beach Must:

Take

acknowledgments

Administer oaths and affirmations

Notarize copies of documents

Complete proofs of executions 

Certify immigration documents

Verify the signer's identity by asking for his or her ID

Examine all documents to ensure nothing's missing

Make sure the signer is of sane mind  

Perform the appropriate notarial act

Witness the signing 

Compose a notarial certificate and place his or her

signature

and stamp
Notaries are encouraged to refuse notarization in these situations:
The signer didn't show up 

The document is incomplete 

The signer forgot to bring a valid ID
Learn Where To Find a Notary in Huntington Beach
You can find a Huntington Beach notary by running your ZIP code through one of these websites:
Another option is to check if one of the following places employs notaries:
How Much Do You Have To Pay for Notary Services in CA?
California law dictates the maximum fee that notaries can charge for their services:
Notarial Act
Price Limit

Taking depositions

$30 per deposition + an additional $7 for administering oaths as well as $7 for the certificate

Other

notary services

$15
By law, notaries have to place their prices in a noticeable place in the office and on the website.
Mobile notaries can charge even more as they have the right to determine travel fees by themselves, as long as the total cost is reasonable. Should you decide to hire a mobile notary, he or she is obligated to disclose the total price before you choose to set up a meeting.
Most banks that employ notaries don't charge notary fees to their clients. To save some coins, you can check if your bank offers notary services and schedule a meeting there.
Types of Notary Services in California
As a California resident, you can have your documents notarized by:
Heading over to a standard notary's office

—A regular notary performs notarial acts in his or her office. In-person presence is mandatory

Visiting an electronic notary

—To have your digital document notarized, you have to appear before an e-notary in his or her office. The e-notarization procedure is the same as the traditional one, even though you will email your documents instead of bringing them

Hiring a mobile notary

—If you'd like to avoid going to a notary's office, you can hire a traveling notary who will come to you to perform a notarial act. You should consider this option only if you don't mind covering the fees for the notary's travel expenses
Can You Get Your Documents Notarized Remotely Even if You Live in CA?
The quickest and most practical way to have your documents notarized is by registering for an online notary platform. 
California residents have the right to hire an out-of-state remote notary. Bear in mind that not all states allow notaries to notarize documents of people who aren't residents of the same state. That's why it's important to do thorough research or rely on DoNotPay and allow us to find you a remote notary in a few minutes!
Explore the Most Practical Online Notary App—DoNotPay
If you're not sure how to find an available remote notary, DoNotPay has the most convenient solution. Our product will help you schedule a meeting with an online notary from Utah, Ohio, Hawaii, Virginia, Colorado, or any other state and get your contracts notarized in no time.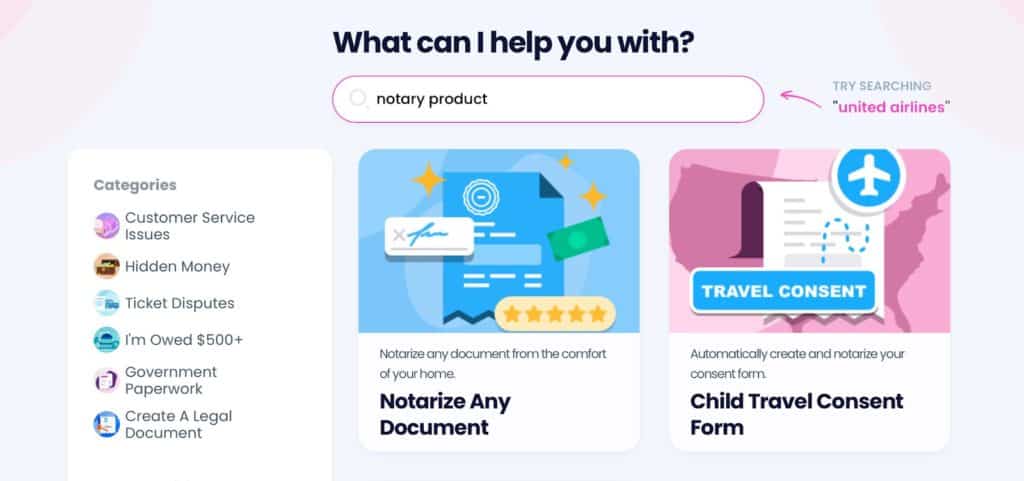 To handle your notarization stress-free, sign up for DoNotPay and follow these steps:
Choose our

Notarize Any Document

product

Upload your document and enter your email address

Open our email 

Click on the link to make an appointment
You'll get connected with a notary via an audio-video call so that he or she can verify your identity and witness your signature.
In case you are yet to draft the legal document that you need, DoNotPay can show you how to do it or write it for you! Our notarization product integrates with Legal Documents, allowing you to compose documents and get them notarized from the same app!
DoNotPay Has the Most Convenient Solution to Most of Your Problems
Whether you want to cancel subscriptions, request refunds for services, purchased items, or late delivery, or enjoy free trials without being charged, DoNotPay has a product for you. 
We strive to help you users solve their issues as quickly and effortlessly as possible. With us, you can enter various raffles and sweepstakes, claim warranties or insurance, report copyright infringement, and reduce your property taxes in less than five minutes. 
Protect Your Privacy With DoNotPay
Protecting your privacy can be challenging nowadays since most platforms require your phone number and email address upon registration. DoNotPay is here to ensure your personal info stays as secure as possible. Choose our Burner Phone product to register for services without phone verification or our virtual credit card if you want to use a randomly generated email address and payment details.
By using a fake phone number and email address, you can also avoid receiving annoying spam emails, text messages, and shady robocalls. DoNotPay can even make correspondence with inmates safer. If you don't feel comfortable sharing your address with an inmate, DoNotPay can receive the letters for you, scan them, and forward them to you risk-free.