Is Visiting a Notary in Gainesville a Smart Decision?
How can I notarize a document? Does online notarization work in Florida? What documents should I bring to a notary? These are some of the commonly asked notary-related questions, and this article will provide you with the answers to all of them and more!
Visiting a notary in Gainesville, Florida, can be bothersome for some people, so we offer you a quicker and easier solution—the online notary service. to get the most simplified and practical instructions for notarizing any document—all from the comfort of your couch!
Notary in Gainesville, FL
—How It Works
Deciding whether visiting a notary in Florida is the route you want to take may not be easy if you don't know what the process entails. We will explain how the traditional process works and what you need to do.
The standard notarization process in Florida requires everything to be done in person. You would have to:
Locate a notary office

—Search online for a notary office near you to find their address and contact number

Schedule an appointment with a notary

—Call the notary at the number you found and make an appointment to see them

Prepare all of the documents required for notarization

—Gather all the documents you need to notarize and put them in one place to avoid forgetting any of them (you will also need to bring a document that proves your identity)

Visit the notary in person

—You can't have anyone else bring the documents to the notary in your stead. You have to go to your appointment yourself, or the notary won't finish the process

Present the documents and a valid ID

—Give the notary your ID or any other proof of identity you brought with you

Sign the documents

—You will have to sign the documents while the notary witnesses the process

Pay the fees

—Once you sign your documents, you will pay a certain fee that a notary sets

Wait for the notary to perform notarial service

—The final step is for the notary to

sign the documents

and use an official stamp
If this is too much effort and you're looking for simpler ways to notarize your documents, you can always turn to the online notary service.
Gainesville Notary
—Online Notarization Explained
The online notary services weren't always legal in Florida. In 2019, the state authorized notaries to perform online services after completing all the training requirements.
You should be careful with the online service you choose. Not every service you find online will be reliable and valid, so you should research the platform you want to use to avoid any mishaps.
In case you find that to be tiresome and overbearing, we are happy to present you DoNotPay. While we can't vouch for other online platforms, we made sure that our app provides you with everything you could need to notarize your documents in only a few minutes.
What Documents Can I Notarize in Florida?
There is no shortage of documents you can get notarized. Some of the common ones that a notary public in Florida can notarize are:
Business Documents
Financial Documents
Legal Documents

Articles of incorporation

Memorandum of understanding documents

Vendor contracts

Commercial leases

Employment contracts

Construction agreements

Mortgage closing documents

Property deeds

Loan documents

Certain types of credit documents

Wills

Trusts

Advanced directives

Executorships

Court documents
DoNotPay Makes Notarizing Any Document a Cakewalk!
DoNotPay makes scheduling an appointment with a remote notary public in Florida super easy and undemanding! Why waste time researching when you can follow a few steps and finish the process stress-free? Here is how it works:
Pick the

Notarize Any Document

feature

Upload your documents

Provide your email address
You should use a link that we'll send to your email address to schedule an appointment with a remote notary. The notary will witness you signing the document via video and provide his or her signature along with the official stamp. Your online notarization journey ends there! The best part is that it takes only a few minutes, and you don't have to leave the comfort of your home or office for a visit to a notary!
Struggling With Writing Legal Documents? DoNotPay Will Do It For You!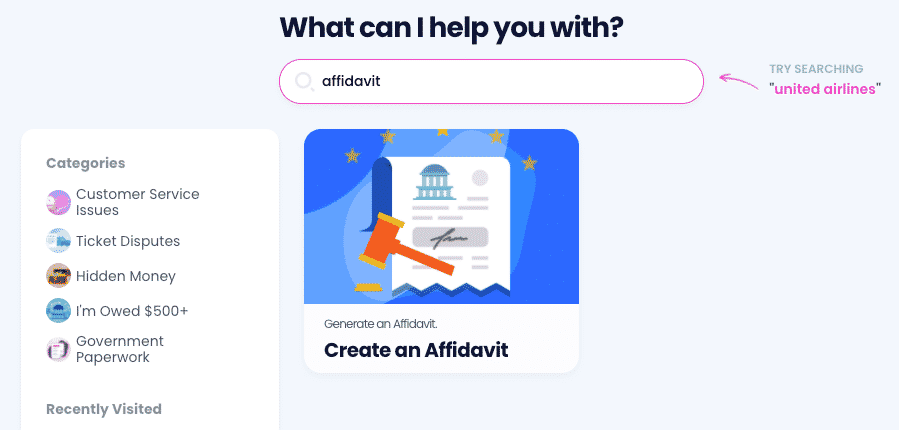 Helping you notarize legal documents and contracts isn't everything DoNotPay can do for you! We integrated two features so that you can both draft and notarize documents without having to struggle for a second! Once you , this is how you get it done:
Locate and tap the

Standardized Legal Documents

tool

Enter the name of the document you want us to draft

Answer a few questions about the document
We can draw up the following documents on your behalf:
Estoppel Certificate

Promissory Note

Residential Lease Agreement

General Affidavit

Prenuptial Agreement

Non-Compete Agreement

Quitclaim Deed

General Business Contract

LLC Operating Rules Document

Intent To Purchase Real Estate

Independent Contractor Agreement

Non-Disclosure Agreement

Bill of Sale

Parenting Plan (Child Custody)
DoNotPay Helps You Claim Your Money
Our virtual assistant app makes sure you get back funds that are rightfully yours.
Whether you need to claim insurance, warranties, or your property held by the state, we will help you do it in minutes.
DoNotPay can also help you initiate a chargeback on any transaction you disagree with. We can help you secure compensation from airlines, robocall and text scammers, or in case you've been a victim of a crime.
In case you are dealing with an unfair company regarding your subscription cancellation or any other matter, we can help you get your money back by suing them in small claims court.
Bypass the Administration With DoNotPay
There's no more need for extensive research, abundant paperwork, or endless phone calls with customer service reps.
DoNotPay brings the administrative nonsense to a minimum.
Book DMV appointments fast and easy, appeal your parking citations, sign up for free trials without disclosing your credit card info or phone number, or reach your loved ones in jail—all in less than five minutes.
We also generate any legal document, provide full access to public records, offer DMCA protection, and reduce your property taxes with a few clicks.