Can You Notarize Your Contracts Without Visiting a Notary in Fremont?
Are you interested in learning how to notarize any document in Californian cities without burdensome and time-consuming procedures? Use this article to get the best advice on finding a notary in Fremont and validating your contracts, car titles, or will in a flash with DoNotPay!
How To Find a
Notary Public in Fremont
Finding a convenient notary in Fremont is the first and most complicated step of the notarization procedure. Some ways to do it include:
Googling

Fremont notaries near me

Using online searching tools and platforms, such as

Notary.net

or

Notary Cafe

—all you need to do is enter Fremont as your location or your zip code

Searching for notary offices in:
When searching, you should consider factors such as fees, certification, experience, etc.
What Notary Options Are Available in Fremont?
Not all notaries do their job the same way. If you want to notarize your legal document in Fremont, you can choose between several available options:
Standard notaries

—They work independently or in offices within some financial institutions

Mobile notaries

—These officials come to your address, workplace, or any other location to notarize your documents
California is on the list of states that still don't approve online notary services except out-of-state remote online notarization. This option enables Californians to have the signatures on their legal documents validated by online notaries from other U.S. states. The law may change due to the COVID-19 pandemic—you should check updates regularly to keep up with the latest information.
What Does Notarization Look Like in Fremont?
Here's a table showing all the phases you must go through to notarize your document in Fremont:
Steps

Details

Find a notary

Use all available channels to find the most convenient option for you

Schedule an appointment with the chosen notary

Pick the most convenient date and time for your meeting

Have your document checked

The notary will revise your document to ensure:

Your document doesn't contain blank spaces

The signature date comes before the date of the notarization

They can refuse to notarize it if they notice any discrepancies or inaccurate details

Provide an identification document

You must bring one of the following documents to prove your identity:

ID

Driver's license

U.S. passport

Inmate identification card

Military identification card

Sign your legal document

The notary will ask you if you are acting independently. This isn't a mandatory step, but it's recommendable. After that, you must sign the document in front of the notary. Once you do it, they will add their

signature

and seal to make your document legally binding

Let the notary complete a journal entry

The official will write key information in their notary journal. These details include:

Notarization type

Document that needs notarization

Identification document provided by the signer
DoNotPay Makes Notarization Simple
Finding a notary and scheduling a meeting isn't easy. It takes a lot of time and research, and you usually must visit a notary public in person. Online notary apps are more convenient, but they require too much money to validate a single document. That's why we created an affordable tool that helps you notarize any document from the comfort of your home!
To use this feature, proceed as follows:
in your web browser

Choose the

Notarize Any Document

section

Attach a digital copy of the document you want to notarize

Enter your email address
Once we receive your document, we will send you a link to book a virtual meeting with a notary who will verify your identity and signature through a video call.
Our notary service can validate your documents if you live in Indiana, Arizona, Michigan, Pennsylvania, Oklahoma, Kentucky, Maryland, Texas, Florida, or any other part of the USA that approves online notarization. Since Californian laws may change due to the pandemic, make sure to check if the service is possible at the moment you need your documents notarized.
Besides that, our learning center offers handy guides and answers questions such as:
Draw Up the Best Contracts Fast and Easily With DoNotPay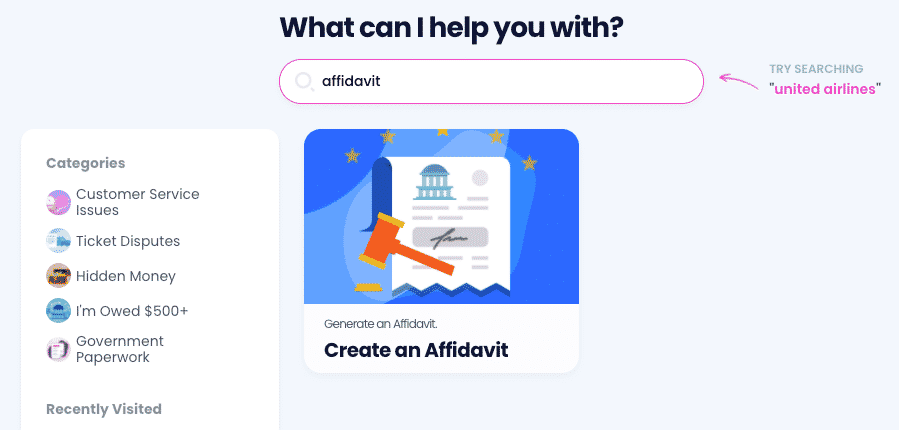 Not only do we help you notarize your legal documents, but we also create them for you! DoNotPay's Standard Legal Documents tool uses your information to generate personalized contracts fast and easily. Here's how to use this service:
in any web browser

Enter the name of the desired document in the search box

Complete a brief questionnaire to help us create your contract
We have also integrated this feature with our Notarize Any Document tool so that you can notarize your documents right after you create them. Here's the list of available customizable templates we offer:
General Business Contract

Parenting Plan (Child Custody Agreement)

Promissory Note

Residential Lease Agreement

LLC Operating Agreement

Child Care Authorization Form

Non-Compete Agreement

Quitclaim Deed

Independent Contractor Agreement

Non-Disclosure Agreement

Prenuptial Agreement

Estoppel Certificate

General Affidavit

Intent To Purchase Real Estate

Bill of Sale
We prepared many guides to educate you on other common contracts, such as:
Condominium Lease Agreement

Listing Agreement

Basic Rental Agreement

Cohabitation Agreement

Separation Agreement

Partnership Agreement

Buyout Agreement

Settlement Agreement

Indemnification Agreement
Need Help Fighting Bureaucracy? Use DoNotPay!
As the world's first robot lawyer, DoNotPay can help you resolve a plethora of tedious administrative issues. Our app will assist you in getting justice in small claims court, getting refunds from merchants, reporting annoying spam emails and text messages, reporting copyright infringement, bypassing phone number verification, and so much more!
You can also rely on DoNotPay's help when it comes to subscriptions. If you want to sign up for a free trial, cancel a service you no longer use, and skip the phone queue when doing so, our app will provide its assistance.
Our App Saves You Time and Money
Are you unable to pay your bills? Use the world's first robot lawyer app to cover them! Do you want to appeal your traffic or parking tickets? DoNotPay will help you appeal them in the blink of an eye.
Our app can do so much more than that, though—with DoNotPay by your side, you can sign up for clinical trials, ace government tests, claim any type of warranty, schedule an appointment with the DMV, and handle any other bureaucratic task.