Get a
Notary During COVID
With DoNotPay
Many documents cannot become legally binding unless they get notarized. Getting a notary signature in regular circumstances was a lengthy and tiresome process. The COVID outbreak forced state institutions to create faster, more practical ways of handling legal issues, including notarizing documents. 
If you need a way to get to a notary during COVID, we are at your service! DoNotPay will explain the easiest way to validate any contract with minimal health risks!
How Does the COVID Outbreak Influence Notarization Process?
Notarizing typically involves appearing in front of a notary to prove your identity and sign a document in person. Since the coronavirus outbreak, states have started to look for other solutions.
Many state governments adopted remote online notarization (RON) a long time ago. Those states include Ohio, Utah, Texas, Nevada, Florida, Virginia, Kentucky, Michigan, Montana, Minnesota, Tennessee, Washington, and Wisconsin. Faced with the pandemic, other states have started to catch up fast. They have been creating laws or enforcing temporary measures to allow notarizing documents online.
The federal government is considering passing a national law to make online notarization a legitimate option. Until that happens, you should check if your state of residence currently allows that possibility.
How To Get Something Notarized During COVID
Notarization requirements differ by state. Some states have a permanent RON authorization, but only for specific documents. Others granted temporary permission to validate documents online due to the COVID pandemic.
You can check out how the process typically works in the table below:
Steps for Notarizing Documents Online
Details

Find a notary that performs RON

Depending on the type of document you want to validate, you should:

Ask a person you are making a contract with (a real-estate agent, a lawyer) to help you

Look for a list of approved vendors on your secretary of state's website

Use an online authorization service that will connect you to a virtual notary service

Verify your identity

Most online notaries or

notary services

will ask you to provide a photo ID or perform a more thorough identification process with multiple-choice questions

Sign the document in front of a notary

Depending on the state, you will have to e-sign or sign the document on paper in wet ink while the notary watches

Complete the process

The notary adds the electronic

signature

and a seal or performs a wet ink notarization to complete the process
Notarize Any Document With DoNotPay Easily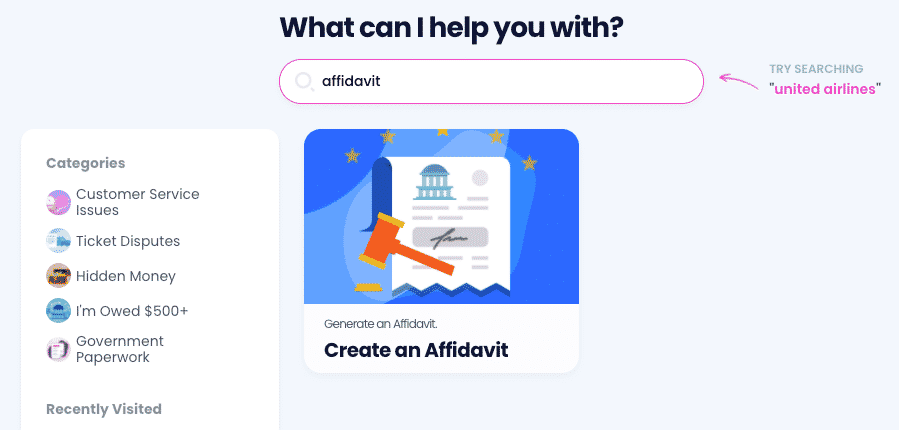 DoNotPay has the perfect solution to accommodate COVID-related notarization issues. You won't have to risk your health because we will arrange everything for you!
We only need a few details from you before scheduling an appointment with the notary.
The procedure is simple and goes like this:
Access DoNotPay from a

web browser

Type in

Notarize Any Document

in the search field

Upload the document you want notarized 

Provide your email address

Wait for a link that you can use to confirm your appointment with the notary
During your appointment, the notary will witness and sign the document remotely. You will be able to seal the deal without leaving your house!
That is not all DoNotPay can do for you! Our Standardized Legal Documents feature allows you to create various contracts. You can both generate and notarize legal documents via our app!
Take a look at some of the contracts you can create and notarize with our help:
Quitclaim Deed

Promissory Note

General Affidavit 

Estoppel Certificate

Intent To Purchase Real Estate

Residential

Lease Agreement

General Business Contract
What Other Notary Issues Can We Solve for You?
If you have more questions about notarizing documents, access our learning center and find out:
More Creative Ways To Get to a
Notary During Coronavirus
Not everyone has access to online notary services. Sometimes you have to be creative and find alternative ways of validating contracts. Many notaries use windows, cellphones, and doors as a way of maintaining social distance while witnessing document signing. 
Some notaries meet their clients in parking lots and watch them sign documents through windshields. After signing, they exchange the contract by placing it on the hood of the car.
Other notaries will drop the document on the signer's front porch. After the individual signs it, they will pick up the document from the porch to review it and complete the process. 
DoNotPay Keeps Your Privacy Intact
DoNotPay can help you surf the web safely and securely. No need to provide your personal information to every company whose service you'd like to take for a test drive. Our Virtual Credit Card and Burner Phone products shield your data from prying eyes and dishonest merchants.
Feel like subscribing for a free trial? Make it truly free and avoid automatic membership renewals with our card. It can also help identify spammers and potential scammers who send bothersome robocalls and robo texts your way. As soon as they act on the virtual card number, DoNotPay will unmask them and demand compensation!
DoNotPay Can Help You Bring Any Business to Justice
Should a company refuse to grant you a refund or compensation, our app will help you take them to small claims court! 
We'll help you cancel the service in question to avoid any future charges, and we'll call their customer service so you can get info on your denied request. We'll draft the relevant court documents for your jurisdiction and give you instructions on filing them.
More Nifty Features That'll Make Your Day
You may not have breach of privacy issues or reasons to bring someone to court, but you surely have ample motivation to save or earn a few dollars here and there—especially if we catch you unawares!
DoNotPay can show you how to reclaim funds that you didn't know were under your name or make a denied warranty appeal to any company. We streamlined the processes of requesting refunds, college fee waivers, airline flight compensation, parking infraction dismissals, as well as applying to clinical trials that pay!