Scheduling a Meeting With a Notary in Chicago—a Guide
Is getting your documents notarized proving to be a difficult and overbearing task? Are you tired of trying to figure out what number to call and where to find a notary in Chicago, Illinois? You can let DoNotPay schedule an appointment for you!
Sign up for DoNotPay and use our nifty features to get documents notarized online from any place and at any time!
How Does Notarization in Chicago Work?
The conventional notarization process with a notary in Illinois requires you to do everything in person. To understand how it works, check out the details in the table below:
What To Do
How It Works

Find a notary

You can

locate a notary

using various methods, such as:

Pick one option to find a notary, and schedule a meeting with them

Bring your documents and your ID

Gather the documents you plan to notarize and have your ID with you. You won't be able to finish the process without proof of your identity

Sign the documents

Go to your appointment and present the documents to the notary. He or she will ask you for your ID, and you'll proceed to sign the papers

Pay the fee

After you sign the documents, you will have to pay a fee that the notary sets for you

Have the notary sign and stamp the document

The final step is for the notary to

sign

the document and stamp it using an official stamp
What Documents Can a Notary in Chicago Notarize?
Various documents get notarized in the U.S., including real estate deeds, affidavits, employment contracts, wills, loan documents, trusts, and more. If you are wondering what additional documents a Chicago notary can notarize, check out the list below:
Quitclaim deeds

Deeds

Releases and waivers

Certificates of authorship

Certificates of identity

Plea forms

Rental agreements

Grant deeds

Compliance agreements

Demand letters
Is Visiting a Notary Public in Chicago My Only Option?
You don't have to take the trouble of visiting a notary to get documents notarized—there is a much more convenient option! It will take less time, effort, and money, and you won't have to do anything in person! Using our online notary service, you will be able to schedule your meeting with a remote notary and finish the whole process in only a few minutes!
DoNotPay Helps You Get Docs Notarized Online in a Few Minutes!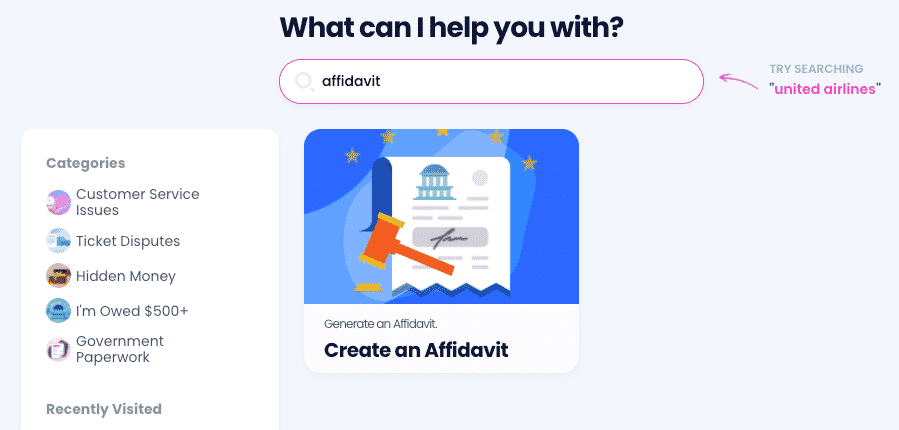 Since the inconvenience of visiting a notary can be enough to encourage anyone's procrastinating tendencies, we present you with the Notarize Any Document feature that lets you make an appointment with a remote notary in no time. Figuring out how to write and have contracts notarized becomes a thing of the past once you subscribe to DoNotPay! Complete the following instructions to schedule your virtual appointment hassle-free:
Open DoNotPay

Pick the

Notarize Any Document

feature

Provide all of the documents you want to get notarized

Give us your email address
We will use the email address you provided to send you a link. Once you receive the link, click on it, and you can schedule your appointment with a remote notary.
DoNotPay Can Also Draw Up Documents for You!
Other than using our app for reaching online notary services, you can use it to draft documents and contracts effortlessly! You provide us with the necessary info, and we use it to draw them up!
These are some of the contracts we can draft for you:
Intents To Purchase Real Estate

Estoppel Certificates

Quitclaim Deeds

General Affidavits

Promissory Notes
Once we generate your document, you'll be able to download it or print it!
What Else Should I Know About Notary Services?
We are here to clear up any confusion you may have about notary services! If you're not entirely sure what a notary does or you're struggling to find one, we can help you out! Find all the info about the online, mobile, and electronic notary service, and decide which one suits your needs the best.
Other than that, we can also answer the commonly asked questions, such as:
Get Back at Greedy Corporations With DoNotPay
How many times have you tried reaching out to an airline regarding your canceled flight? Did you ever spend hours trying to contact customer service reps only to be refused your refund request?
Big companies tend to make certain processes complicated for their customer in hopes they would give up on pursuing their goals.
This is why your warranty claims often get denied the first time or why canceling a gym membership can be an administrative hell.
Our AI-powered app is here to help you sort these problems out.
Whether you're trying to file an insurance claim, schedule your driving test, start a free trial without disclosing your payment info or a phone number, or get access to public records, we've got you covered.
DoNotPay Is the Virtual Assistant You Need
DoNotPay is the first robot lawyer in the world created to simplify complex tasks. We can help you with anything from appealing your parking citations to filing lawsuits in small claims court.
In case you need to save up some money, our app will show you how to get an extension on your bill payments, sign up for paid clinical trials, or avoid paying your college application fees.
DoNotPay can also report robocallers, text spammers, and email phishing attempts, and real-life stalkers with a few clicks.