Notary in Burbank—Hassle-Free, Remote Document Notarization
Document notarization is regarded as a difficult and draining process in the United States. Even though people make a big fuss out of it, getting a notary signature doesn't have to be so complicated. If you need a notary in Burbank or anywhere else in the U.S., we have a solution for you.
DoNotPay lets you create legal documents in under five minutes first and then helps you get them notarized. We offer an online notary service you'll wish you discovered sooner!
Why Is Notarization Important?
Notarization is often required by law, and even when it isn't, getting your documents notarized won't do any harm. The most common documents that require a notary's stamp and signature are:
A notary service confirms the authenticity of signatures on these documents for a certain fee. The person that carries out the notarization is a notary public. It is a neutral party, an impartial witness to the document signing. The main objective of a notary public is to prevent fraud.
The duties of a notary include:
Confirming the identity of the signees

Making sure no coercion is at play

Ensuring both parties understand what they're signing

Witnessing the signatures

Officiating documents with their signature
Appointments with notaries can take hours of your life, and they can cost a fortune.
Issues With Traditional Notarization in Burbank
You can easily find a notary public in Burbank—there are hundreds of them. Notarization in person involves a lot of steps, besides finding a notary, and that's why it's complicated. To deal with this task, you:
Need to schedule a meeting

Must not forget your ID

Must have the document ready either by bringing it or emailing the notary

Have to confirm that you understand the document you're signing and that you're signing it out of free volition

Need to sign the document and pay the notary
When you carry out those steps, the notary will provide their signature, stamp, and statement. This process is heavily time-consuming, which is why you should opt for an online notary.
Online Notarization in Burbank
California law doesn't authorize remote online notarization by California notaries. It allows out-of-state remote notarization, though. If you find a notary in Nevada, for example, you can get your documents notarized online without hassle. DoNotPay can match you with an out-of-state notary in a snap!
Use DoNotPay for Streamlined Document Notarization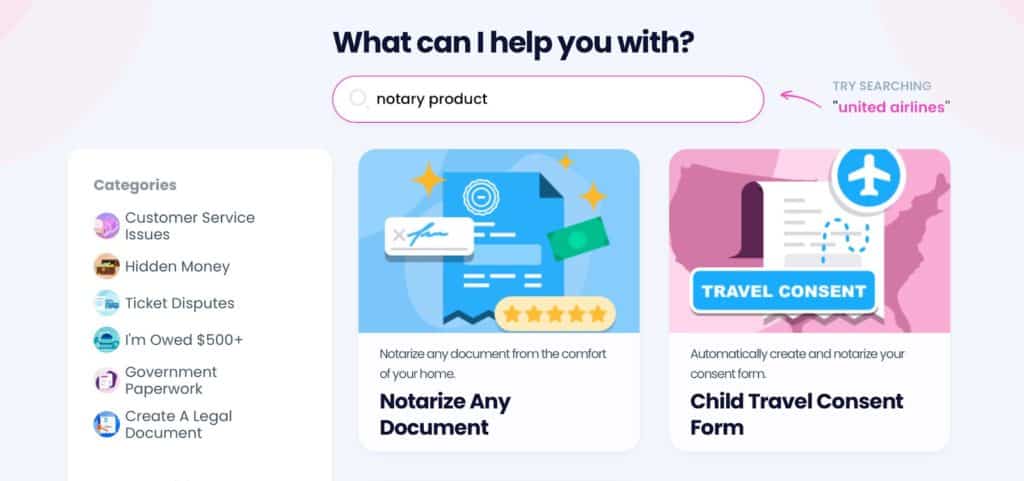 DoNotPay is all about making otherwise complicated bureaucracy easy. One of the great advantages of online notarization is skipping the tediousness of visiting a notary in person.
With DoNotPay, notarization can be done in three steps, whether you're from Burbank or any other place in the U.S. These three steps are:
Selecting the

Notarize Any Document

product

Uploading the document for notarization and entering your email address
Once you complete these three steps, you will be able to set up a virtual notary meeting in a snap. You can schedule this meeting at your convenience and be done with notarization before you know it.
How To Find Notary Services in Burbank Yourself
If you have time to spare, you can look for notaries in Burbank on your own. Here are some websites to get you started:
Besides searching for notaries in Burbank online, you should know that banks, libraries, law offices, AAA stores, UPS stores, credit unions, and real estate agencies often employ notaries. Be aware that most of them don't provide notary services if you're not a client.
Note that this manual method of finding notaries may take a while. It can cost you more, and it is not as efficient as getting your document notarized online.
How Much Does Document Notarization Cost in Burbank?
Document notarization prices can vary a lot. Some notary services offer cheap notarization, but they are a minority. In Burbank, notarization can cost you anywhere between $15 and $50 per document.
The gap is huge, but it may depend on the document type, the responsibilities of a notary public, additional signings, etc.
It would be a good idea to call ahead to ask about the notary fees and schedule a meeting if you're interested. Note that waiting in lines when going to a notary in person can take forever, so money is not the only cost—you're also sacrificing your precious time.
Create a Legal Doc and Have It Notarized at Once!
Need help drawing up legal documents? No problem—DoNotPay can do that too. With the help of our AI-driven app, you won't have to learn how to write a contract. DoNotPay will create any legal document in your stead! Our Notarize Any Document product is integrated with the Legal Documents one, so you can kill two birds with one stone.
Here are some of the documents you can draw up if you :
Document Category

Document Selection

Business Documents

Bill of Sale

Non-Compete Agreement

Non-Disclosure Agreement

General Business Contract

LLC Operating Agreement

Independent Contractor Agreement

Other Documents

Quitclaim Deed

Prenuptial Agreement

Estoppel Certificate

Residential Lease Agreement

General Affidavit

Intent To Purchase Real Estate

Parenting Plan (Child Custody Agreement)

Promissory Note
Your Online Safety Is Our Priority
The benefits of the internet are numerous, but so are the opportunities for scams of all kinds. DoNotPay can help you fight scammers left and right with easy-to-use features, highly customizable to match your needs.
Our app can provide invaluable resources for fighting:
If you're an avid online shopper, we have your back. In case something goes wrong, we will help you contact customer service without holding, request a refund, or even sue the company in small claims court.
Diversity Is Our Middle Name
DoNotPay doesn't stop at online safety. Do you need to set up an appointment at the local DMV, but keep procrastinating because you know how awful the lines are? Are you a prospective college student trying to save on application fees? Have you lost track of all unnecessary subscriptions and memberships that keep draining your bank account?
If the answer is yes, DoNotPay is the right platform for you. Whether you're preparing for government-issued tests or looking for ways to lower your bills, our app will be of assistance.