The Scoop on the
Northampton County, PA, Tax Assessment Property Search
Property owners in Pennsylvania should learn more about property taxes and ways to lower their tax bills. If you live in Northampton County, PA, tax assessment property search is one of the points that could lead you to file a property tax appeal. DoNotPay has the info you need to successfully lower your property tax in the Coal State.
What You Need To Know About the Northampton County, PA, Property Tax Assessment
In Northampton County, the Assessment division is the institution responsible for the certification of tax rolls for real property in county, school, and municipal districts. The assessments are performed every year. 
The tax assessor will evaluate your property by looking at multiple factors, such as its:
Condition

Location

Size

Age
In simplified terms, the assessor will then multiply the assessed value of your residence by the tax rate and get the total that you see on your tax bill.
Property assessment reports are public information, and in this case, being a nosy neighbor can pay off. If you and Joe from down the street have similar houses but pay different taxes, it might be time to do some digging. 
How To Perform a Tax Assessment Property Search in Northampton County
If you are looking for the property tax assessment values of neighboring properties in Northampton County, you can perform a search online. You will need to take these steps:
Visit the

Northampton County's official website

Click on

Property Records

Type in the street name and number

Select a direction

Choose if you want to sort your search by:

Click on

Search
In case you find significantly different assessment results for properties similar to your own, you have the right to file a property tax appeal. The easiest way to do so is with DoNotPay's help.
File a Property Tax Appeal in Northampton County With DoNotPay
There are several scenarios when you should think about filing a property tax appeal. It could be that your property's assessed value is way higher than it was last year. Other times you might notice that the tax assessor evaluated some of your property twice. Whatever the reason, it all boils down to you having to pay higher property taxes because of it.
To learn more about how to deal with property tax appeals in Northampton County, you can turn to DoNotPay for a custom-made guide on property tax reductions in your area. You only need to follow these simple instructions:
Sign up for DoNotPay

in a web browser you prefer

Scroll down to the

Property Tax

product

Answer some questions about your property
Once you complete these easy steps, you will get a guide on property tax appeals made just for you! You will be able to access the tips for negotiating with the assessor and neat tricks on beating them in their own game. 
The same guide will tell you about the necessary evidence that you need to collect to reduce the assessed value. With all that info, you can expect a property tax appeal hearing to go smoothly.
You should also consider consulting DoNotPay for help with finding out if you qualify for property tax exemptions in Northampton County.
DoNotPay's Guide on Property Tax Exemptions in Northampton County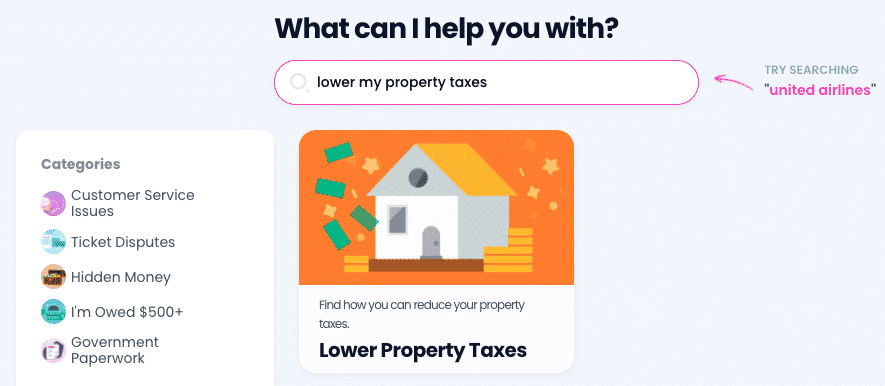 Another great way of lowering property taxes is looking and applying for property tax exemptions available in your state. These exemptions exist to help the people struggling to pay their property tax bills. If you are a veteran, widow(er), or a senior citizen, you will probably be eligible for this type of tax relief.
Finding out if you meet the requirements for a property tax exemption can be more difficult than expected. If you want to get a direct answer, you should use DoNotPay! You only need to:
Open our

Lower Property Taxes

feature

Answer several questions about the property you own
The PDF guide you'll receive will be a great tool for understanding what property tax exemptions you qualify for. If there is a match, DoNotPay has the info you'll need to start and complete the application process.
What Property Tax Exemptions Are Available in Northampton County?
The citizens of Northampton County, PA, can count on these property tax relief options:
Homestead Exclusion

Veterans' Exemption

KOEZ (Keystone Opportunity Expansion Zone) and KOZ (Keystone Opportunity Zone)
Can You Reduce Your Property Taxes Any Other Way?
You can lower your property taxes in a few other ways. These include:
Checking your property tax bill for mistakes

Following the tax assessor around the property while they are making an evaluation

Skipping home improvements before the assessment takes place

Moving to a

state with low property taxes
The last method may seem bold, but if you already considered moving away, you should keep in mind states' property tax rates. You wouldn't want to move to New Jersey (2.42%), for example. States like Arizona (0.62%) or Tennessee (0.61%) seem like much better options!
Keep Your Money in Your Pocket and Save Time
With our assistance, you can also appeal parking tickets in any city, get help with bills, make an appointment with the DMV, protect your copyright, and avoid phone number verification!
If you feel like you were wronged either by a faulty product or a delayed or canceled flight, DoNotPay will also help you request a refund from any company or airline hassle-free.
Being on a tight budget isn't easy—knowing that, we've developed features that will get you free trials, unclaimed money, extended warranties, college application fee waivers, and so much more!
Fend Off Scammers With DoNotPay's Help
Are you sick of having a cluttered inbox or getting robocalls? So are the majority of Americans. If you want to get rid of email spam, text message spam, or annoying robocalls, DoNotPay can help you put a stop to them once and for all.
Do you feel like serving justice to companies that wronged you or stalkers and harassers that won't give you a break? Use our AI-driven app to fight for your right!