How North Dakota Jury Duty Works
Confused by the prospect of North Dakota jury duty? Serving as a juror can be a complicated undertaking.
You need to show up at the right time and place, follow the dress code, and fully engage in this foundational component of the American justice system. Understanding how jury duty works is your first step in preparing for your time in court.
This article will guide you through the details of jury duty. Sign up for DoNotPay to make the process a little easier. Our AI-powered robot lawyer offers a product designed specifically to assist with your time off request at work.
What You Need To Know About North Dakota Jury Duty
Prospective jurors are chosen in a random draw of eligible Americans. State laws dictate that a juror:
Must be of legal age (18+)
Must be a North Dakota citizen
Has to be a resident of the county in which the trial will occur
Needs to be fluent in English
Needs to be able to serve (in terms of physically and mentally faculties)
Must not have been convicted of any felonies or offenses that limit civil rights
Jury duty can last up to ten days, depending on the scale and complexity of the case. The first day is devoted to the jury selection process, in which jurors answer questions to determine whether they are biased against anyone involved in the case.
You have to do jury duty once every two years at most, provided you have served as a juror within that time frame. If you are summoned more often than that, it is because you were not previously selected to serve on a jury.
Do You Get Paid for Jury Duty?
Yes—North Dakota offers daily compensation for jurors. Juror wages vary from state to state, providing $7.50–$60 per day. The rate and reimbursements to which North Dakota jurors are entitled to depend on the type of court:
Do You Have To Do North Dakota Jury Duty?
Not necessarily—North Dakota offers exemptions for prospective jurors with a disability that prevents them from serving effectively.
North Dakota does not recognize other commonly used grounds for exemption, such as being a:
Student
Teacher
Law enforcement member
Elected official
Active military member
While North Dakota has no official policy for excusing elderly prospective jurors, you can apply for an exemption in one of two ways:
Noting your age in your juror questionnaire on eJuror
Speaking to the County Clerk office directly
What if You're Not Exempt From North Dakota Jury Duty?
Don't risk skipping jury duty because you need to work. North Dakota laws entitle citizens to unpaid leave from their jobs while they serve as jurors.
Give your boss as much notice as possible about your upcoming absence. Employers cannot fire employees because of court duty. If the court is canceled for the day, you may have to return to work, depending on the arrangement you have with your employer.
Can't Ask Your Boss for Time Off? DoNotPay Takes the Stress Out of the Process
Asking for time off isn't easy—are you unsure of how to broach the topic with your boss? DoNotPay has the Request Jury Duty Leave product that expedites the process for you.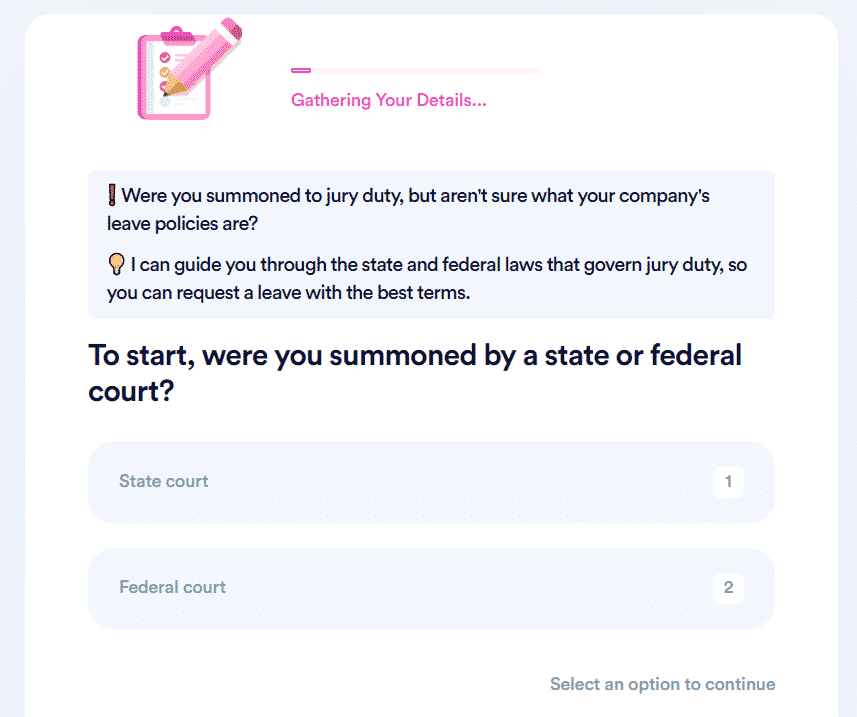 Here is how it works:
Select the Request Jury Duty Leave product
Tell us about your job and the particulars of your jury duty
Upload a photo of your summons document for verification
Once those steps are taken care of, you can download a copy of the letter and give it to your boss independently. Alternatively, we can send it to your manager on your behalf.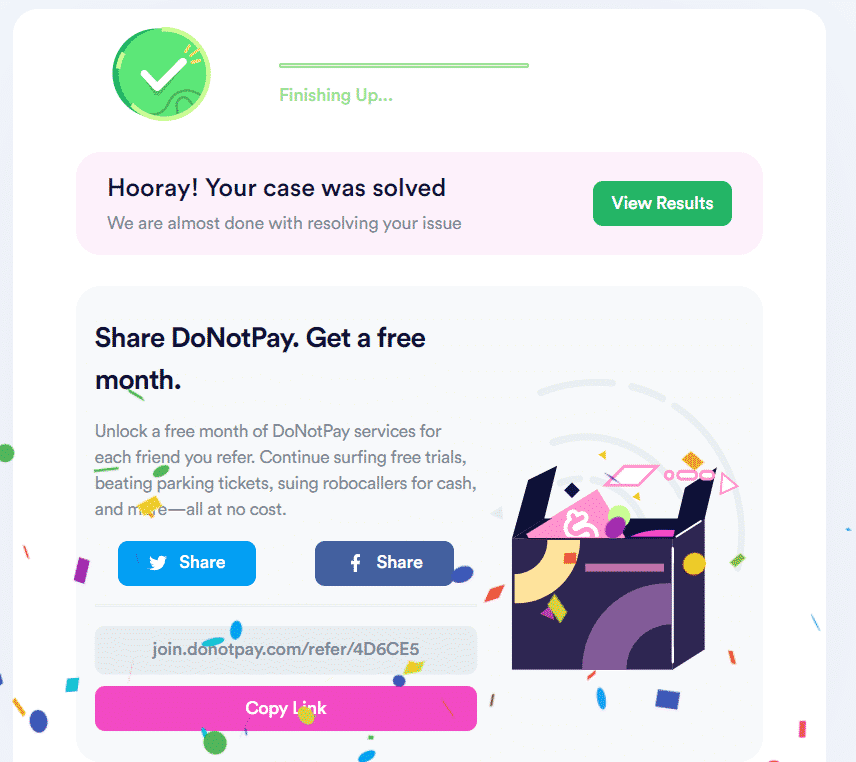 Put Greedy Companies in Their Place
If being on hold with customer service and requesting refunds and cancellations is your idea of the worst nightmare, we come to the rescue!
When you create a DoNotPay account, you'll be able to do the following with ease:
If worse comes to worst, we can guide you through suing any company in small claims court.
Use DoNotPay To Resolve Numerous Issues
The number of products we offer keeps growing. From simple chores to bureaucratic tasks and serious issues, there's not much DoNotPay won't be able to handle in a few clicks.
Would you like to search for unclaimed money you may not know about? Are you trying to save your work from copyright violations? Do you want to contact government representatives? Once you have a DoNotPay account, you will get everything done in a flash.
Even if you are a victim of stalking or harassment, violent crimes, or workplace discrimination, we can help you out! DoNotPay can also perform a sex offender search in your area and give you weekly updates.
If robocalls and spam are what's bothering you, our app will free you from such annoyances for good. Whether the spam is coming via email or text, we'll know what to do.