The Ins and Outs of North Carolina Jury Duty
As a civic obligation, North Carolina jury duty is something you must do from time to time. It's the system by which the courts ensure a fair trial for all American citizens.
Regardless of the critical role it plays in our society, jury duty can be tedious to manage. You should prepare for your time in court by finding out what is expected of you and what you're entitled to as a juror.
This guide will explore the many aspects of jury duty, and if you sign up for DoNotPay, we can help you with one of the more frustrating tasks involved—asking your boss for time off.
How Were You Chosen for North Carolina Jury Duty?
Jurors are randomly drawn from a pool of eligible citizens, who must be:
County residents
Of legal age (18+)
Pardoned of any felony convictions
Able to speak and write English
Competent both physically and mentally
Of sound mind
NC Jury Duty Laws
As a prospective juror, there are a few critical rules you should know about:
Your legal obligations
Your employer's legal obligations
Your Legal Obligations
You must show up in the specific court as detailed in your summons letter. Failing to appear in court will result in a $50 fine.
On your first day, you will submit to a series of questions in the jury selection process. If the court, prosecution, or defense believes you are biased against any party involved in the case, you will be excused.
If selected, you will serve an average of one to five days. During this time, you will hear evidence related to the case. On the last day, you and your fellow jurors will deliver a verdict.
Your Employer's Legal Obligations
You are not exempt from jury duty because of your job—employers are required to provide unpaid time off.
North Carolina state law ensures your employer cannot discipline you at work because of jury duty. These laws prohibit the following forms of workplace punishment:
Your employer is not obligated to pay your wages while you are on jury duty.
How Much Does Jury Duty Pay in NC?
Ranking low when compared to other states, North Carolina pays jurors $12 per day in state court. Federal jurors are paid $50 per day.
How To Get Out of Jury Duty in NC
Prospective jurors commonly use the following ground to request jury duty exemption—North Carolina does not recognize them all:
| Situation | Exempt (Yes/No) |
| --- | --- |
| Military | Yes |
| Student | Yes |
| Disability | Yes |
| Law enforcement | No |
| Breastfeeding mother | No |
| Healthcare worker | No |
| Elected official | No |
| Teacher | No |
Detail your cause for exemption from jury duty on the Qualification Questionnaire you received in the mail or online using the eJuror portal. If you have lost your form, you can contact the court for another copy.
DoNotPay Can Assist With Your Time Off Request for North Carolina Jury Duty
Didn't get that jury duty exemption you were hoping for? DoNotPay will simplify the task of asking for time off at work. Our Jury Duty Leave Request product facilitates the process of drafting a professional letter that you can hand in to your manager.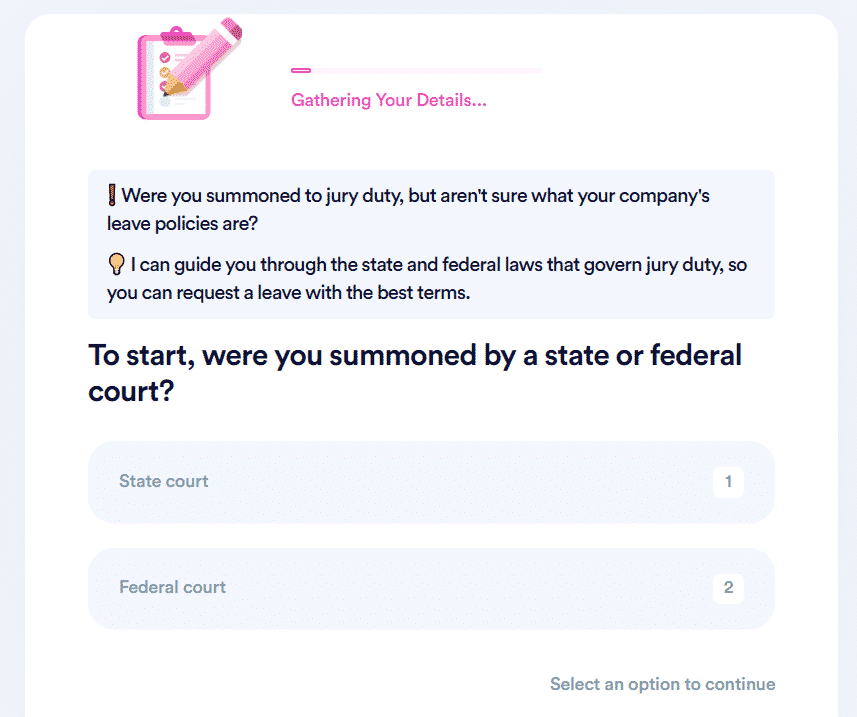 Here is what you need to do:
Call up the Jury Duty Leave Request product
Tell us about your job and your jury duty summons
Provide a digital copy of your summons for verification
Once you've completed those steps, you can download a copy of the letter and give it to your HR supervisor. Alternatively, give us their contact information, and we will take care of that for you as well.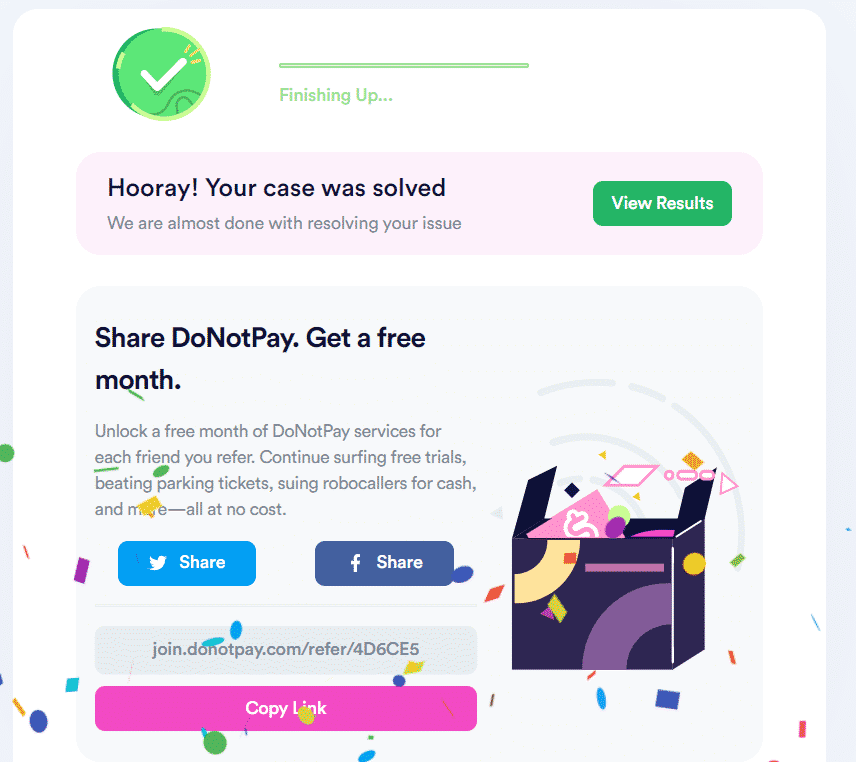 Put Greedy Companies in Their Place
If being on hold with customer service and requesting refunds and cancellations is your idea of the worst nightmare, we come to the rescue!
When you create a DoNotPay account, you'll be able to do the following with ease:
If worse comes to worst, we can guide you through suing any company in small claims court.
Use DoNotPay To Resolve Numerous Issues
The number of products we offer keeps growing. From simple chores to bureaucratic tasks and serious issues, there's not much DoNotPay won't be able to handle in a few clicks.
Would you like to search for unclaimed money you may not know about? Are you trying to save your work from copyright violations? Do you want to contact government representatives? Once you have a DoNotPay account, you will get everything done in a flash.
Even if you are a victim of stalking or harassment, violent crimes, or workplace discrimination, we can help you out! DoNotPay can also perform a sex offender search in your area and give you weekly updates.
If robocalls and spam are what's bothering you, our app will free you from such annoyances for good. Whether the spam is coming via email or text, we'll know what to do.