North Carolina Breach of Contract Explained by DoNotPay
If you find yourself in a breach of contract situation, you should research legal remedies and appropriate actions you can take next. Lawsuit options differ across states, so you should be aware of the local laws. DoNotPay can provide you with all the necessary information about the North Carolina breach of contract remedies.
Our app is also at your disposal for creating a breach-of-contract demand letter to help you resolve the issue efficiently.
What Is a Breach of Contract in North Carolina?
Contractual breaches are common in the business world and refer to the situations when one of the parties doesn't fulfill their end of the agreement. There are two ways to assess the strength of your breach of contract claim in North Carolina:
Common law and statutory rights
Contractual damages and limitations on remedies
Breach of Contract Statutory Rights in North Carolina
Under the NC law, you (the non-breaching party) are allowed to get the benefit of the bargain stated in the contract. The violating party should not be permitted to benefit from it. You are also entitled to:
Lost profits
Expenses incurred
Other consequential damages resulting from the breach
North Carolina prohibits the recovery of personal injury, punitive, or emotional damages caused by the breach of contract.
Contractual Damages and Limitations on Remedies in North Carolina
You are generally allowed to include contractual remedies in the agreement if a breach happens. This can include:
Payment of costs and expenses in enforcing contractual provisions
Liquidated damages
Specific performance
Injunctive relief
Besides adding remedies to the contract, North Carolina laws allow you to remove them. Most agreements do not contain sections related to damages. This is why it is essential to read the agreement carefully before signing it.
What Are the Breach of Contract Elements in North Carolina?
If you wish to send a letter of demand or file a lawsuit, you must prove specific breach-of-contract elements. Check out the table below for specific details:
| Elements | Brief Explanation |
| --- | --- |
| Existence of a valid contract | You need to prove that a contract in question exists and that both parties agreed on the same terms. It is relatively easy to prove it if you had a written agreement, but oral contracts tend to be trickier, so try to put everything in writing |
| Defendant's breach of duty | You must also demonstrate the defendant breached the contract by not honoring their end of the agreement. To do so, you will need to prove a material breach of contract |
| Resulting damages | It is necessary to show that you suffered harm as a result of the defendant's actions and the breach of contract |
Ways To Demand Compensation in North Carolina
If you wish to demand compensation for breach of contract in North Carolina, you must send a formal request in the form of a demand letter. Here are your options:
Composing a demand letter yourself—You need to have adequate legal knowledge to create a demand letter. Using free online templates will not give you the wanted results because they are too generic and vague
Hiring a lawyer—It's the obvious and elegant solution, but if you want a lawyer to write the demand letter, you better be prepared for high expenses
Hiring a collection agency—This option also entails hefty prices for the service but is also pretty efficient
Using DoNotPay—This is a simple solution that will provide you with the wanted results without leaving you broke
Use DoNotPay To Compose a Demand Letter in North Carolina
If you want to have a rock-solid demand letter for the breach of contract, you should use DoNotPay to create it. We will save your time and money while delivering an effective legal document. DoNotPay adds all the relevant information about the breach-of-contract rules in North Carolina and the specifics of your particular case. You only have to follow these steps:
Select our Client Breach of Contract product
Answer some questions about the client and the agreement you had
Include a payment deadline for the client
Attach photographic evidence (if any)
DoNotPay can also send the letter of demand to the client in your stead.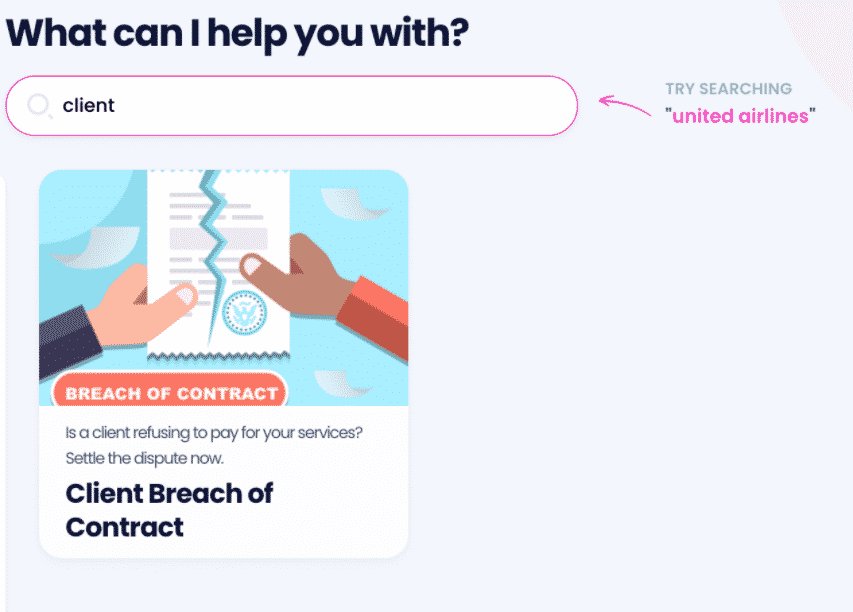 Take the Client to Small Claims Court With DoNotPay
If the client doesn't respond to the demand letter and the situation escalates, you can sue them in small claims court. DoNotPay was recognized by the Louis M. Brown Award for Legal Access in 2020 and can help you fight bureaucracy with ease. This is what we can do for you:
Fill out the necessary court forms
Make sure you have all the required paperwork
Create a script with strong arguments for you to use in court
Submit the complaint on your behalf
With our help, your chance of winning the case will be much higher. We also have the necessary information about various related issues, such as the affirmative defenses to breach of contract, so you can fully understand the processes and your rights.
Build Your Business From the Ground up With Your Reliable Pocket Assistant!
To make the running of your business less stressful, DoNotPay has created numerous handy products that can help you deal with any issue right from the start. With our assistance, you can:
Get the perfect letter requesting a loan for your business
Handle the Employer Identification Number and DMCA agent registration procedures in a few clicks
Manage Privacy Shield program self-certification to make sure your clients' privacy is protected while on your website
If you are considering completing trademark registration, DoNotPay will be your trusty companion and help you finish the whole process in no time! We can even make sure no one uses your trademark as their own by performing routine checks and sending cease and desist letters to the offenders instead of you.
Resolve Pesky Business Issues With DoNotPay
Our app boasts many other useful and easy-to-use products that will help you resolve an array of business-related problems. Whether you need help filing 83(b) election forms as effortlessly as possible or wish to communicate with your clients and business partners without heading over to the post office, we have got you covered!
DoNotPay can also help you remove bad, fake online reviews that could harm your business reputation, deal with clients who avoid paying for your services, and contest unjustified chargeback requests.
Rely on our app and stay on top of your work while we deal with business issues on your behalf!