A Guide to Nonprofit Startup Costs: All You Need To Know
Running a nonprofit organization can be a challenging endeavor as you need to consider many things, including financial planning.
If you are worried about nonprofit startup costs, consider getting a business loan. DoNotPay can help by providing valuable info creating a well-written loan request letter in your stead.
The Breakdown of Nonprofit Startup Costs
To calculate average nonprofit startup costs, you should consider the following expenses:
Federal tax ID registration
Incorporation fees
Corporate name and trademark registration
501(c)(3) status application
Essential insurance coverage
Website
Staff salary
Federal Tax ID Registration
You need to obtain an Employer Identification Number (EIN) to file for incorporation, register as a 501(c)(3) organization, and pay employee taxes (if you are hiring staff).
Registering for EIN is free, as long as you do not use third-party services.
Incorporation Fees
Registering as an incorporated entity with the State Government will grant your nonprofit organization a limited liability.
Incorporation fees vary depending on the state. Keep in mind that some states may require an organization's incorporation status to be announced in the local newspaper, which might cost an additional $50.
Corporate Name and Trademark Registration
You can protect your nonprofit organization's name from being stolen by registering it with the Secretary of State or the United States Patent and Trademark Office (USPTO).
For a corporate name registration, you need to pay around $15–$75, while you need around $10–$375 for trademark registration.
501(c)(3) Registration Costs
Having your organization registered for the 501(c)(3) status with the IRS will exempt it from paying taxes. You can apply for this status by filling either an IRS Form 1023-EZ or IRS Form 1023.
The IRS Form 1023-EZ costs $275, while the IRS Form 1023 costs $600.
Essential Insurance Coverage
The cost of insurance depends on the company you choose and the type of insurance you opt for. In general, most nonprofit entities can benefit from coverages such as:
General liability insurance
Property insurance
Worker's compensation insurance
Healthcare insurance
Expect to spend around $800–$1,500. Consult a broker in your area to get a recommendation and a proper estimation on what type of insurance you should get.
Website
Your nonprofit startup needs a website to establish its online presence. A website can be used to introduce your organization's missions and recruit new members. Here are some common website-building expenses to watch out for:
Web hosting
Website builder or Content Management System (CMS)
Other website-building tools (plugins, themes, etc.)
The cost ranges from $25 to $3,500 on average. You might have to spend an additional $5,500–$100,000 if you wish to hire a website designer or an SEO specialist.
Staff's Salary
If you decide to hire staff instead of recruiting volunteers, you might need to spend between $43,633 and $102,803 annually on roles such as:
Bookkeepers
Auditors
Grant writers
Fundraising management staff
You can hire freelancers for these roles to cut costs.
Other Expenses
Consider recurring expenses like utilities, office rent, and similar when planning your nonprofit budget. These costs can range from as little as $150 to a staggering $2,500 or more.
Total Average Cost
To summarize, the total average cost to fund a nonprofit startup is as follows:
| Expense | Average Cost |
| --- | --- |
| Federal tax ID registration | Free |
| Incorporation fees | $25–$100 |
| Corporate name and trademark registration | $25–$450 |
| 501(c)(3) status application | $400 or $850 |
| Essential insurance coverage | $800–$1,500 |
| Website | $25–$3,500 (or more) |
| Staff salary (optional) | $43,633–$102,803 |
| Other spendings (office rent, water and electricity bills, etc.) | $150–$2,500 |
| Total cost | $1,425–$8,400 |
Financing Nonprofit Startup Costs
Most nonprofits rely on donations and government grants to get their operations afloat, but these revenue streams are not always reliable. This leaves small business and startup loans as an option.
Securing loans for nonprofit organizations can be difficult because most lenders consider them high-risk and low-return investments. When deciding on whether to grant funding to nonprofit startups, most lenders take a few aspects into account, such as:
The organization's yearly revenue
Fundraising roadmaps and costs
Other financial assets and information
It can also be difficult to apply for loans as a nonprofit because you cannot use personal guarantees to establish good credit scores. Regardless, you can start building an excellent credit history in several ways:
Register for a Dun and Bradstreet Number (DUNS)
Reach out to local merchants and small business owners that offer special credit programs for nonprofits
Get a business credit card
Nonprofit Loan Options
As a nonprofit startup, you have a few loan options to consider:
SBA loans—The Small Business Administration (SBA) is a good starting place to get nonprofit loans. Make sure to compile all the necessary paperwork to increase your chances of getting the funds
Community Development Financial Institutions (CDFI)—Financial entities that offer funding for local small businesses and nonprofits, especially within sectors that affect low-income communities. While typically operating as nonprofit, some institutions that lend CDFI loans can be conventional banks, venture capital firms, or credit unions
Banks and credit unions—While it is difficult to get loans from banks and lending institutions, it is possible to get funding if your nonprofit has established a reputation and has complete documentation for reporting revenues, project plans, and expenses. Keep in mind that you might have to pay a higher interest rate
Find Online Lenders With DoNotPay's Help
Need to find lending institutions that would be perfect for your financial needs? You can use DoNotPay and get a list of the best online lenders! All you have to do is:
Log in to your DoNotPay account
Search for the Find Online Business Loan Lender product
Provide some information about your business's needs, priorities, and loan requirements
Specify your business type and industry
Our database will compare various online lenders and give you a list of the top three options for you, complete with terms, rates, processing speed, and possible loan amounts.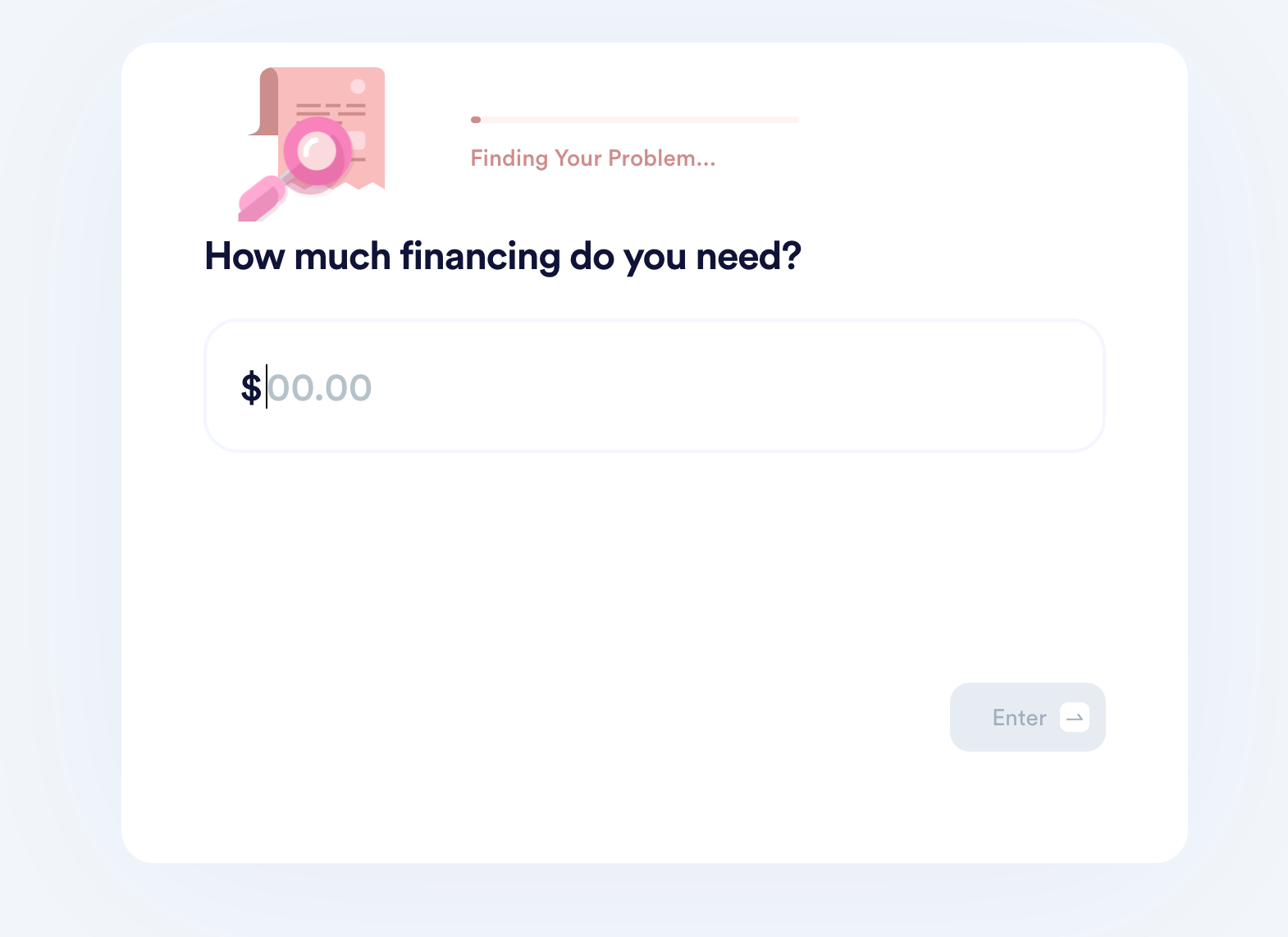 DoNotPay Can Increase Your Chances of Getting a Loan!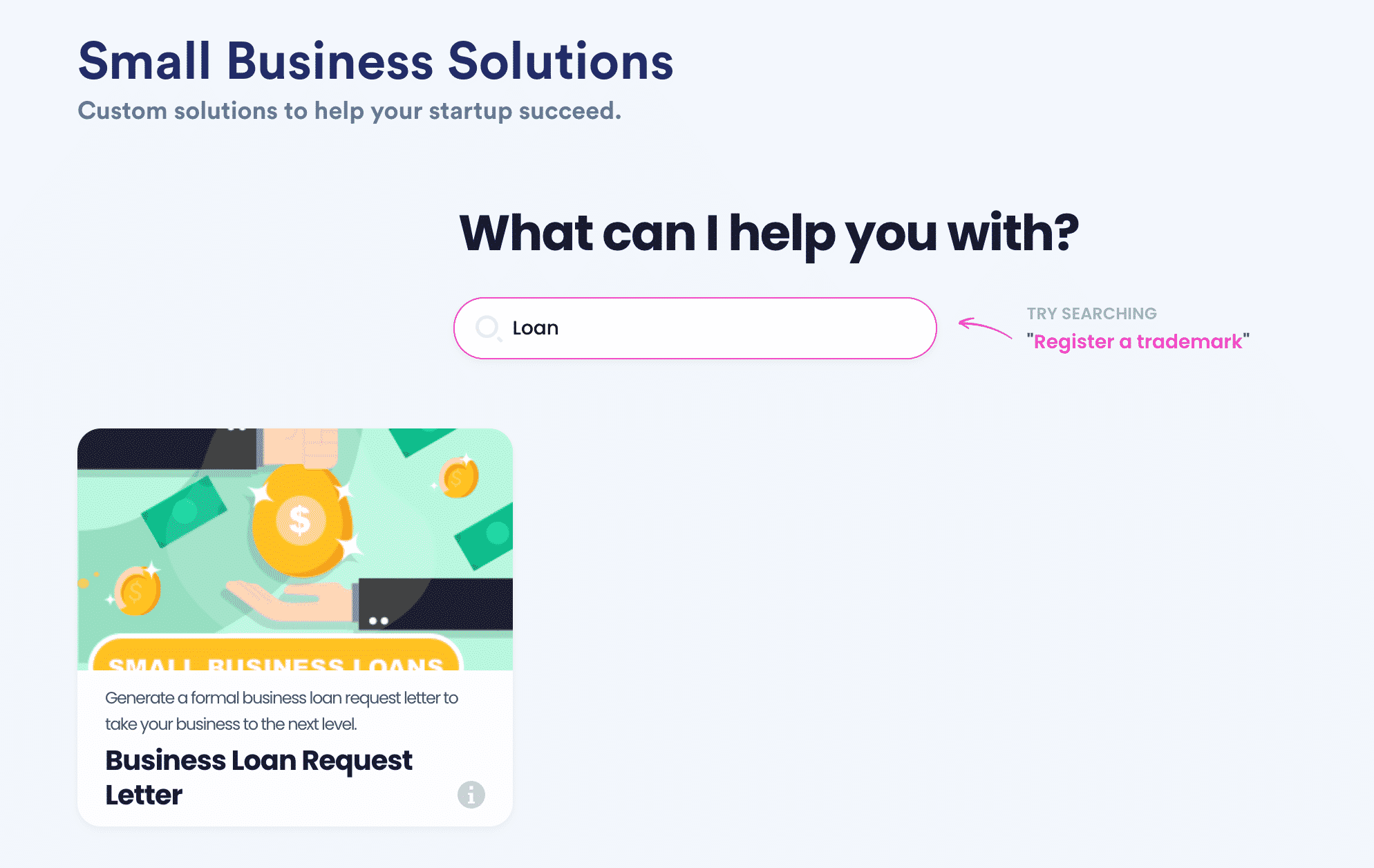 You need a loan request letter to apply for a loan. The letter needs to be professional, convincing, and error-free. You can hire a lawyer to draft one for you, but their services can be expensive.
With DoNotPay, you can create a watertight loan request letter to send to banks and other lenders without breaking the bank. Here is what you need to do:
Locate our Business Loan Request Letter product
Answer our questions and upload the necessary documents
Let us take it from there! Within minutes, DoNotPay will generate a formal loan request letter with all the relevant information!
Get Down to Business With DoNotPay
If your to-do list is getting longer by the day, we offer numerous solutions. You can focus on growing your business while we handle the endless administrative tasks.
Here are some of DoNotPay's products and services that will assist your company tremendously:
DoNotPay Feature
Our App Will
Trademark Registration

Complete your company name, logo, or slogan registration application
Submit the application in your stead

Trademark Protection

Perform monthly checks
Notify you in case there is any trademark infringement
Help you file cease and desist letters

EIN Registration

Fill out and file your Employer Identification Number (EIN) application
Notify you of your new EIN

Register a DMCA Agent

Complete the DMCA agent registration process
Register the designated agent with the U.S. Copyright Office
There Is Even More We Can Do for You
Navigating the business world can be overwhelming. If your paperwork is piling up and disputes keep emerging, start using our app and declutter your workday from numerous chores.
The world's first robot lawyer can help you deal with the following:
Chargeback scams
Business loan applications
Faxing and mailing
Negative online reviews
83(b) election forms
Self-certification with the Privacy Shield program