Get the Lowdown on the
Nonprofit Property Tax Exemption
Nonprofit organizations usually don't have to pay income taxes, but are they free of property taxes by default? The answer to this question depends on multiple factors. Each state has its own rules and complex regulations regarding nonprofit organizations and property taxes.
If you'd like to know which nonprofits qualify and how to apply for property tax relief, you'll find this guide useful. We can provide instructions on lowering your property taxes in Florida, New York, or any other state, even if you're not a part of a nonprofit organization. 
Are Nonprofits Exempt From Property Taxes
?
The real and tangible personal property of nonprofit organizations is, by law, subject to taxation. Eligible nonprofits who experience financial hardship imposed by property taxes can apply for a property tax exemption in most American states. Nonprofits should obtain exemptions for both real and tangible property to avoid paying unnecessary taxes.
Since each state has different rules when it comes to property tax exemption for nonprofits, you should contact your local office to find out more info.
Nonprofits Eligible for Property Tax Exemptions
Most American states grant full or partial property tax exemptions to nonprofit organizations that use the property in question for educational, religious, and charitable purposes.
Take a look at some basic requirements that nonprofits need to fulfill in most states to be eligible for property tax exemption:
The name of the nonprofit organization needs to contain the property's legal title

The organization needs to be the owner of the property in question

The property needs to be used for the above-mentioned purposes
Nonprofits who engage in activities that aren't closely related to the organization's basic purpose need to pay both income and property taxes. 
What Are Property Taxes, and Who Needs To Pay Them?
Individuals and legal entities—corporations, organizations, and similar—who own property in the U.S. need to pay property taxes on a yearly basis. Local governments charge property taxes to fund services beneficial to the community, including libraries, schools, hospitals, road constructions, law enforcement, etc. 
The property tax depends on: 
The state's property tax rate

Property's assessed value

Potential exemptions that the owner of the property is eligible for
Property Tax Rates Explained
Tax rates are different in each state—Louisiana (0.18%) has the lowest, while New Jersey (1,89%) has the highest property tax rate. The nation's average rate is 1.07%, which is pricey compared to Europe and the rest of the world. 
Your annual tax bill is calculated by multiplying the assessed value of the property in question with your state's property tax rate.
A Guide to Understanding Property Tax Assessment 
The local assessor will perform a property tax assessment by determining the market value of your home. The value of the home depends on aspects such as interior and exterior, location, neighborhood, vicinity to important facilities, etc.
You should avoid doing home renovations before the assessment because every change or improvement could influence your property's value. If you find a mistake in your property tax bill, you can talk to your local assessor and request a reassessment.
What Are Property Tax Exemptions?
Even if you don't qualify for a nonprofit property tax exemption, you can lower your property tax bill in some other way. Most states offer other property tax exemptions usually designed for seniors, veterans, disabled residents, or any other low-income individual who needs to lower property taxes. Exemptions don't free you from paying property taxes, but they can reduce your bill significantly. 
Most states offer property tax exemptions to citizens who don't have low incomes if the property in question is their primary residence. That type of exemption is usually called a homestead exemption.
The exempt percentage varies from state to state, but most of them have different programs for eligible individuals. Some states—such as California—offer property tax postponement for low-income senior citizens.
Learn How To Lower Your Property Taxes Easily With DoNotPay
Do you need help paying your property taxes? DoNotPay is here to:
Help you find out if you qualify for property tax exemption 

Provide a detailed guide on how to apply for the exemption
Once you log in to your DoNotPay account, you should follow these steps:
Search for the

Property Tax

feature

Respond to all our questions 

Follow the steps provided in the personalized guide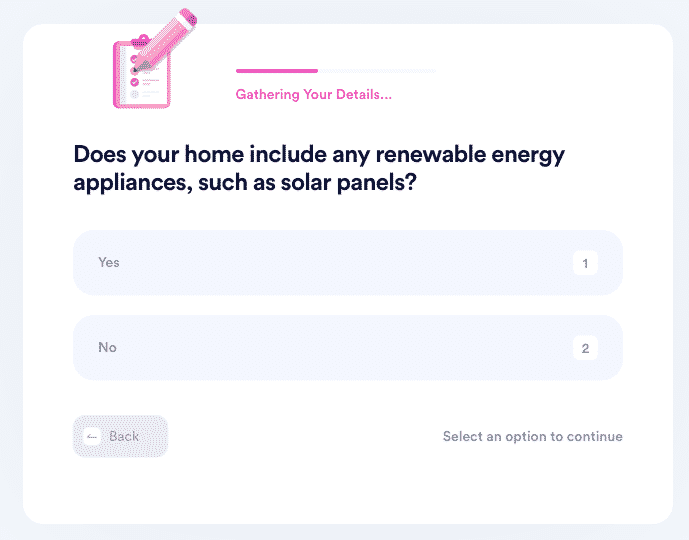 DoNotPay can help you reduce property, regardless of the state or county you live in:
Are You Dealing With a Denied Exemption Request? DoNotPay Can Help You Handle It!
Appealing past property assessments can be challenging, especially if you don't know which forms you need to complete. DoNotPay's feature can help you file a property tax appeal by providing a personalized guide depending on the answers you give us. The guide will tell you which forms to fill in, how to negotiate with your county's assessor, and how to find comparables for your appeal. 
Clear Your Schedule With the Help of DoNotPay
DoNotPay is renowned for making our users' lives infinitely easier. Not only can we root out unwanted subscriptions for you—you don't need to do it manually one by one any longer—but we can unsubscribe you from unwanted email and snail mail lists.
Fire up our app and let it navigate the phone tree instead of you or use it to make a DMV appointment at your earliest convenience. Forget about googling clinical trials near you—DoNotPay can sort them out according to your needs and their individual eligibility criteria. 
We can fill out the paperwork that you need to file at your local small claims court to initiate a dispute. You can work around the U.S. penal system and have DoNotPay locate an imprisoned loved one instead of you trying to reach individual prisons attempting to do it yourself.
You don't need to go to great lengths to get in touch with a counselor to sign your college fee waiver either—DoNotPay does it for you and then forwards the necessary documents on your behalf. 
DoNotPay Never Ceases To Amaze
Where there's one useful feature, there are nifty features galore!
Use our Virtual Credit Card to sign up for free trials and stop robocalls and spam text messages from reaching your phone. If you feel a free trial unrightfully turned into an expensive paid membership, we can help you request a refund or chargeback for the inconvenience.
We can further assist you in exercising your consumer rights by making a warranty claim in your place and verifying your online accounts with temporary phone numbers.
We can also break down the Freedom of Information Act for you and introduce you to online fax options and property tax reductions.