How To Write an Excellent Noncompete Agreement in New York
If you share your business strategies with your employees, you want to make sure they don't use them to help a rival company grow once they are no longer in your service. This is why you need a specific restrictive covenant that will prevent your employees from engaging in competitive business activities. The safest path is to use a state-specific noncompete agreement for this purpose.
If your business or company is thriving in New York, but you aren't sure how to write a contract according to state rules, we can help! With this guide, you will learn to draft a noncompete agreement in New York and compose many other legal documents without looking for unverified online templates.
Noncompete Agreements in a Few Words
A noncompete agreement is a contract between an employer and an employee that limits the employee's ability to find a new job within a similar or rival business during a specified period. 
It's a one-sided contract that lists the types of employment the employee can't engage in and puts restriction on the locations at which they can look for a job.
The primary purpose of this legal document is to ensure that the employee doesn't join another company that provides similar services or start such a business themselves. It prevents them from building success on your trade secrets and clientele or improving another company's performance by using your ideas. The contract may refer to the period during the employment relationship or a specified time after its termination.
You can also include a noncompete clause in their employment contract instead of writing a separate agreement.
Does New York Have a Particular Statute That Regulates Noncompete Agreements?
The state of New York doesn't propose any specific laws that regulate noncompete agreements in general. The rules depend on the specific industry or profession within which the business is conducted. The separate rules can be found in acts such as the New York Rules of Professional Conduct or sections 2140 and 11870 of the FINRA regulations.
Are Noncompete Agreements Legally Binding in New York?
In New York, noncompete agreements are enforceable only if they are reasonable. It means that they:
Must have a reasonable duration

Can't cause any harm to the public

Musn't impose an undue hardship on the employee

Have to refer to a reasonable geographic scope

Shouldn't exceed the basic requirements of protecting the employer's interests
If the contract meets all these criteria, it will be legally binding regardless of whether the employer or the employee terminates the employment relationship.
What Are the Key Parts of a Proper New York Noncompete Contract?
Check out the following table to see a common structure employers in New York use to compose their noncompete agreements:
Sections

Details

Introduction

Name of the employer/company and employee

Purpose of the agreement

Effective date

Noncompete terms

Business practices clause that the employee shouldn't disclose to third parties

Clients/customers clause stating that the employee can't contact the employer's clients while engaging in other businesses

List of general and specific competitors

Employees clause that prohibits the worker from partnering with other current employees of the company and engaging in competitive businesses

Additional clauses

Purchase option

Local jurisdiction

Final section

Signatures of the employer and employee
DoNotPay Provides the Best State-Specific Noncompete Contracts Within Minutes
If you don't feel confident enough to compose a noncompete agreement by yourself, try out DoNotPay and watch us generate your contract in the blink of an eye! 
Our app lets you choose the desired standardized legal documents and customize them according to your needs and preferences. The best part is that there are no limits—once you sign up, you can use this affordable solution to generate as many contracts as you need!
Here's how you can do it:
Open DoNotPay

in any preferred browser and log in to your account

Pick the document you want

Answer the questions of our chatbot to help us personalize your contract
The perks don't stop here! Once you get your legal document, you can also have it notarized and fax it to anyone using the same app. DoNotPay's knowledge base also contains noncompete contract guides for various U.S. states, including Texas, Georgia, Florida, Michigan, and California.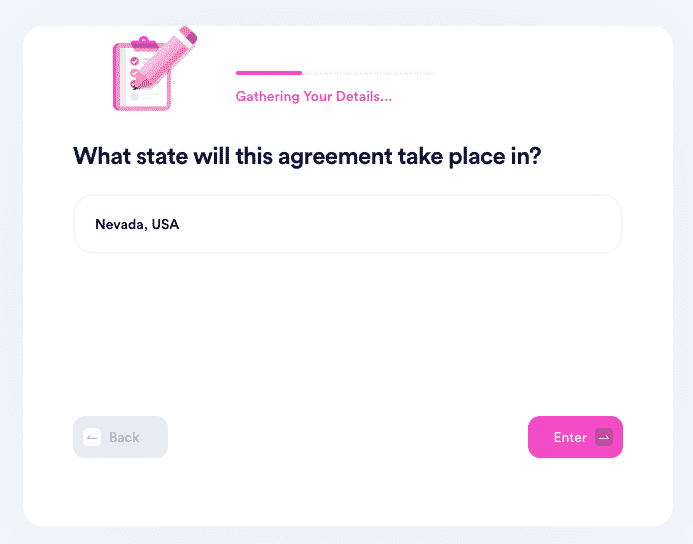 Get Help With the Most Popular Contracts With DoNotPay
Subscribe to DoNotPay and let our app do all the magic for you! See the table below and check out:
Documents We Can Generate
Other Practical Guides From Our Learning Base

Quitclaim Deed

Intent To Purchase Real Estate

Promissory Note

General Affidavit

General Business Contract

Child Care Authorization Form

Noncompete Agreement
Rely on DoNotPay To Solve Your Administrative Issues
Getting your documents notarized, drawing up legal paperwork, appealing parking tickets, and similar activities usually require a lot of effort. DoNotPay offers various useful products that can help you deal with administrative problems quickly and save a lot of time. We can assist you with:
Protect Your Consumer Rights With DoNotPay
Companies complicate cancellation and refund processes intentionally, hoping that consumers wouldn't want to spend hours trying to solve the issue they're having. DoNotPay knows how important consumer rights are, and that's why we created numerous products that can help you:
Many people forget to cancel their free trials on time and end up paying for the services they don't even use. To prevent that, DoNotPay has developed a nifty virtual credit card that will allow you to enjoy free trials risk-free. Our virtual credit card will also help you avoid spam email notifications by generating a random email address that you can use when signing up for a free trial.