A Guide to Preparing a Non-Sufficient Funds Demand Letter
Cash transactions are no longer the most common payment method, and customers often pay for services or goods with credit cards and checks. If deferred payment is not completed—i.e., the check bounces—you should send a non-sufficient funds demand letter.
Register for DoNotPay to draft a solid demand letter for this breach of contract situation and:
Why Should You Send a Bad Check Demand Letter?
When a check bounces, it means a bank cannot process it. While there are different reasons for this situation, it is usually because the person who wrote the check does not have enough funds in their account or has:
Closed the account
Given you a fraudulent check
Requested a stop payment from the bank
Since you—as the receiver of the check—have a deficient payment together with a non-sufficient funds fee for a bounced check, you need to convince the breaching party to:
Make the payment again
Compensate you for any additional expenses
The best option to get in touch with your client is by sending them a demand letter informing them that they are in breach of contract since they have:
Received goods or services from you
Not provided payment, i.e., have not performed their contractual obligations
The Dos and Don'ts of a Hot Check Demand Letter
To understand better what you should and should not use in a non-sufficient funds demand letter, take a look at the following table:
You Should
You Should Not

Use a polite tone—Since a bouncing check might be a mistake, you should keep a professional relationship with your customer
Check your state limits on bounced check fees—Before asking the client to cover the non-sufficient funds fees, you should check what your state maximum amounts are

Sound aggressive or threatening—You should strive to maintain a professional tone since:

You don't want to alienate your client
The judge might examine the letter if you take the case to court

Be overly detailed—While you should present the facts, you do not have to go into too many details as the basic data will:

Refresh your client's memory
Be enough for the customer to check with their bank whether this is an oversight
A Sample of a Bad Check Demand Letter
When preparing a non-sufficient funds demand letter, you could use demand letter samples and templates as a guide, but make sure you provide the following:
Date—While a date might seem irrelevant, you need to ensure to include it in your demand letter. It can be used as evidence if you end up suing for breach of contract
Delivery address—Keep in mind that you should provide the address where you want the client to send or hand-deliver the payment. You do not want them to waste time searching for the venue
Contact phone and email—You could provide contact details for the client if they decide to get in touch with you
Bounced check details—To remind your client of the deal you had, you should include the details of the check, such as:

Amount
Date
Payee's name
Name of the bank that returned the check

Payment deadline—You should specify how long your client has to make the payment
Additional costs—If you would like the breaching party to settle any extra expenses you have had due to the bounced check, you need to list the exact amounts. These figures can include:

Bad check fees the bank has charged you for processing
Costs of mailing the demand letter
Additional damages or penalties (you need to consult your state laws if you decide to include penalties)
DoNotPay Generates Convincing Demand Letters
Since drawing up a demand letter is demanding, you should use the assistance of our AI-powered app. We possess a vast database with relevant state laws and will make sure your letter complies with them (regardless of the type of breach—material, anticipatory, or any other).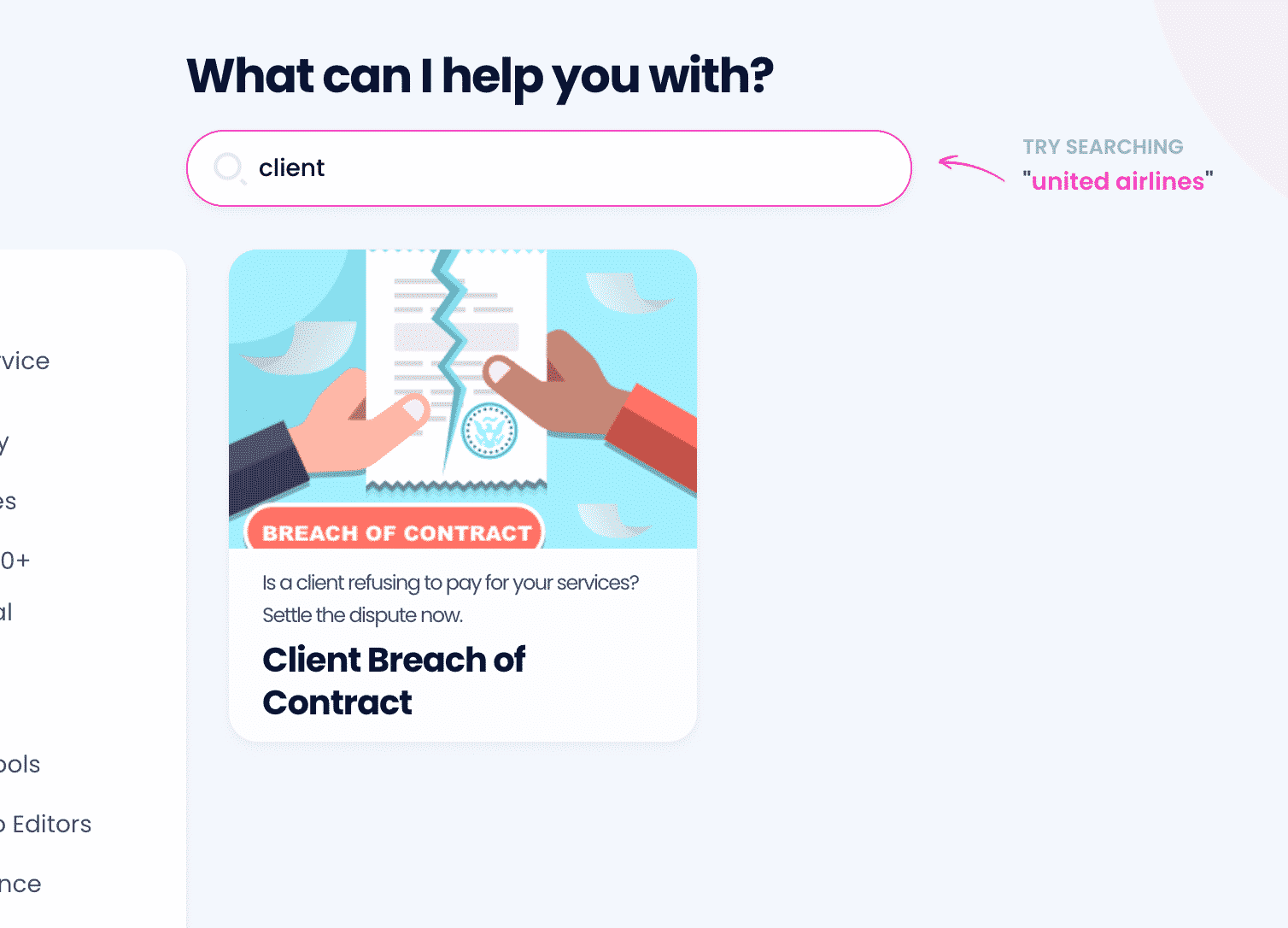 Here is what you should do—register for DoNotPay and follow these steps:
Access our Client Breach of Contract product
Enter the specifics of your agreement, including:

Name of your customer
Terms of the agreement
Payment deadline
Amount the other party owes you

Provide the final payment date
Upload any documents to support your claim, if possible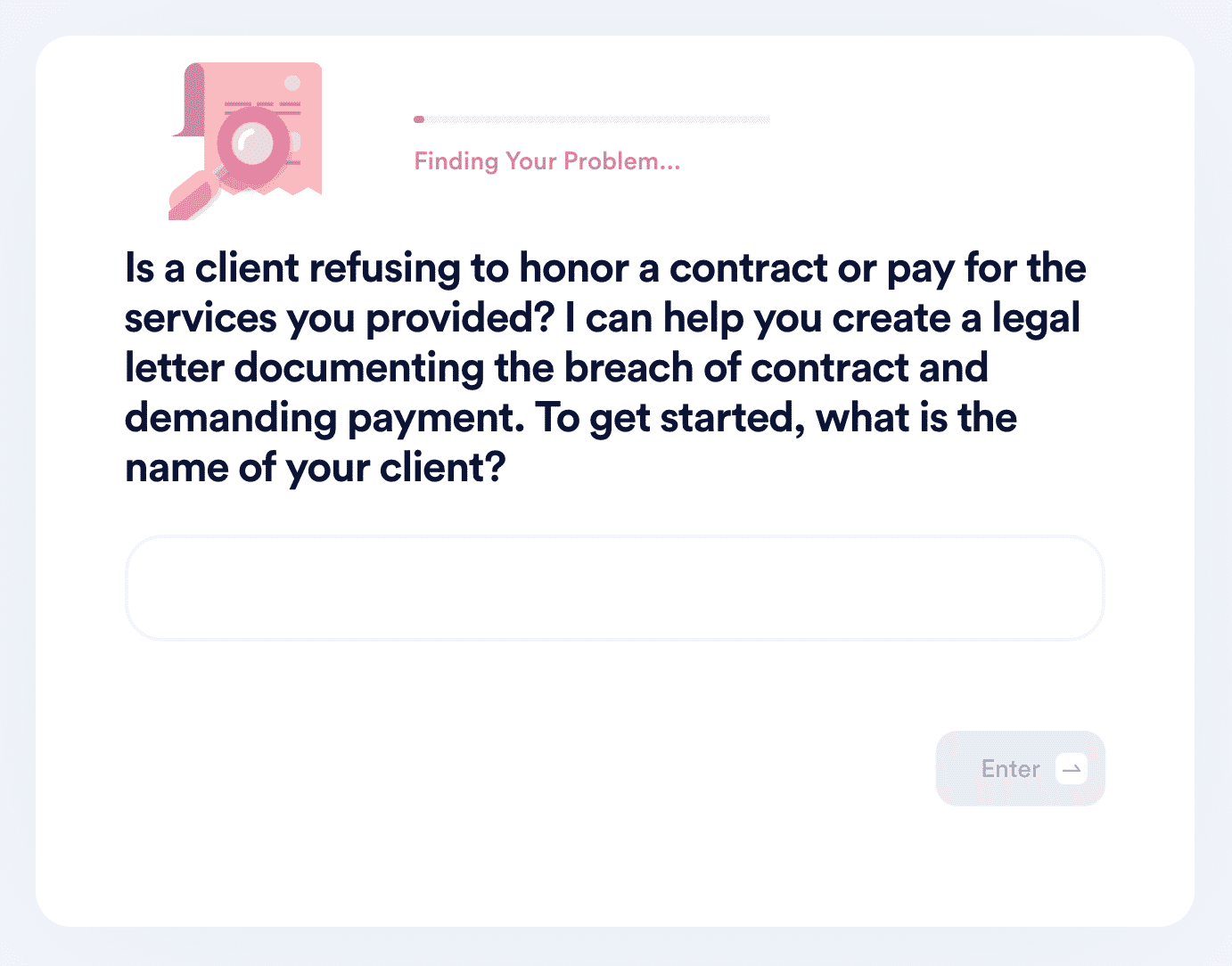 Once you have entered the details, DoNotPay generates a demand letter you can mail to your customer right away.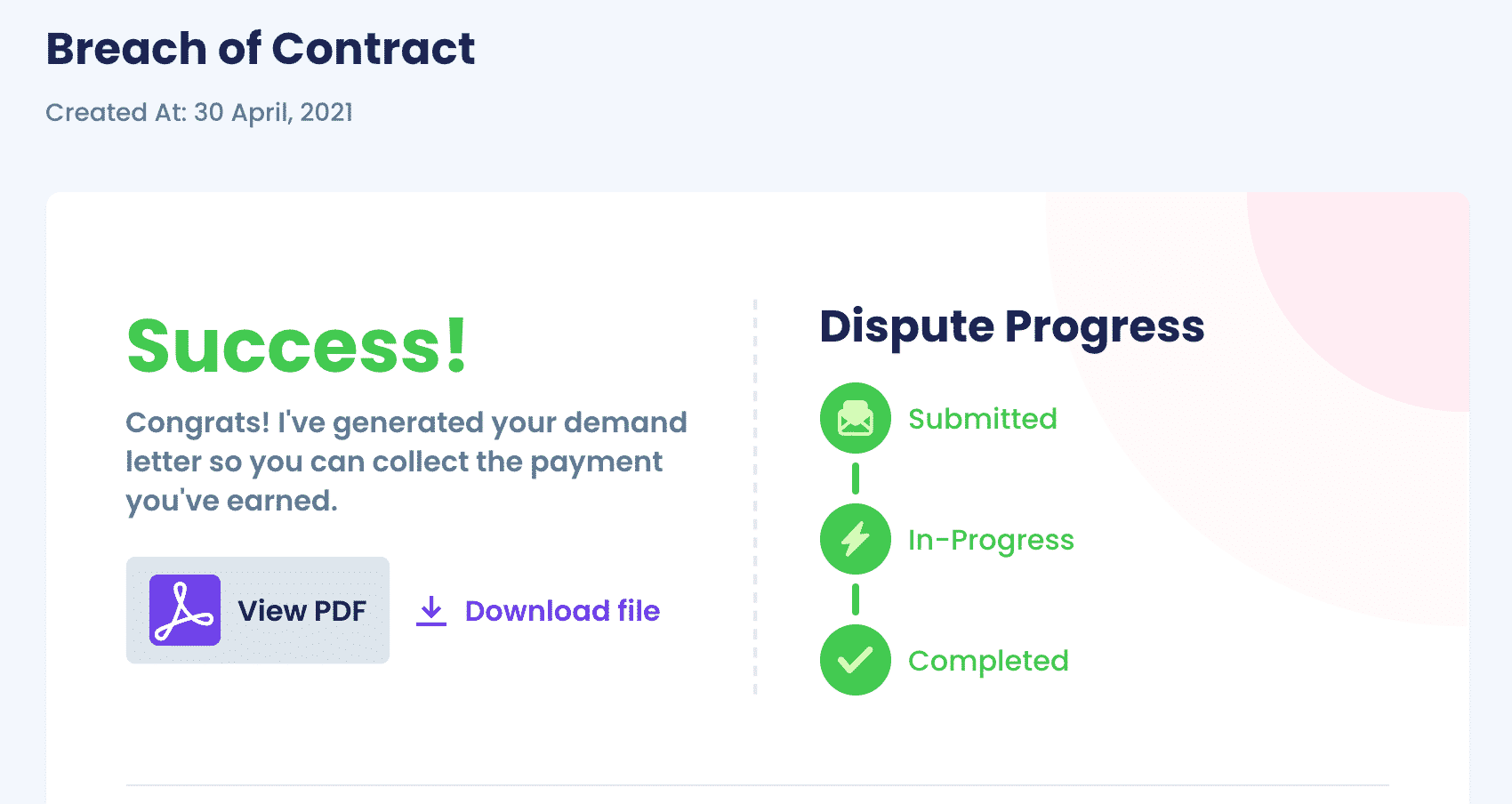 What To Do Before and After Sending a Non-Sufficient Funds Demand Letter
Here are some steps you could take before and after sending a hot check demand letter:
Before Mailing the Letter
After Sending the Letter
You should:

Verify there are insufficient funds in the account—You should call the bank that issued the check as:

An overdraft might have been a mistake
Your customer could already have resolved the problem

Use certified mail—Sending a letter by certified mail provides a clear record of your actions in case you start a lawsuit

If the deadline you have indicated in your demand letter has passed, you could:

Send a final demand letter—You could give your client another chance and state clearly that you will sue them if they refuse to settle their debt
Contact a collection agency—Keep in mind that debt collectors charge a fee or take a percentage of the collected money
Sue them for damages and seek legal remedies—DoNotPay can help you sue the client in small claims courts
Keep in mind that at a court of law, you will need to:
DoNotPay Offers More Help for Your Business
Running a small business is no small feat. When you're drowning in red tape, DoNotPay is here to lend a helping hand. Whether you need to register your trademark or protect it later on, we have got it covered. With our help, you will keep your logo, slogan, and business name safe.
Are you also yet to register for an Employer Identification Number (EIN)? Not to worry—our app can file the IRS SS-4 form in a few clicks. With the world's first robot lawyer at your fingertips, you will also be able to create your 83(b) election forms with ease—ready for your employees to sign them right away.
In case you are struggling financially, we can assist you with a business loan application.
Communication Has Never Been Easier With Our App
Keeping up with clients can be challenging, especially if each has a preferred method of communication. Luckily, our multifunctional app makes it easy to both fax and mail contracts, letters, and documents.
You can also count on our assistance when you need to:
Fight fake negative reviews online
Deal with a client regarding a breach of contract
Dispute fraudulent chargebacks
Thanks to DoNotPay, there is no need for back-and-forth communication. We will handle the necessary demand letters and forward them on your behalf.
We can also help you manage your DMCA agent registration and Privacy Shield program self-certification.