Everything You Should Know Before Making a Non-Solicitation Agreement
Companies, especially large ones, want to ensure that their employees won't do anything that could compromise the business after the termination of the employment relationship.
Upon hiring, new employees sign contracts specifying the terms and conditions of their employment. One of those contracts is a non-solicitation agreement. If you're wondering what this legal document entails, DoNotPay has all the information you need.
What Is a Non-Solicitation Agreement?
A non-solicitation agreement is a contract that protects the employer when the employment ends. In the non-solicit contract, the employee agrees not to solicit clients or customers of the employer for their own or the benefit of the competitor after leaving the company.
Some non-solicit agreements include a clause that stipulates that the employee won't solicit other employees to leave the company with them.
Sometimes, a non-solicitation agreement can be part of a larger contract, such as:
When Is a Non-Solicitation Agreement Used?
The employer can introduce the non-solicitation agreement to the company's employees at any time during the employment relationship.
The contract can be presented to employees upon hiring, and it can also be a part of the severance package if they get laid off.
How To Make a Non-Solicitation Agreement Enforceable
The California Supreme Court considers non-solicitation agreements unenforceable—employers can not prohibit their employees from soliciting clients and other employees.
Laws are different outside California, and other states are likely to enforce non-solicit agreements provided they meet certain requirements, including the following:
Agreement does not stop employees or customers from leaving the company

Employer must have a specific business reason for a non-solicitation agreement

List of clients must be valuable and contain confidential information

Agreement must not prevent the employee from getting a job elsewhere
Can You Write a Non-Solicit Agreement on Your Own?
Employers are allowed to create non-solicitation agreements without hiring attorneys. Contract templates are available online, sometimes even for free. Templates are not always the best and most reliable option, considering that non-solicitation agreements must be approved by the court.
Hiring professional legal assistance seems like the best choice if you want to make sure your contract is valid and enforceable, but it can cost you a decent amount of money. Thanks to DoNotPay—the world's best robot lawyer—you can create legally binding documents in a jiffy and for an incomparably lower price.
What Happens if You Violate a Non-Solicitation Agreement?
Non-solicitation agreements are legally binding—if you violate a clause from the contract, there will be legal or financial consequences. A breach of a non-solicitation contract usually leads to one of these two outcomes:
Employer files a lawsuit against you for any money damages that you caused by soliciting clients or other employees

Employer enforces a court order directing you to stop the breach of contract
In case of severe violation of the contract, the company can choose to file lawsuits against the employee for both money and injunction.
What Can Nullify a Non-Solicit Agreement?
There are several common mistakes that people make when creating a non-solicitation agreement. Check the following table to see the most common reasons the court might rule against the agreement:
| | |
| --- | --- |
| What Makes a Non-Solicit Agreement Void | Explanation |
| Being too inclusive | Agreement should cover only the ways in which the employee could hurt the company |
| Being too general | Employer should make a different non-solicitation agreement for each job position |
| Not specifying the terms | Agreement should specify what the solicitation refers to, based on the company's conditions |
| Consulting the wrong laws | Employer should check the state's laws before making an agreement since different states have different rules |
Create Legal Documents Like a Pro With DoNotPay
In case you don't have money to spend on legal assistance and don't know how to write a contract on your own, DoNotPay is at your service!
Our legal expertise and the large database of every state's laws and regulations enable us to generate valid and enforceable legal documents in no time! The Standardized Legal Documents feature is reliable and easy to use, and you can access it by doing the following:
Open DoNotPay in any

web browser

Write the name of the document you need in the search box

Provide the required information to get the most relevant contract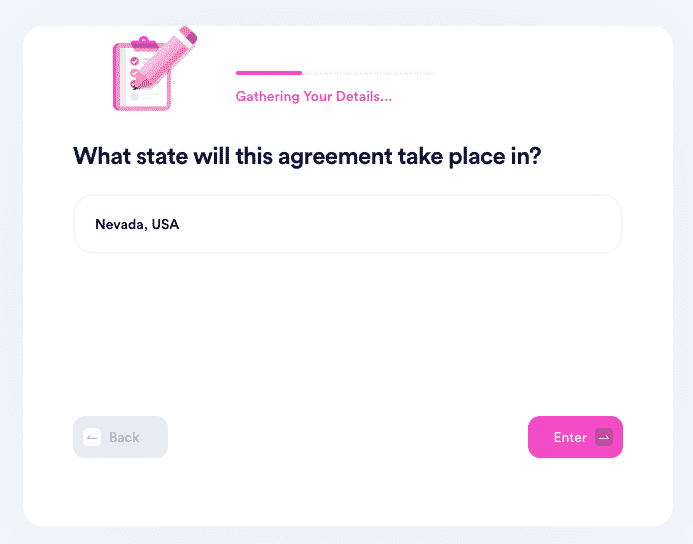 DoNotPay will generate the legal document based on the provided information. After you sign and notarize the document, you can send it to other parties with our online Fax service.
Use DoNotPay To Draw Up a Large Selection of Legal Documents
American Bar Association (ABA) honored DoNotPay with the Brown Award for a reason! We are unrivaled when it comes to offering everyday legal assistance.
Whether you need business, real estate, or other types of contracts, we can generate them with zero hassle. Some of the legal documents DoNotPay can help you create include:
General Business Contract

Estoppel Certificate

Quitclaim Deed

General Affidavit

Promissory Note

Child Care Authorization Form
Keep Your Data Safe With DoNotPay
Do you love free trials but are reluctant to disclose your credit card details, phone number, or email address?
Our app lets you try out different subscriptions in a risk-free way!
Use DoNotPay's Burner Phone feature to sign up for services without providing your phone number! We'll make sure robocall scammers and text spammers cannot harass you!
With our virtual credit card, you can sign up for any free trial and not worry about canceling it! Since the card is not linked to your bank account, no one will be able to charge you once the trial expires. An additional perk is that the card comes with a free email address, which means no spam emails from the company. 
DoNotPay Helps You Fight for Your Consumer Rights
Did you know that companies often reject first-time warranty claims?
You're probably familiar with how complicated the process of appealing parking tickets is. Trying to get a refund for an unsatisfactory purchase or a delayed flight has likely made you mad at least once.
Not anymore! DoNotPay makes all these issues go away in less than five minutes, and that is not all we can do for you!
You don't have to deal with customer service reps of any company on your own anymore—we do it all for you!
DoNotPay bypasses any bureaucratic obstacle for you—scheduling DMV appointments, delaying bill payments, getting in touch with your incarcerated loved ones, filing lawsuits in small claims courts, and claiming insurance policies.