How to Create a Non-Solicitation Agreement in Minutes
You might be tempted to look for a non-solicitation agreement sample online, but you should not go that path. These contract templates are known to be generic, and adjusting one to your needs takes too much time. Instead, turn to DoNotPay for information and help creating an airtight legal document in no time!
What Is a Non-Solicitation Agreement, and Why Do You Need One?
A non-solicitation agreement is a document created to ensure that an employee won't solicit a company's clients, customers, or other employees after leaving the company.
If you decide to make a non-solicitation agreement, you should know there are two types of this document:
Non-solicitation of employees

—Stops employees who resign from taking other company personnel with them (usually good assistants)

Non-solicitation of customers

—Prevents former employees from taking the company's clients (common in sales and professional practices with patients)
The purpose of a non-solicitation agreement is clear—the employer needs to create this document to:
Ensure the interests of the company are protected once the employee leaves

Prevent the employees from partnering with a competitor
Differences Between the Non-Solicitation Agreements and Non-Compete Agreements
Even though a non-compete agreement and the non-solicitation agreement have some similarities, they are not the same. The main difference between the two documents is that a non-solicitation agreement covers more specific terms compared to the non-compete one.
One of the requirements of a non-compete agreement can be to stop the former employee from opening a competitor company within a certain radius during an agreed-upon period.
A non-solicitation agreement is focused more on hiring employees and taking away customers.
Because of its specific nature, a non-solicitation agreement can be a part of a non-compete agreement or another more general document, such as an employment agreement or a non-disclosure agreement. The form depends entirely on your preference, and creating only the non-solicitation agreement is fine as well.
What Should Every Non-Solicitation Agreement Contain?
To create the non-solicitation agreement properly, you will need to include all the crucial parts in the document. Take a look at the table below to see what this agreement entails:
Non-Solicitation Agreement Sections
Description

The purpose of the document

Company's name

Employee's name

Purpose of the document that is clearly stated

Non-solicitation disclosure

Actions the employee is barred from doing

Rules regarding customers and clients

Business practices that are allowed

Duration of the agreement

The start date of the agreement

The end date of the agreement

Termination terms

The conditions under which the agreement can end

Possible consequences of breaking the agreement before it expires

Signatures of the parties

Signatures

Names (and titles)

Date of signing the document
Consequences of Breaching a Non-Solicitation Agreement
If the employee breaks the non-solicitation agreement, the employer has the right to take them to court. The employer's attorney will get a preliminary or permanent injunction from a court to stop the person from continuing to solicit. If you have a well-composed non-solicitation agreement, you should have no problem winning the case.
Should You Hire a Lawyer for Your Non-Solicitation Agreement?
You should hire a lawyer for a non-solicitation agreement if you want to ensure the contract is properly written. This is a good choice if you don't have the required legal knowledge to try and draw up an agreement on your own.
For other documents, you won't need to hire a lawyer and spend money on their expensive services because you can use DoNotPay! Our app can help you create various legal documents in a matter of minutes.
Create a Legal Document With DoNotPay in a Flash
In case legal terminology is not your strong suit, you don't have to bother yourself with creating a document on your own. You also shouldn't risk the quality of your agreement. Use DoNotPay to draw up various kinds of legal documents. The process is straightforward—you only need to:
in a web browser of your choice

Type in the name of the document you need in the search field

Answer some questions about yourself and your business

Download the customized document that meets all requirements
The document you create with DoNotPay will be tailored to your needs, unlike the free contract templates you can find online.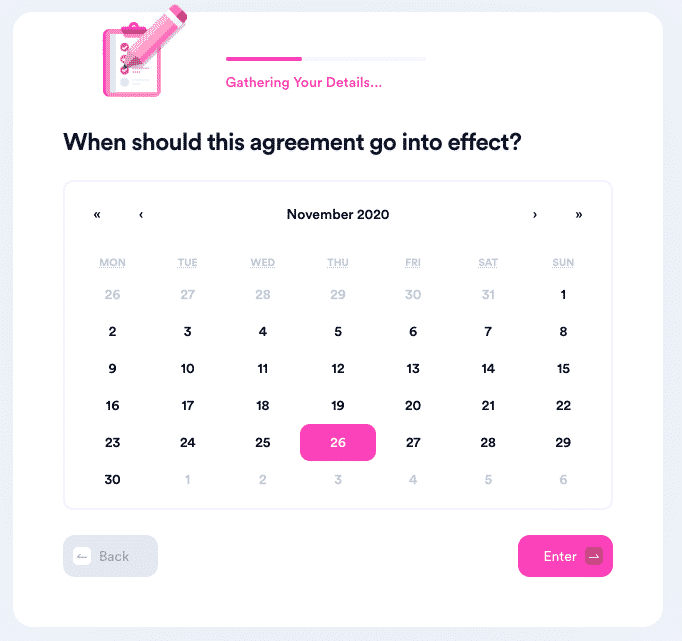 All the Legal Documents You Can Create With DoNotPay's Assistance
Our app has various agreements and contracts at your disposal. Check out some of them in the table below:
Real Estate

Quitclaim Deed

Intent To Purchase Real Estate

Business Agreements

General Business Contract

Non-Compete Agreement

Non-Disclosure Agreement

Other

General Affidavit

Promissory Note
Other Legal Documents You Can Learn About if You Use DoNotPay
You can to learn more about various legal documents. Here are some of the agreements and contracts you can inform yourself about:
Our database has something for everyone!
Say Goodbye to Administrative Issues—Rely on DoNotPay
Are annoying procedures—such as canceling memberships, disputing parking tickets, filing warranty and insurance claims, requesting refunds for purchased products or services—giving you headaches? Do you dread calling an airline's customer support to request a refund and compensation for a canceled flight? You're not alone! The good news is—DoNotPay can help you solve these issues stress-free!
You can use our app to prepare for your driving test or other government exams and schedule an appointment with the DMV in minutes. 
Are you wondering whether you're paying too much for your property taxes? Make sure to try out our Property Tax feature and learn about the best way to reduce your property tax bill. 
Annoyed by Spammers? DoNotPay Can Help!
With DoNotPay, you can get rid of spam emails and text messages and report robocalls in one fell swoop. Our Burner Phone feature will generate a fake phone number that you can provide upon registration for any service! 
Besides helping you enjoy free trials without the risk of being charged, DoNotPay's virtual credit card has another advantage. It will provide a random email address you should use when signing up for a free trial. That way, you'll avoid pesky marketing emails and email notifications.