How to Boost Your Non-Profit Small Business with Loans and Grants
The easiest way to qualify for a loan is to own a business that has been around for a while and has good credit and revenue history. For nonprofit organizations, the bar is a lot higher. While nonprofits do not turn a profit, they still need funds to keep the organization going.
How do charities and nonprofits go about bagging nonprofit small business loans then? We will explain nonprofit loans and the best nonprofit lending sources. We will also show you how to boost your chances of loan approval with DoNotPay.
What Are Small Business Loans?
Small business loans refer to the monetary contribution designed to give not-for-profit organizations a leg up to start working, maintain operations, or expand their services to more people or places. While many nonprofits do a lot of good globally, traditional lenders—like banks—do not fancy lending to them because of their nonprofit status. Nonprofits reinvest all their revenue back into the organization, so lenders see them as a riskier proposition than for-profit small businesses. Some exceptions can be made if:
The nonprofit can prove it can make enough money to pay back the loan
There is a government subsidy or some other kind of financial incentive in the mix
When Does a Non-Profit Need a Small Business Loan?
An organization operating at a deficit does not need a nonprofit small business loan. Adding a loan to existing losses could push the organization one step closer to bankruptcy.
It might be the right time to look and apply for a nonprofit small business loan when you need to:
Balance out cash flow—Sometimes, the timing of your funding and payroll may not be in sync. You'll need a loan as a temporary cash-flow fix
Do some asset spending—If you want to buy equipment or build or improve a leasehold or other fixed assets, a nonprofit loan could be a good idea
Fund a business opportunity—If a rare window has opened for you to expand your organization into a previously restricted community or to fund your merger expenses, a nonprofit loan could cover these costs
Consolidate debt—In case you have too many debt obligations and need a more lenient way to settle them, a nonprofit loan could help
Applying for a loan in these situations only makes sense if you have a reliable repayment plan in place that can be covered by your nonprofit's budget.
The Best Nonprofit Small Business Loans Providers
While getting a loan for nonprofits is more challenging than for regular businesses, there are still sources and avenues to get funding, even from well-established lenders. This table shows some of the best traditional and non-traditional lenders known for providing nonprofit financing:
| Loan Provider | Description |
| --- | --- |
| Community Development Financial Institutions (CDFI) | These lenders have the backing of the U.S. Department of Treasury. They focus on providing startup loans for nonprofits or other regular not-for-profit loans for mission-driven organizations in underserved or disadvantaged communities. CDFI loans are usually small and only work within their designated localities |
| Nonprofit loan funds | Such lenders are mostly nonprofits themselves that prioritize other nonprofits in low-income or underserved communities. They don't offer massive amounts of money, but the loans come with favorable terms. They also have small interest rates, and sometimes, none at all |
| Banks and credit unions | Banks still offer nonprofit loans for small businesses to show off their philanthropy. They strongly prefer established nonprofits and have higher interest rates than credit unions |
There are other sources of nonprofit funding you can look into. These include:
Nonprofit grants
Crowdfunding
Corporate giving programs
Business credit cards
Online loans
Do You Want To Increase Your Chances of a Loan Approval? Use DoNotPay's AI-Powered Product!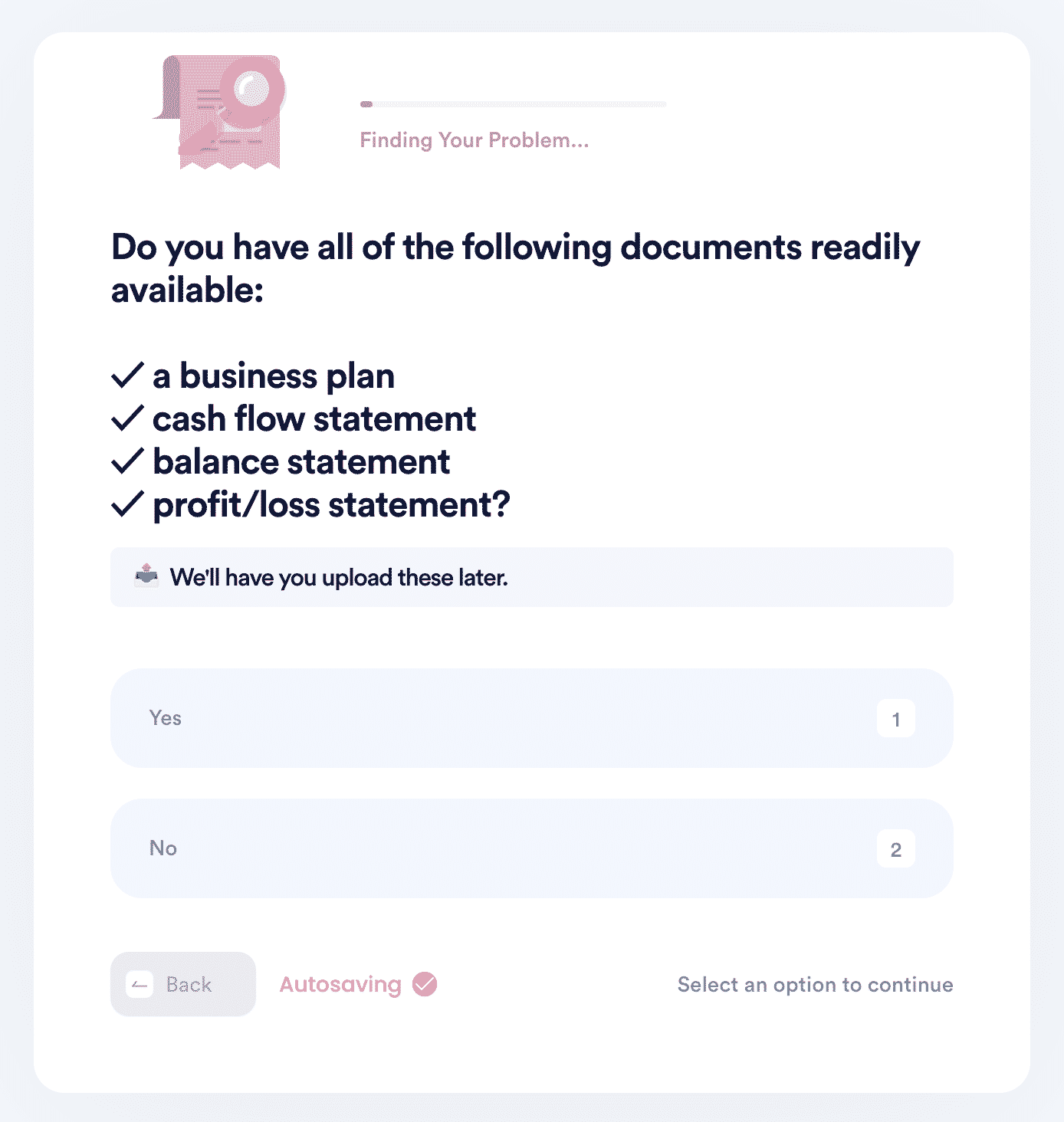 Preparing for a loan application can be tedious, especially if you run a startup or have had your application denied before. DoNotPay helps you draft a professional loan request letter and sends it to your preferred merchant. The purpose of this letter is to prove to your prospective lender that your business or organization is an ideal candidate for a loan.
To draft the letter and apply for the loan, here's what you need to do:
Gather all the necessary paperwork to prove your personal and business financial health
Sign in to your DoNotPay account using any web browser
Locate the Business Loan Request Letter product
Answer the chatbot's questions about your business and the desired loan
Upload the documents
DoNotPay will craft a watertight loan request letter using the provided information. The process also serves as your personal checklist to ensure you do not forget any important documents or details.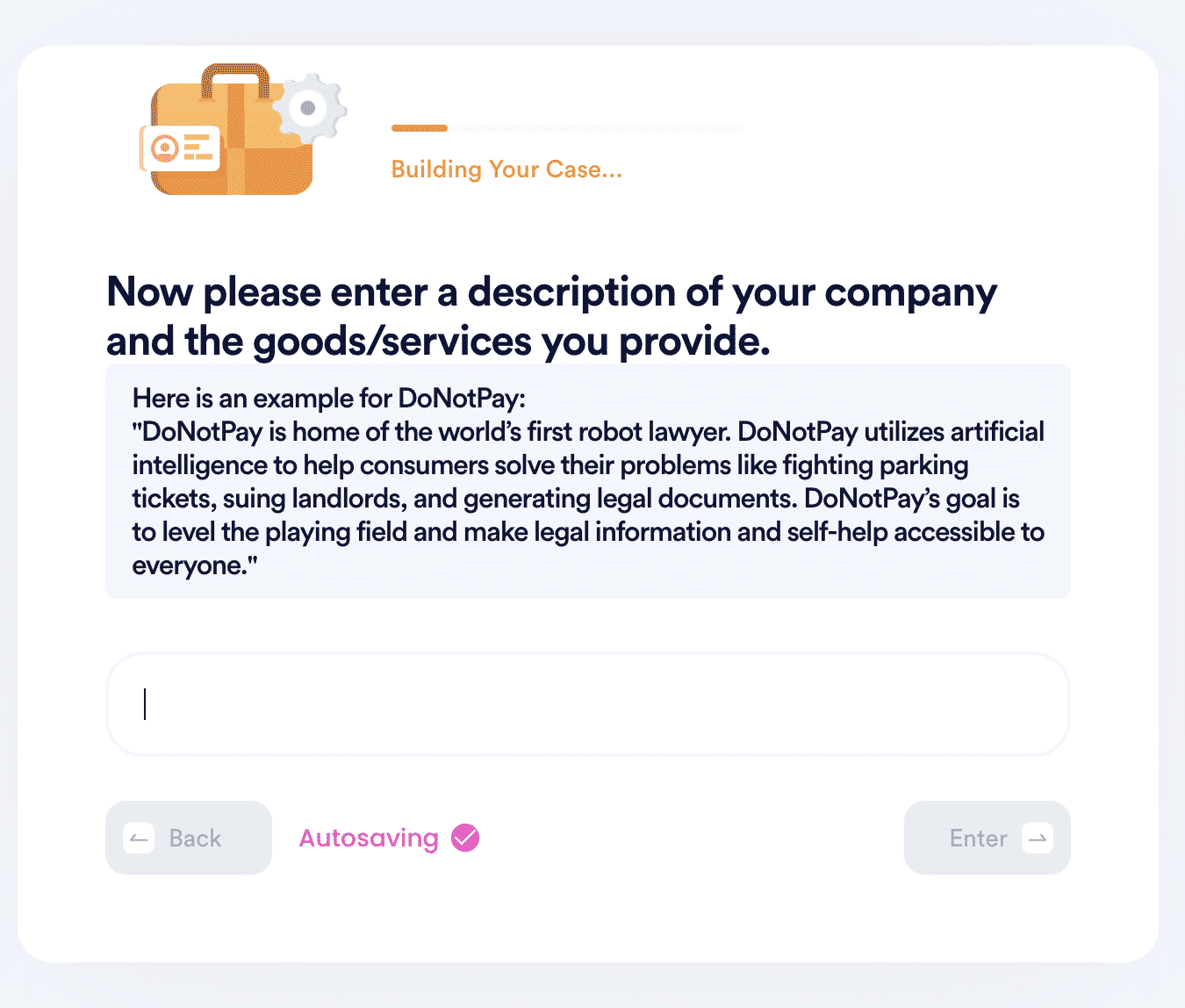 If you are not sure how to find the perfect lender for your needs, you can use our integrated feature for matching business owners with online lenders. Log in to your DoNotPay account, start the Business Loan Request Letter tool, and specify that you need help with identifying the best loan providers when prompted.
Resolve Various Business Problems With the Help of DoNotPay
Handling annoying administrative issues is the last thing you want to worry about while trying to build a business empire. The good news is that you do not have to! DoNotPay has developed many nifty products that make various pesky tasks easy to complete.
Some of the small-business-related matters we can help you with are:
Taking out business loans
Obtaining an Employer Identification Number (EIN)
Automating the filing of 83(b) election forms
Requesting your money from customers who won't pay
Registering a DMCA agent
DoNotPay can also make communication with your clients or business partners easier as we enable you to fax and mail your letters, forms, and other important documents without leaving your office.
Maintain a Good Business Reputation
It is no secret that building a trusting relationship with clients takes time and effort, so why has all that hard work been ruined by negative online reviews that are fake? DoNotPay is here to help you remove illegitimate, fake reviews in a matter of clicks!
Want to dispute unfair chargeback requests but are not sure how to go about it? By using our Fight Chargebacks feature, you can have DoNotPay create a customized chargeback rebuttal document in a few minutes.
With our app, you can also protect your trademark from people trying to use it, file the self-certification request with the Privacy Shield program, and handle many other aspects of your business hassle-free!
Non-Profit Small Business Loan — FAQ
Can I still apply for Small Business Administration's COVID-19 relief?
No. The SBA has stopped accepting new applications for COVID-19 relief loans and grants. However, it continues to offer PPP loan forgiveness.
Can I fundraise for a charity using crowdfunding sites?
Yes, nonprofits can raise capital using crowdfunding sites such as GoFundMe, Kickstarter, and Indiegogo to collect funds from a large number of people.