The Ins and Outs of the
Non-Disparagement Agreement
Figuring out legal documents and the jargon on your own is difficult and requires some time. To help you avoid the hassle, we break down the non-disparagement agreement for you.
Sign up for DoNotPay and learn how to write contracts like a pro!
Non-Disparagement Agreement
Explained
A non-disparagement agreement is essentially a clause—a part of an agreement—between an employer and an employee. The clause is used to ensure that the employee won't slander the company or the employer nor speak negatively about them in any way.
The common agreements that include the non-disparagement clause are:
If you sign a contract that contains the non-disparagement clause, you will agree not to share anything negative about the company, no matter the circumstances.
When Is a
Non-Disparagement Agreement
Used?
This clause or agreement is mostly used when hiring new or terminating current employees.
When hiring new employees, the relationship between the employer and employee is optimistic, but that doesn't protect the employer in the long run. Employers tend to use the non-disparagement clauses as insurance that their employees won't share any critical information even if their relationship turns sour.
When terminating the employment—especially in cases of employees leaving the company on bad terms—the employer will incorporate the non-disparagement clause into the agreement for additional protection.
How To Write a
Non-Disparagement Agreement
If you want to write a contract on your own and include a non-disparagement clause, you should make sure to incorporate other parts that make it enforceable. Check out the list below to see some of the sections (besides the non-disparagement clause) that your agreement should include:
Personal information

The beginning and end date of the agreement

Terms and conditions

Duties and obligations of the parties involved

Breach of the contract

Termination policy
Should I Sign the
Non-Disparagement Agreement
?
Signing a non-disparagement agreement has its advantages and disadvantages. Since you're looking for assistance in making this decision, we'll provide answers to some common questions you should ask yourself before deciding:
| | |
| --- | --- |
| Question | Answer |
| Do I have to sign the agreement to get the job? | If your job is on the line and it all depends on you signing the contract, agreeing to not speak badly about the company is probably a good call. In case your job isn't on the line, you shouldn't lock yourself into anything |
| Will the company agree to the same terms? | An important thing you should consider when it comes to the non-disparagement agreements is whether the company will agree to the same conditions. If they're not willing to reciprocate the deal, you shouldn't jump at the opportunity and agree to the terms |
| What time frame will this agreement include? | The non-disparagement clause should only refer to future communication. If the terms state that you can't speak ill of the company going forward regardless of what happened before the contract became effective, you should be good to sign it |
| Will I get severance if I sign it? | Benefits and severance pay are important to consider before signing the agreement. If the severance package is worthier than sharing your experience at the company, you should agree to it |
DoNotPay Helps You Draw Up Agreements in a Flash!
If you are looking for a quick and efficient way to draw up a contract, DoNotPay can help! We developed a feature that allows you to draft various real estate and business agreements in only a few clicks! Why bother with deciphering random contract templates when you have an easier solution at your fingertips?
The process is super simple as well. Here's how it works:
Type in the name of the agreement that you want

Answer a few questions about you and your agreement
DoNotPay gets to work and generates your personalized document in a few minutes! You can download or print it right away, and the last step is to get the parties involved to sign it.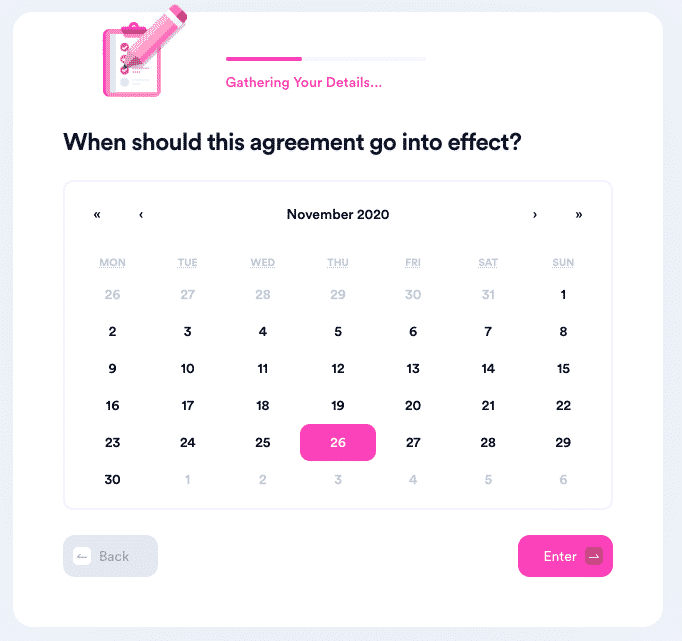 Check out the table below to see what contracts DoNotPay can create in your stead:
Business Agreements
Real Estate Agreements
Other Agreements

General Business Contract

Non-Compete Agreement

Intent To Purchase Real Estate

Quitclaim Deed

Promissory Note

Estoppel Certificate

General Affidavit
That is not all! If you draft your document and need a quick way to get it notarized, DoNotPay provides further assistance! We integrated two features—the Standardized Legal Documents and the Notarize Any Document one—to make drafting contracts and getting them notarized a piece of cake! You can get both tasks done using the same app!
DoNotPay Gets the Job Done—Solve Any Issue Within Several Clicks
DoNotPay is an ever-growing app, which is constantly adding new ways to help you with your everyday tasks and those not so common.
Count on your virtual assistant when you need to:
Have Your Cake and Eat It Too—Earn, Save, and Get Your Money Back
Not only can we help you complete numerous tasks, but we can also make sure your money stays where it belongs—in your wallet. Let DoNotPay assist you in getting different types of refunds and compensation:
Our app can also help you find your unclaimed funds, get free trials and free raffle tickets, and obtain a college fee waiver.