How To Draw Up a
Non-Disclosure Agreement
in a Few Clicks

Many businesses use non-disclosure agreements—popularly known as NDAs—to protect their confidential info. Do you want to ensure your business secrets are safe? You should learn how to draw up non-disclosure agreements without hiring a lawyer or searching for contract templates online. DoNotPay offers a solution that will help you write a contract or any other legal document in the blink of an eye.
What Is a Non-Disclosure Agreement?
A non-disclosure agreement is a legally binding contract created to keep certain info secret. There are two types of NDAs:
Mutual non-disclosure agreement

—usually required when two companies discuss working together and want to protect their interests and business details. Both parties need to sign the agreement

Non-mutual agreement

—an NDA signed by one party, usually an employee, visitor, consultant, or any other individual who has access to a company's sensitive info
While NDAs can cover any type of information, they usually protect important business details, such as:
Trade secrets

Client info

Marketing plans

Manufacturing process

Plans for a new product
The signing parties agree to keep information declared in the contract a secret for as long as the agreement is valid. 
Other than business NDAs, there are also implied contracts, such as an attorney-client privilege, doctor-patient confidentiality, and bank-client confidentiality.
Why Should You Sign an
NDA Agreement?
Due to significant market competition in all industries, protecting your business secrets is important now more than ever. Confidentiality agreements ensure your business ideas, plans, and deals stay a secret for as long as you want. 
How To Write a Non-Disclosure Agreement
on Your Own
If you don't want to waste money on a lawyer, you could try to write an NDA yourself. Bear in mind that such an endeavor is super challenging as the contract includes many important clauses that shouldn't be overlooked:
Disclosing and Receiving Parties

Confidential Info

Exclusions

Non-Disclosure Obligations

Time Frame

Jurisdiction

Signatures

Additional Clauses
Disclosing and Receiving Parties
Every NDA should include the names of both parties:
Disclosing party

—a person or company sharing the info

Receiving party

—a person or company receiving the info  
Confidential Info
The second part of the contract should specify what information has to be protected by the agreement. These are some of the common examples of confidential info protected by the NDA:
Confidential Info
Examples

Trade Secrets

Instruments

Blueprints

Technical designs

Patents

Customer info

Special formulas

Business Activities

Deals

Real estate

Pricing

Marketing

Financial records

Creative Endeavors

Web design

Recipes

Product samples

Illustrations

Drawings

Inventions
Exclusions
Many NDAs have an "Exclusion" clause that defines what info isn't protected by the agreement. An NDA usually doesn't cover information:
The other party had access to before the agreement

Already present in the public domain

Independently discovered or developed by the receiving party
Non-Disclosure Obligations
This section should outline the contractual obligations of the receiving party. It usually contains multiple clauses and describes all obligations in detail. These are some of the clauses most people include in their NDAs:
Obligation to maintain confidentiality

Non-disclosure of transaction

Non-solicitation

Non-circumvention
Time Frame
Every confidentiality agreement should state for how long the information in question needs to be kept a secret. This clause includes:
Effective Date

—when the contractual obligation begins (usually the same day the agreement is signed)

Disclosure Period

—the duration in which the contractual information can't be disclosed 

Termination

—when the agreement ends
Jurisdiction
This section needs to declare which state's laws apply in case one party doesn't honor the agreement.
Signatures
A non-disclosure agreement becomes legally binding only when both parties sign it. 
Additional Clauses
You can include additional clauses if the nature of the specified information requires it. Most companies declare the consequences of breaking the non-disclosure agreement.
What Happens if You Break a
Non-Disclosure Agreement
?
Parties who violate an NDA face legal consequences disclosed in the agreement. Most companies require financial compensation or file a lawsuit against the receiving party.  
Draw Up a Non-Disclosure Agreement in Under Five Minutes With DoNotPay
You might be feeling overwhelmed after reading all the clauses you need to include in your NDA. If you want to protect your company's sensitive info error-free without hiring a lawyer, you should rely on DoNotPay. We have come up with a practical feature that will help you draw up an unlimited number of professional documents for a low price.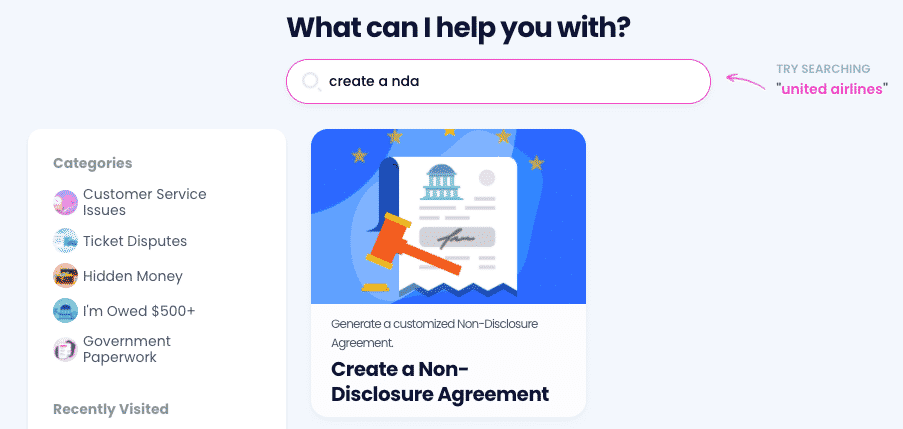 To write a non-disclosure agreement with DoNotPay, follow these steps:
Open

DoNotPay

Type in the name of the document in the

Search

field

Provide required details 

Download or print the document 
Need Help Making Other Contracts? Rely on DoNotPay!
Besides offering an efficient way of writing an NDA, DoNotPay's extensive database allows us to help you with other legal documents, including:
Intent to Purchase Real Estate

Promissory Note
More of What We Can Do for You
Our multifaceted app can call and record the conversation with the customer service of the company that just won't let you go! If you are having trouble canceling an unwanted service via the traditional channels, use DoNotPay to get it over and done with!
We can help you stop the persistent robocalls and robo texts from the nagging company and request a refund for unused services in a matter of minutes.
We'll also lend a helping hand in stopping spam mail—whether it's electronic or paper. Our Spam Collector product unsubscribes you from unwanted emails and cleans up your physical mailbox too!
DoNotPay Can Do Your Paperwork for You!
Feeling like you're in bureaucratic hell? Our app will draft the paperwork you need and get you out of any hurdle before you know it! 
We can compose most of the documents that you require for any administrative purpose in your jurisdiction, most notably: