A Detailed Guide to Drawing Up a Non-Compete Agreement

If you want to ensure your employees don't become your competitors during or after the employment, you should draw up a non-compete agreement.
If you don't know how to write legal documents, you're probably thinking about hiring a lawyer or searching for contract templates online. The good news is—there's a much more efficient and affordable solution. DoNotPay will help you write any contract—including a non-compete agreement for your business—in a matter of minutes.
What Is a Non-Compete Agreement?
A non-compete contract prohibits your employee from:
Working for a competitor 

Becoming a competitor
The employee who signs the agreement can't enter into professions or markets in direct competition with you. Every non-compete contract should state for how long the employee needs to honor the requirements after the employment period is over. The signing party has the right to consult a lawyer and decide whether or not to accept the terms of the non-compete contract. 
Why Is Signing Non-Compete Agreements a Good Thing?
Employers fear that former employees will reveal sensitive information to a competitor or use the info to make their own products. That's why non-compete agreements are widely used in industries with few competitors or various innovative projects and patents. By creating a non-compete contract, you can ensure that your trade secrets and business ideas and strategies stay safe for a certain amount of time.
Even if one of the employees violates the agreement, you will be entitled to the compensation determined by the contract. 
Other Documents Related To a Non-Compete Agreement
A non-compete agreement can be a separate contract or a clause within:
Employment contract
While you should choose which of these options works best for your business practice, most people prefer including the non-compete clause in the employment contract. Some people prefer including the clause within a non-disclosure agreement as both contracts are designed to protect business secrets, ideas, client info, etc.
Is a Non-Compete Agreement Legally Binding?
Whether or not a non-compete agreement is legally binding depends on two factors:
The state the business is registered in

The content of the agreement 
While most states accept non-compete agreements with reasonable limitations, some—including Oklahoma, California, and North Carolina—disregard them. California has very strict laws against this agreement, so much so that an employer who asks employees to sign the contract can be sued.
Even if your state's law doesn't automatically disallow non-compete agreements, it doesn't mean that every contract will be enforceable. If your agreement covers unrealistic and unreasonable conditions and limitations, the state will reject it. You should consult a lawyer if you're not sure whether the clauses in the contract are in accordance with your state's laws.
Can You Write a Non-Compete Agreement Yourself?
If you don't have any knowledge regarding laws and legal terminology, you probably won't be able to write a valid agreement on your own. Hiring a lawyer isn't an option for everyone since they can be super expensive. 
One of the solutions you have is to look for non-compete agreement templates. This option is not ideal as every state has different laws regarding the agreement, and each business has different needs. 
If you still choose to write the agreement yourself, you shouldn't forget to include the following information:
The date on which the contract begins

Reasons for the agreement

The period during which the signing party can't work for or as a competitor

The state in which the agreement is signed 

Compensation for the non-competing party

What happens if the employee doesn't honor the agreement
The Simplest Way To Draw Up a Non-Compete Agreement Is With DoNotPay
If you want to draw up a professional non-compete agreement without spending a small fortune on lawyers, DoNotPay has got your back. We've developed a feature that can help you write legal documents in a few clicks. 
To create a contract with our help, do the following:
Open

DoNotPay

Type in the name of the document you want to create in the

Search

bar

Enter the required details

Print or download the document we create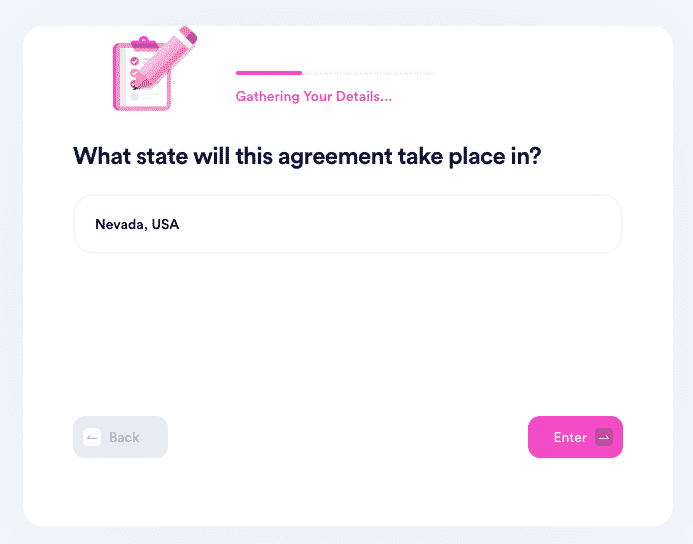 The document will become official once all parties sign it or notarize it. Every contract we create is personalized to your needs and adjusted to the answers you provide. 
Write Any Legal Document Stress-Free With DoNotPay
Do you need help writing other documents or including a non-compete clause in an operating or non-disclosure agreement? You can use DoNotPay's feature to create any legal document and save both time and money. Here's a short overview of some of the contracts we can help you draw up:
Business Contracts
Real Estate
Other

Non-Disclosure Agreement

General Business Contract

LLC Operating Rules Document

Estoppel Certificate

Intent to Purchase Real Estate

Quitclaim Deed

General Affidavit

Promissory Note
More Benefits of DoNotPay
DoNotPay is a useful tool for handling many otherwise annoying life's trifles, including:
What Else Can Our Award-Winning App Do for You?
If you think that's impressive, wait until you've heard about other features we boast!
Our powerful app can draft paperwork for you, locate unclaimed funds under your name, cancel subscriptions, sue robocallers, and protect you from stalkers and harassers—all in one nifty browser app!
Our services have been recognized by the esteemed ABA Brown award, serving as a testament to our abilities to assist you with your small claims issues, free trial auto-renewals, college fee waivers, public records, copyright protection, and much more!