How to Create a Non-Compete Agreement Instantly
Creating your non-compete agreement is not an easy task. Writing legal documents requires a lot of time, skill, and knowledge. If legal terminology is not your strong suit, the best course of action would be to consult a lawyer, use a non-compete agreement template, or let DoNotPay assist!
This article will present the most practical ways of generating a legally valid non-compete agreement and help you figure out how you can benefit from contract templates.
Understanding a Non-Compete Agreement
A non-compete agreement serves to prevent employees from entering into competition with their employer after their collaboration ends. Its main purpose is to protect the employer's business and secure its place in the competitive market. Employees are usually required to sign this document at the beginning of their employment and honor it for a certain period after leaving the company.
You should know that not all states accept the non-compete agreement. While some allow every business to use this document, other states—like California, Oklahoma, or North Dakota—don't accept any type of non-compete agreement.
The non-compete agreement can include various items an employee must honor, such as:
Consent that your company-related secrets will remain safe

Agreement not to start a competitive business after the employment finishes

Understanding that the employee mustn't work for competitors for some time after the employment is over
There are many other factors that you should have in mind when creating your non-compete agreement. One option is to go for a non-compete agreement template.
What Should a Sample Non-Competition Agreement Contain?
Before you use any template or draw up a non-compete agreement on your own, you should know the legal requirements. Missing out on an important item can cause your business to suffer or your state's court to dismiss the agreement.
Here is an overview of key points of any valid non-compete agreement:
Non-Compete Agreement Element
Details

Document's purpose

The employer must provide the following information:

Company name

Recipient's name

Clearly stipulated purpose of the document that both parties must read

Non-competitive disclosure

The agreement must indicate which employee actions are forbidden for the duration of the agreement. Those actions may refer to:

Employees

Clients/customers

Business practices

General competitors

Specific competitors

Duration of the agreement

The employer should stipulate the period during which the employee must honor the agreement. It can last for:

Purchase option

An employee can sometimes void the contract by paying a required fee to the company. The agreement should have a specific indication of that option and information of the required sum

Titled sections and subsections

The non-compete must include the following items as well:

Remedies

Choice of law

Confidentiality

Return of items

Entire agreement

Permitted disclosure

Confidential information

Consultants and employees bound

Parties' signatures

The employer and the employee must provide the following:

Signatures

Name (and title)

Date of signing the document
How To Find a Free Non-Compete Agreement Template
Choosing a non-compete agreement template is not as easy as it sounds. Different U.S. states have various policies regarding the non-compete agreement requirements. In some states, you can even be sued for imposing such an agreement on your employees.
Other possible outcomes include omitting important information or creating a document that your state's court will consider unfair or invalid and dismiss on the spot.
To avoid any unnecessary complications, you should do the following:
Check your state's laws

—figure out whether your state of residence allows non-compete agreements, in what industry, and under what conditions

Regulate geographical areas

—extending the prohibitions to different states may seem excessive
Non-compete agreement templates are available online and usually free to download. Before you choose one, you must pay attention to all factors that we listed above. Unfortunately, most non-agreement templates are general and can't be applied to individual business and state requirements. Figuring out which non-compete agreement template to use is a risky move and can take up more time than creating it from scratch.
Luckily, you don't have to pay lawyers to draw up a non-compete agreement for you. DoNotPay has a much easier and much more affordable way to go!
Create a Non-Compete Agreement With DoNotPay
can create a non-compete agreement in the blink of an eye! You won't have to worry about the legal or state requirements—our app will do that for you!
All you need to do is provide some essential info, and we will create a clear, legally valid, and professional-looking document that any state court would accept!
Here is how the process goes:
Access DoNotPay from any

Type

Non-Compete Agreement

in the search field

Answer a few questions about you, your business, and your state of residence

Wait for DoNotPay to create a customized document that meets all requirements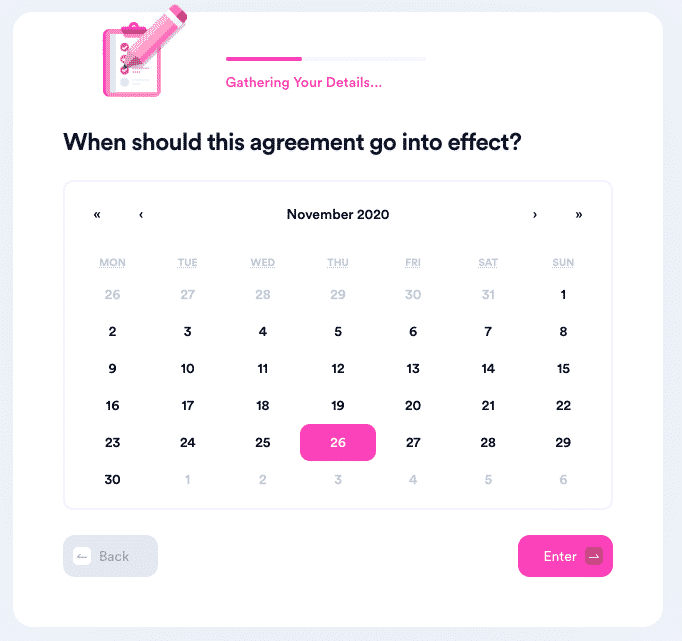 You don't have to learn how to write a contract! Our app can assist you in creating various legal documents, including: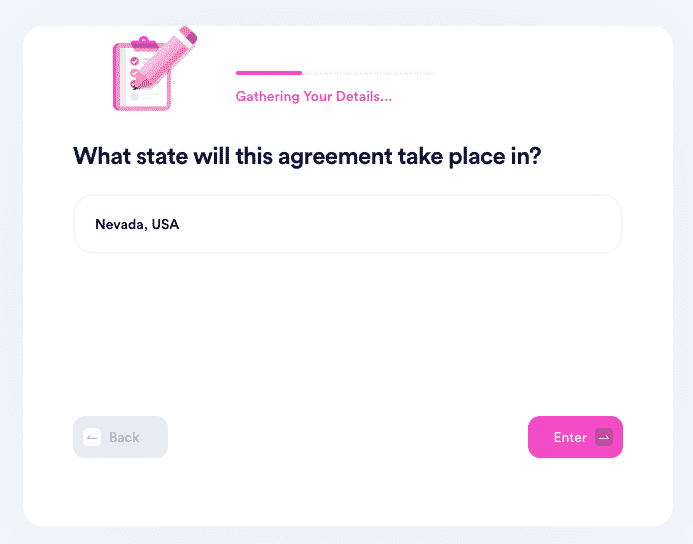 Forget About Bureaucracy With DoNotPay
There's no end to what our app can help you do. From drafting legal documents and asking for bill extensions and reducing property taxes to connecting with an inmate in a federal prison and contesting parking citations, DoNotPay can handle it all and cut through the red tape.
Need to pass a government test? Use our practice tests database to nail it. Looking to file an insurance claim? You've come to the right place. College applications drained your accounts? Request college fee waivers with our assistance.
The DoNotPay app is so versatile that it can easily locate any unclaimed funds under your name or any clinical trials that you're eligible to participate in. We can also schedule DMV appointments and take care of your small claims court documents.
Check Out What Else DoNotPay Has in Store
DoNotPay never stops upping the game. You can explore some of our latest features and see how you can access public records, receive free online fax, submit a warranty claim, or get compensation if you were a victim of a crime.
Alternatively, check out some of our most popular products that aim to reclaim your funds—from getting airline flight compensation and submitting refund and chargeback claims to canceling your unused subscriptions and getting class action cash from email, text, and robocall scammers.