How To Draw Up a Non-Compete Agreement in Michigan in Three Clicks
Non-compete agreements are there to make sure your employees don't become competitors during or after their employment at your company. If you want to protect your interests, you need to write a good non-compete agreement.
The problem arises when it comes to creating a non-compete agreement in Michigan. This state has its own rules about non-compete agreements, and it may seem like the law is on the employee's side.
If you don't know how to write this legal document by yourself, then DoNotPay is the solution for you! Along with a vast database of contract templates, DoNotPay offers comprehensive information about non-compete agreements in Michigan.
What Does a Non-Compete Agreement Cover?
A non-compete agreement makes sure that your employee can't:
Work for a competing company while they're working for you

Start working for a competing company for a while after your business relationship is over

Reveal your trade secrets to a competitor company
Are Non-Compete Agreements Enforceable in Michigan?
Non-compete agreements are enforceable in Michigan courts if they are reasonable, which depends on the following four factors:
Duration

Geographical area

Type of employment or line of business

Reasonable competitive business interests
The Michigan law states that if some parts of a non-compete agreement are unreasonable, the court will limit them so that the agreement may be enforceable. This decision will be based on the reasonable parts of the agreement.
The Duration of a Non-Compete Agreement in Michigan
Michigan courts consider non-compete agreements that last a year to be reasonable. Any amount of time that goes over this limit is considered unreasonable.
Geographical Area
If you want your non-compete agreement in Michigan to be enforceable, your agreement needs to be limited to a particular geographical area. The reasonable limit of a geographic area will be based on the nature and size of your business. For example, forbidding your employee from working for anyone in the nation will never be reasonable.
Type or Line of the Business
To make your non-compete agreement enforceable in Michigan, you need to specify the exact type or line of business that the employee is forbidden from joining. It would be considered unreasonable to prevent your employee from working for a competitor in any position or capacity that's unrelated to your type or line of business.
Reasonable Competitive Business Interests
When it comes to broad non-competes, they could be hard to enforce. This usually concerns the unfair advantage of the former employee. The unfair advantage could include specialized training, good knowledge of the employer's existing clients, or confidential information.
The reasonable business interests that your agreement can protect are your trade secrets, the relationships you build with other customers or clients, and confidential information.
How To Write Up a Non-Compete Agreement in Michigan
To write a non-compete agreement in Michigan, you first need to consider what the law says about this document type. The currently passing legislature has introduced certain restrictions on non-compete agreements in Michigan. The restrictions require you to: 
Disclose the terms of the agreement in writing before hiring the employee

Post the statute that concerns non-compete agreements in a visible location in the workplace

Provide written notice of the agreement to prospective applicants

Not give non-compete agreements to employees that earn below a specific amount
DoNotPay Can Help You Create Various Legal Documents
If you want to avoid the bureaucratic conundrum that comes with writing up your own agreements, you can use DoNotPay. We created a specialized tool that creates legal documents in your stead. You only need to sign up for DoNotPay, and you'll be able to access our vast database in seconds. We can help you draw up any of the following documents:
Business Contracts
Real Estate
Other

Non-Disclosure Agreement

General Business Contract

Intent To Purchase Real Estate

Quitclaim Deed

General Affidavit

Promissory Note

Child Care Authorization Form
We constantly update our database of contracts we can create for you, so you can come back anytime to see which other documents are on offer!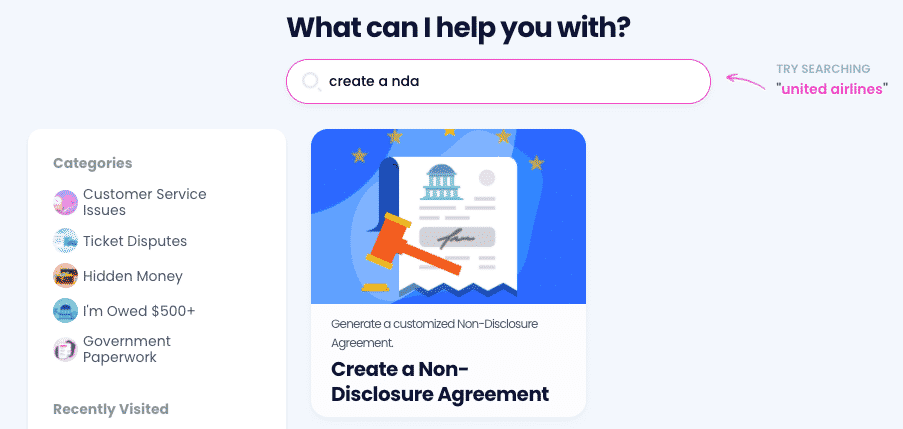 Steps to Creating a Well-Written Non-Compete Agreement With DoNotPay
After you sign up for DoNotPay, you can follow these steps to create your personalized document in three clicks:
Type in

Non-Compete Agreement

into the search bar

Add the details of your agreement and answer a few questions

Tap on

Proceed
DoNotPay will generate the document automatically, and you can download it to your device. 
DoNotPay has another neat product for you if you want to make your document carry more legal weight—Notarize Any Document.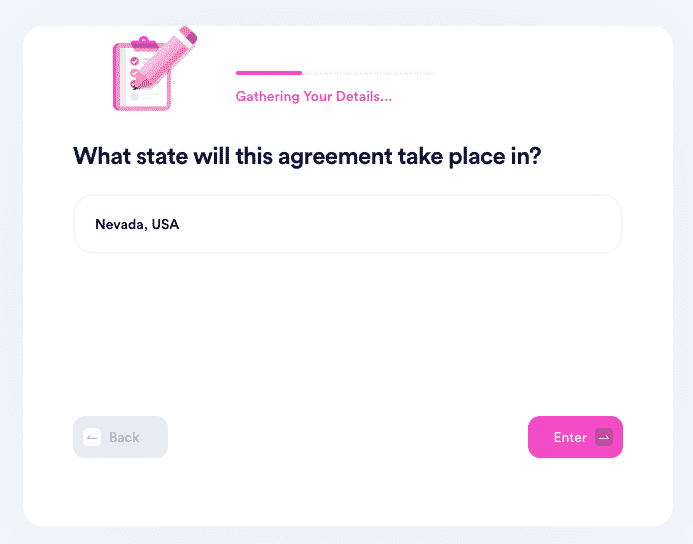 Get Your Documents Notarized With DoNotPay's Help
If you want to have your non-compete agreement notarized, DoNotPay can also do this for you. You can access our nifty product as soon as you sign up. After you upload your document, we will send a link to your email to set up an appointment with an online notary.
The notary will check your identity, witness your signing, and provide their signature. The best part about this product is that the notarization happens remotely, which will help you avoid the hassle of in-person notarization or mobile notary fees that can cost an arm and a leg.
Use DoNotPay's Features to Your Advantage!
DoNotPay offers a myriad of helpful services you can use to resolve your everyday hurdles. 
Do you need help paying bills or finding and claiming missing money? Are you interested in applying for clinical trials in your area? We can help you solve these and many more issues in no time!
Here are some other problems you can handle effortlessly with our help:
Hiring a Lawyer Can Cost a Small Fortune—Rely on DoNotPay Instead
If you're on a tight budget and can't pay a lawyer to help you create legal documents, file a claim in small claims court, or handle stalking and harassment, DoNotPay has a solution for you. 
Our app will help you create various documents, including child travel consent forms and complaint letters for a problematic neighbor. 
Are you a victim of a crime and need help applying for reimbursement of your crime-related expenses? You can sign up for DoNotPay and allow us to handle your crime victims compensation on your behalf.
DoNotPay can also connect you with an online notary and enable you to get your documents notarized from the comfort of your home.