What You Must Know About the Non-Compete Agreement in Georgia
Non-compete agreements are invaluable in protecting a business from the disclosure of confidential information. To write this legal document properly, you must be familiar with the local legislature, and the contract must meet those requirements to be legally binding. 
In this article, we will introduce you to the basics of the non-compete agreement in Georgia and show you how to draft one in our app in mere minutes. Forget about outdated templates—check out our tips and create your contracts with zero effort with DoNotPay.
The Essentials of Non-Compete Agreements
A non-compete agreement is a contract between an employee and an employer that prevents the worker from engaging in competing business activities during and after the employment. 
The employee agrees to keep all trade secrets and intellectual property of their employer safe and private and not to disclose them to the competing companies. The parties usually sign this agreement at the beginning of their collaboration, or they add a non-compete clause to the initial employment contract. 
Many employees believe that non-compete contracts make finding a new job difficult, but employers don't share that opinion. For them, these legal documents provide a high level of protection and ensure that the sensitive details related to their business will remain confidential.
Do Non-Compete Agreements in Georgia Apply to All Types of Employees?
It's important to note that in Georgia, non-compete agreements are enforceable only against four categories of employees:
Persons who participate in making sales 

Company professionals or vital employees

Workers that often solicit for the clients of their employer 

Employees who hire, fire, or promote people or manage the entire company or a specific subdivision
If the employer signs a non-compete contract with a person who doesn't belong to these categories, the document won't be enforceable.
Requirements of an Enforceable Non-Compete Agreement in Georgia
Georgia laws related to non-compete agreements have gone through various changes. The newest updates work in the employer's favor, but they also impose some conditions an enforceable contract must meet. They are listed in the table below:
| | |
| --- | --- |
| Requirements | Explanation |
| Consideration | A proper non-compete agreement must be fortified with consideration. It means giving something of value to an employee in exchange for following the agreed-upon rules |
| Reasonableness | The contract must have limited length and scope, and the geographical coverage should be reasonable. Employers can rarely enforce a contract that goes on indefinitely or prevent the former employee from finding a job in several states |
| Valid business interest | When asking the employee to sign a non-compete agreement, the employer must have a proper business-related reason for that. The reasons include keeping the confidential details safe, protecting their proprietary information and inventions, and other similar aspects |
Even if employers create a non-compete contract with unenforceable terms, they can still fix it by referring to the blue pencil rule of severability. It's a Georgia law implemented in 2011 allowing the judges to modify the existing agreement by ditching specific sections from it. This way, they make the contract legally binding instead of nullifying it. 
Ditch Inaccurate Online Templates—Draft Your Contracts With DoNotPay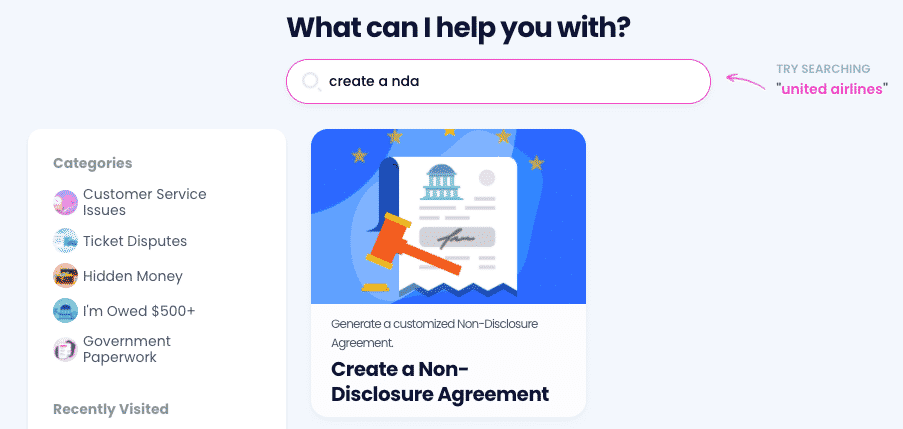 If you are trying to compose a non-compete agreement yourself but keep piling up failed drafts, don't get discouraged—many people struggle with the same problem. 
The good news is—you don't need to spend hundreds of dollars on professional services or fill out suspicious non-compete agreement templates you can find online. DoNotPay has designed a tool that will turn this complicated task into a doddle by creating contracts and other legal documents in your stead! 
Here's what the procedure looks like:
Create a DoNotPay

account and sign in to it

Choose the desired document

Add the details you want to include in the contract, such as your location, start and end dates, and other important info
After receiving your details, we will generate a customized contract based on all state and legal requirements. Our learning base also contains useful guides on creating non-compete agreements according to the laws in Texas, Florida, Michigan, New York, or California.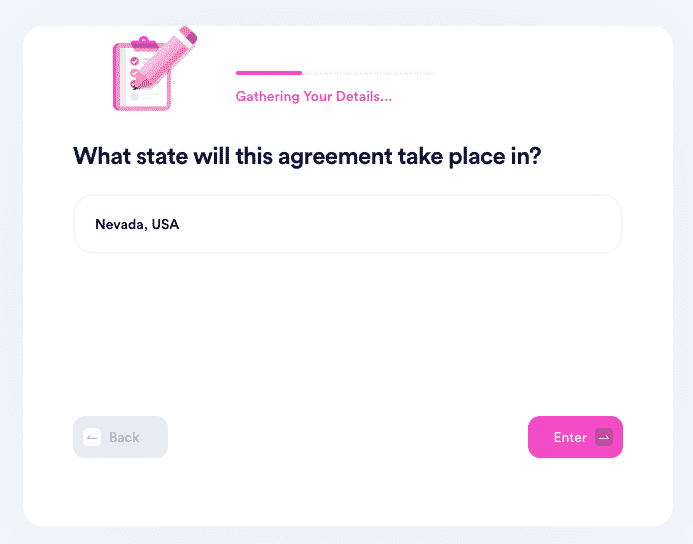 Besides the non-compete agreement, we can also draw up an airtight:
Intent To Purchase Real Estate

General Business Contract

Quitclaim Deed

Promissory Note

General Affidavit

Child Care Authorization Form
Use Our App To Have Your Legal Documents Notarized With Zero Stress
Having non-compete agreements notarized isn't mandatory, but many other legal documents need a notary's signature to gain legal weight. The problem lies in the complicated notarization procedure that takes a lot of time and effort. 
DoNotPay lets you book a virtual meeting with an online notary and have your document notarized fuss-free. All you should do is:
Visit DoNotPay

in any web browser

Choose the

Notarize Any Document

service

Upload the document that needs to be notarized

Type in your email address to receive an appointment link
Once you click on the link we send you, you can choose a suitable date and time for your meeting with the official. They will confirm your identity during a video call and put a digital stamp and signature on your document.
Rely on DoNotPay To Solve Your Administrative Issues
Getting your documents notarized, drawing up legal paperwork, appealing parking tickets, and similar activities usually require a lot of effort. DoNotPay offers various useful products that can help you deal with administrative problems quickly and save a lot of time. We can assist you with:
Protect Your Consumer Rights With DoNotPay
Companies complicate cancellation and refund processes intentionally, hoping that consumers wouldn't want to spend hours trying to solve the issue they're having. DoNotPay knows how important consumer rights are, and that's why we created numerous products that can help you:
Many people forget to cancel their free trials on time and end up paying for the services they don't even use. To prevent that, DoNotPay has developed a nifty virtual credit card that will allow you to enjoy free trials risk-free. Our virtual credit card will also help you avoid spam email notifications by generating a random email address that you can use when signing up for a free trial.