A
Non-Compete Agreement in Florida
Helps Protect Your Business
A non-compete agreement is signed between an employer and an employee and means that the employee is not allowed to become your competitor if they leave your company.
Under the terms of a non-compete agreement, your employee cannot work for one of your competitors or set themselves up in competition with you for a specific length of time.
This safeguards any proprietary information they may have about your business and stops them from using the experience they have gained while in your employ against you.
We know how important it is to legally protect your business, but we also understand how difficult it is to write a contract and prepare a legal document yourself. DoNotPay can help you draft a watertight non-compete agreement in Florida to protect your standing.
Why Do You Need a Non-Compete Agreement?
Your business survives on the product and market knowledge you have gained over time. This enables you to be faster or more efficient than others in looking after your clients' needs.
All your employees share the knowledge and experience embedded in your organization. Allowing any of them to use it against you could damage your standing and your ability to be successful.
This is particularly true if your business is selling highly-developed products or ideas or is one of a small number of similar businesses in your industry.
If your employees could use your company's information to harm your business, you need them to sign a non-compete agreement.
Is a Non-Compete Agreement Enforceable in Florida?
New non-compete agreements in Florida are governed by section 542.335 of the Florida statute.
Some states—particularly Oklahoma, North Carolina, and California—regard non-compete agreements as unfair and prohibit them, but Florida sees them as an acceptable way of protecting businesses. 
Non-compete agreements are enforceable in Florida and can protect:
Trade secrets

Proprietary information

Current and past client information

Client prospects

Professional relationships and contacts

Specialized product knowledge and training
What Should a Non-Compete Agreement Look Like in Florida?
There are four basic types of agreement in Florida that limit what your employees can do after they leave your company:
Non-compete agreements that prohibit competitive business activities

Non-solicitation agreements that restrict your employee from trying to sell to your clients

Non-piracy agreements that prevent your employees from luring your staff away

Non-disclosure agreements

that protect your proprietary information
Whichever type of agreement is most appropriate to your situation, you need to follow these guidelines:
Written agreement

Protection of legitimate business interests

Reasonable time

Reasonable geographical limit

Business- or industry-related
Written Agreement
The non-compete agreement must be written and signed by both employer and employee.
Protection of Legitimate Business Interests
This clause needs to be defined as precisely as possible. Most court cases around breach of non-compete agreements are concerned with the former employee claiming that they were not specifically forbidden from certain actions as they were not defined as legitimate business interests in the agreement.
Your legitimate business interests could include:
Contacts or

finders

who regularly refer business to you

Client lists

Price lists or business terms and conditions
If you try to apply a one-size-fits-all approach to your non-disclosure agreement by making all your employees sign for the same business interests, Florida courts may view this as too generic and, therefore, not legitimate.
A safer approach is to specify each legitimate business interest for each employee or function in your company.
Reasonable Time
Florida courts generally see a non-compete agreement of over two years as invalid. Anything from six months to two years is acceptable.
Reasonable Geographical Limit
You can only restrict your employees to non-competition in the areas where you do business or where you can prove you are planning to expand. In Florida, this means that multi-county—or even state-wide—restrictions are acceptable, but national ones are not.
Business- or Industry-Related
If you are selling software for a specific purpose, such as enterprise resource management (ERM), you can restrict your employees to non-competition in the ERM environment, but you cannot prevent them from working in other software fields.
How Can DoNotPay Help With a Florida Non-Compete Agreement?
DoNotPay knows that legal documents are not easy to write, so we have developed contract templates and customizable forms that you can use to create your own legally-binding agreements.
To get your customized non-compete agreement, all you have to do is:
Navigate to DoNotPay and

sign up

Search for the document you need

Fill in the details you want included

Wait while your document is created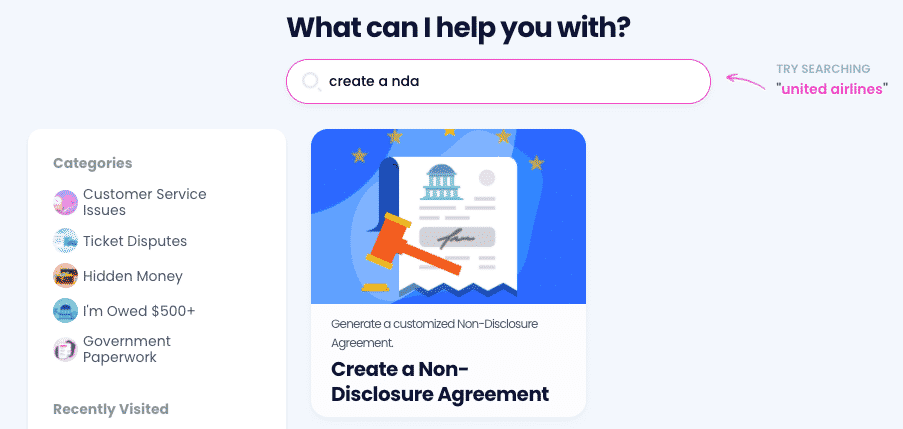 What Other Legal Documents Does DoNotPay Have?
Our range of legal documents is expanding rapidly. Here are but a few of the documents we can create for you once you sign up for our app:
Business
Personal
Property

General business contract

General affidavit

Promissory note

Estoppel certificate

Quitclaim deed

Intent to purchase real estate
Explore the Full Range of DoNotPay's Services
Don't let annoying bureaucracy stop you from exercising your rights or finding new opportunities. DoNotPay—the world's first robot lawyer—comes with a diverse portfolio full of practical shortcuts for:
Struggling with finances? Our app will help you manage unpaid bills, find and claim lost money in any state, or get college application fee waivers. 
Minimize Paperwork With DoNotPay
Writing letters, filing claims, sending requests—these chores are nobody's idea of fun. Thanks to DoNotPay, you can bypass these menial tasks with a few clicks in your browser. 
Our platform is full of useful tips and features for filing insurance and warranty claims, dealing with parking tickets, getting refunds and chargebacks, or writing harassment cease-and-desist letters. 
DMV offices don't have to be the place where hope goes to die. With DoNotPay, you will be able to schedule any DMV appointment without the nightmare of waiting in lines. While you're at it, you can check out our guides and practice tests for the best driving exam preparation!