Create a Non-Compete Agreement in California—The Most Affordable Way
When you're hiring someone new in your company, you want to be sure that, at one point, they won't leave you and become a competitor. A non-compete agreement is a legal document you'll want to create so you can get at least some peace of mind.
When it comes to creating a non-compete agreement in California, the whole process is tricky. The law is much more concerned with your employee's rights than yours.
If you decide you need one, we can help you draw up the perfect non-compete agreement within minutes.
What Is a Non-Compete Agreement?
A non-compete agreement is a document that protects the company or an employer from its competitors. The contract forbids your employee to:
Start working for a competing firm while working for you

Become an employee of a competing company after your business relationship is severed
As an employer or a representative of the company, you create the conditions when you draw up your non-compete agreement. This document should state:
Non-Compete Agreement Item
Details

Information about the company and contract

The name of the firm

The name of the new employee

Clearly stated grounds of the agreement

The length of the document's enforcement

The specific period during which your employee is obligated not to enter into a business relationship with your competitor

Articles of the agreement

Clearly stated actions that your employee isn't allowed to perform

Names of clients, businesses, and general or specific competitors that your employee isn't permitted to do business with

Consequences of a breach in the contract

The legal consequences your employee would suffer should they breach the contract

Legal remedies

Signature

Employer's signature

Employee's signature
What You Need To Know About Non-Compete Agreements in California
California Business and Professions Code Section 16600 states that an employer can't stop an employee from working for a competitor based on a non-compete agreement. The law may hold the employer liable if they refuse to hire someone because they don't want to sign a non-compete agreement. There are some exceptions, but they are scarce.
In California, the law can prohibit an employee from working for a competing company during their initial employment. Once you or the employee end the business relationship, your former employee can work for your competitors (since a non-compete agreement isn't enforceable).
What Are the Exceptions to a Non-Compete Agreement in California?
The three statutory exceptions to this California law on non-compete agreements are:
If the employee in question is a seller of a business, a former business partner, or a former member of an LLC, the non-compete agreement can be enforceable

An employer is allowed to draw up a

non-disclosure agreement (NDA)

, which will legally bind the employee and stop them from revealing any confidential information

Even if an employer can't stop the employee from leaving, they can use a carefully drafted

non-solicitation agreement

to prevent the employee from luring away other employees
How To Create a Non-Compete Agreement in California Manually
Creating a non-compete agreement in California is tricky because of all the rules imposed by California law. You can search online by typing "how to write a contract" and find numerous templates, which will send you spiraling into a rabbit hole and waste tremendous amounts of your valuable time. Hiring a lawyer might prove to be a costly option for some people or companies.
You'll also find a bunch of platforms offering to draw up a contract on your behalf. You might end up paying up to $50 per contract. 
There is a way to avoid all that hassle, and it's called DoNotPay.
How Can DoNotPay Help You With Your Legal Documents?
Our platform offers a product that will save you time, money, and energy. If you use DoNotPay's Standardized Legal Documents product, you'll be able to draw up any of the following documents on your own in under five minutes:
General Business Contract

Non-Compete Agreement

Non-Disclosure Agreement

Intent To Purchase Real Estate

Estoppel Certificate

Quitclaim Deed

General Affidavit

Promissory Note

Child Care Authorization Form
To gain access to this and other useful features, you need only sign up for DoNotPay.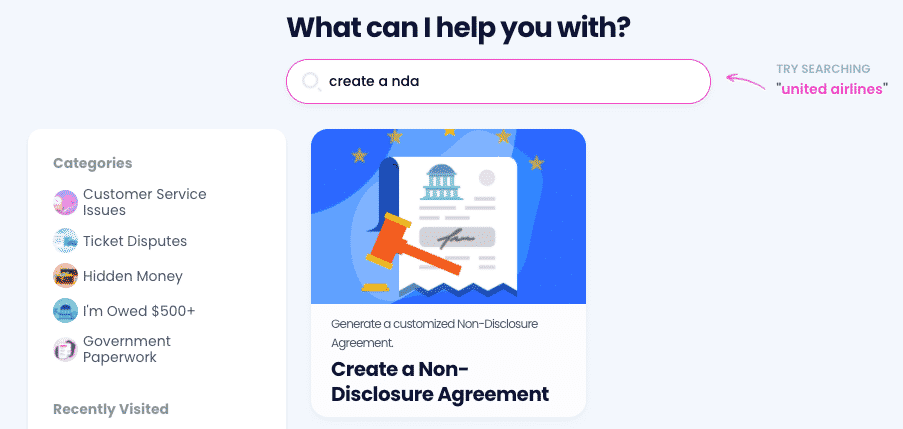 Steps To Writing the Best Non-Compete Agreement in California With DoNotPay
After you sign up for DoNotPay, follow these steps:
Type in the keyword (Non-Compete Agreement)

into the search field and select the product

Provide our helpful chatbot with all the details of your contract

Click on

Proceed
After you create your personalized document using DoNotPay, you can also get it notarized via our platform.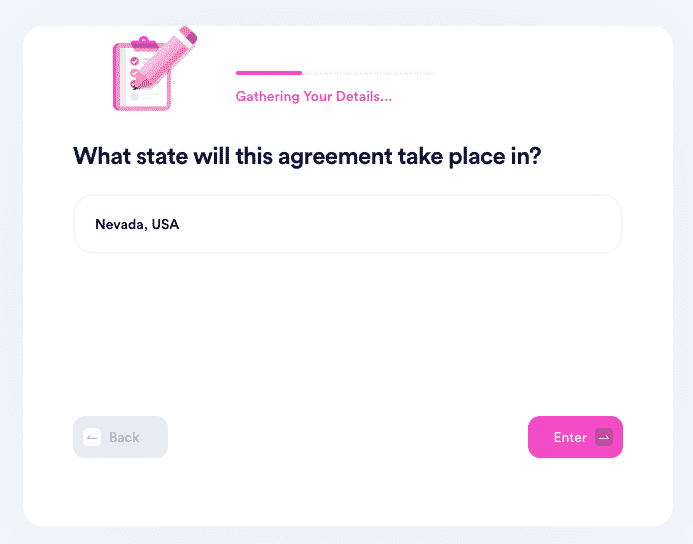 Notarize Your Legal Documents With DoNotPay
DoNotPay will help you reach out to an online notary easily wherever you are.
After you sign in to your DoNotPay account, all you need to do is follow a few steps below:
Type in

Notarize Any Document

in the search box

Upload the document

Click on a link that we'll send to your inbox
The link will take you to a page where you'll be able to schedule your appointment. You will meet your notary via a live video call, and they will witness you signing the document. This way, you'll get the notary signature you need while avoiding queuing in long lines and paying hefty notary fees.
Tired of Bureaucratic Hurdles? Our App Will Step In
As soon as you sign up for the world's first robot lawyer, you won't have to worry about any administrative mess you find yourself in. We can help you resolve anything from reporting stalkers, robocalls, spam emails, and spam text messages to applying for clinical trials in any U.S. city.
With our AI-powered app's assistance, you can even get a refund from any merchant or airline you can think of. We can also help you save money by resolving your problems with high bills, canceling any subscription you no longer need, or assisting you with parking ticket appeals.
DoNotPay Helps You Fight for Your Right 
Do you feel like a company has wronged you? Don't let them win—sue them in small claims court with our assistance! Our app will prepare all of the necessary documentation and help you win the case stress-free!
Apart from helping you sue any firm or individual, DoNotPay also makes it easy for you to set up a DMV appointment, deal with any credit card issue, start a free trial without your credit card info, protect your work from copycats, and much more!
Sign up for our app to take advantage of all its features!