Write a Bullet-Proof
Non-Circumvention Agreement
Individuals entering business deals often use non-circumvention agreements to protect themselves from foul play. You should consider using one if you are collaborating with someone for the first time or don't trust the other party. 
While non-circumvention agreements depend on the business type, personal requirements, and particular state laws, they all have a specific structure.
DoNotPay will teach you how to write a contract and present alternative ways of getting a bullet-proof non-circumvention agreement!
A Non-Circumvention Agreement Explained
The purpose of a non-circumvention agreement is to prevent one or more parties from being overlooked in a transaction, leaving them without proper compensation for their work or involvement. Parties that sign the agreement promise not to conspire to cut out the protected party from the deal. 
Non-circumvention agreements also ensure that intellectual property revealed during negotiations will be safe. Many businesses choose to protect themselves further by adding confidentiality and non-disclosure clauses. 
If the restricted parties breach the agreement, the protected party can sue them for damages. 
In the table below, you can check out the common situations where non-circumvention agreements are necessary:
| | |
| --- | --- |
| Partners Entering a Joint Business Venture | If more parties enter a business deal together, one party may feel disposable when moving the transaction forward. The endangered party is either easily replaceable or has only served as an intermediary for introducing other participants. In those cases, the vulnerable party often asks for a non-circumvention agreement |
| Broker Acting on Behalf of the Client | Brokers often act as intermediaries on behalf of their clients. When they don't contribute to the transaction other than introducing the parties, they are in danger of being overlooked for getting their share. As a result, brokers often use a non-circumvention agreement to cover all deals they bring to the client |
What Should a Non-Circumvention Agreement Include?
Before writing a non-circumvention agreement, you should know what sections to incorporate. All the paragraphs listed below are essential and mustn't be overlooked:
Terms of agreement

Contacts defined as valuable and exclusive

Fee or commission agreements

Liquidated damages

Confidentiality clause

Non-disclosure section

Governing law

Attorney fees

Entire agreement section
Terms of Agreement
This section should outline the duration of the agreement, including:
The period during which the agreement will be valid 

Possibility of automatic contract renewal after the completion of transactions

Method of managing term amendments
Valuable and Exclusive Contacts
This paragraph deals with contact confidentiality and explains which information should remain confidential between parties. Try to be specific when describing them.
Fee or Commission Agreements
You should use this section to list the terms of your fee and commission agreements. If you have already established fees for specific services, you should present them in detail. You can also leave this section open for future changes.
Liquidated Damages
This section defines the penalties for violating the agreement. You can adjust them to your particular situation.
Non-Disclosure Section
You can add a non-disclosure paragraph to prevent the involved parties from revealing any information related to your business. Include anything you wish to keep confidential in this section, such as contacts, patents, trade secrets, and intellectual property.
Confidentiality Clause
This is not a mandatory part of a non-circumvention agreement but provides a higher level of security of your confidential data. A confidentiality clause requires the involved parties to actively protect confidential information that could harm your business. 
Governing Law
This paragraph should state that the terms of the agreement comply with the particular state law.
Attorney Fees
You should indicate that if a dispute over the agreement reaches the court, the losing party must pay for legal expenses.
Entire Agreement Section
This section lists individuals related to each party. You can include a provision requiring all participants to ensure that agents, contractors, and employees comply with the agreement. All involved parties must sign the agreement and the added amendments. 
Other Ways of Creating a Non-Circumvention Agreement
If you don't feel confident drafting a contract yourself, you can choose between:
Attorneys are more than qualified to draw up a legally binding non-circumvention agreement. They are familiar with state laws and legal terminology and can give you useful advice. The only downside is the price. Lawyers charge a lot for creating contracts, so you should be sure that their services are necessary before breaking the bank.
The other more affordable option is to use an online contract template. Online contract forms are free and easily accessible but include general terms that don't apply to specific situations. You should select the one that meets your needs and ask for a professional opinion upon completion.
Draw Up Numerous Legal Documents With DoNotPay!
Besides teaching you how to write contracts, DoNotPay can even create some of them for you! 
Our Standardized Legal Documents feature is designed to generate contracts using the information you provide. All contracts are tailor-made and fit all legal requirements to a tee! Take a look at some of the legal docs we can draw up:
Non-Disclosure Agreement

General Business Contract

Intent To Purchase Real Estate

Quitclaim Deed

Estoppel Certificate

Promissory Note

General Affidavit
How To Create a Contract With DoNotPay 
To get your personalized contract, you have to do the following:
Enter the name of the document in the

Search

field

Answer our chatbot's questions 

Download, notarize, and even fax the document from our platform!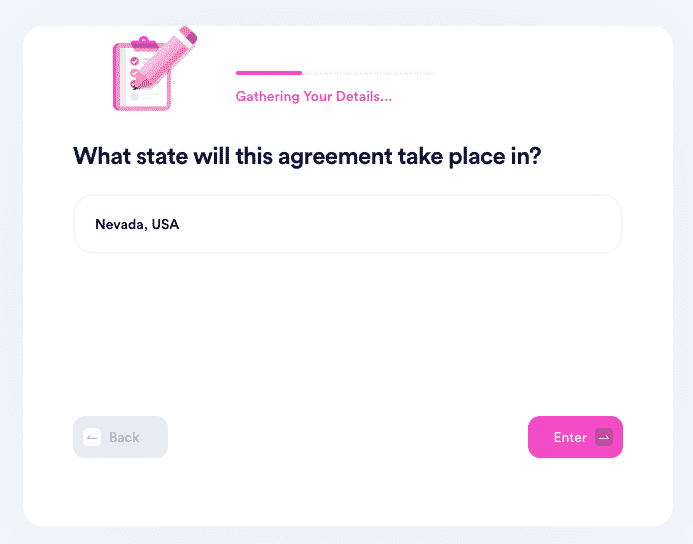 DoNotPay Keeps Your Privacy Intact
DoNotPay can help you surf the web safely and securely. No need to provide your personal information to every company whose service you'd like to take for a test drive. Our Virtual Credit Card and Burner Phone products shield your data from prying eyes and dishonest merchants.
Feel like subscribing for a free trial? Make it truly free and avoid automatic membership renewals with our card. It can also help identify spammers and potential scammers who send bothersome robocalls and robo texts your way. As soon as they act on the virtual card number, DoNotPay will unmask them and demand compensation!
DoNotPay Can Help You Bring Any Business to Justice
Should a company refuse to grant you a refund or compensation, our app will help you take them to small claims court! 
We'll help you cancel the service in question to avoid any future charges, and we'll call their customer service so you can get info on your denied request. We'll draft the relevant court documents for your jurisdiction and give you instructions on filing them.
More Nifty Features That'll Make Your Day
You may not have breach of privacy issues or reasons to bring someone to court, but you surely have ample motivation to save or earn a few dollars here and there—especially if we catch you unawares!
DoNotPay can show you how to reclaim funds that you didn't know were under your name or make a denied warranty appeal to any company. We streamlined the processes of requesting refunds, college fee waivers, airline flight compensation, parking infraction dismissals, as well as applying to clinical trials that pay!