Tips and Tricks To Get Your Noisy Upstairs Neighbors To Keep It Down
Neighbors can be an inconvenience if you live in a communal space. If you want to be more peaceful and are wondering how to get your noisy neighbors to keep it down, we're here to offer the best solutions!
In this article, we provide efficient ways to deal with noisy upstairs neighbors. and get all the tips and tricks you need to deal with various neighbor-related issues!
How Do You Define Noisy Neighbors?
If you live in a communal area, it is expected that you will have to tolerate some form of noise. It's when the noise gets really loud and annoying that it becomes difficult to ignore. Here are a few examples of neighbor noises that can cause a disturbance:
Playing loud music or TV
Having a barking dog
Shouting at each other
Vacuuming their house after hours
Having loud sex
How To Deal With Noisy Neighbors Upstairs
There are four ways you can try dealing with noisy neighbors living upstairs:
Take preventative action
Talk to your neighbors
Send a demand letter
File a noise complaint
Take Preventative Action
Noise can be disruptive, especially if it disturbs your sleep. Here are some tips you can try to block the noise from your neighbors:
| | |
| --- | --- |
| Tips To Block Noise | Brief Explanation |
| Earplugs | Use earmuffs or earplugs to help you sleep at night |
| White noise machine | You may want to invest in a white noise machine because it blocks out any outside noise effectively |
| Soundproof your house | Soundproof your walls, doors, and windows with acoustic foam |
Talk to Your Noisy Upstairs Neighbors
Talking to your neighbors is probably the best way to handle the situation. Most of the time, your neighbors might not even be aware that the noise is loud enough to travel to your apartment.
Here are a few steps you can follow to talk to your neighbors about your problem:
Go to their place with home-baked goods
Exchange pleasantries before diving into the issue
Explain how their noise affects you, especially when it starts at a time when you want to settle down in bed
Request them to keep the noise level down
Offer possible solutions to the problem (not shouting after hours, keeping the TV volume down, etc.)
If you suspect that they're not going to take your word for it, show them documented proof of the noise. Record their noise whenever they stomp around, shout at each other, or play the TV loudly.
Make sure to present the issue in a calm and composed manner. If you show aggression, your neighbors will get defensive and won't be willing to cooperate.
If confrontations are not your thing, write them a letter about the noise they're making and leave it in their mailbox.
Contact the Building Manager
If you have tried being nice and it didn't work, bring up the issue with your building manager. Check the local or building noise regulations to see whether your neighbors are breaking any official rules. You can also request the building manager to intervene on your behalf.
Send a Demand Letter
Are your neighbors still stomping around the apartment without a care in the world? Send them a demand letter. Your letter should serve as the last warning for them to keep the noise level down. The letter should contain an arbitration notice and possible legal consequences if they refuse to cooperate.
Do you need help creating a demand letter? Use DoNotPay!
How Can DoNotPay Help You Create a Demand Letter?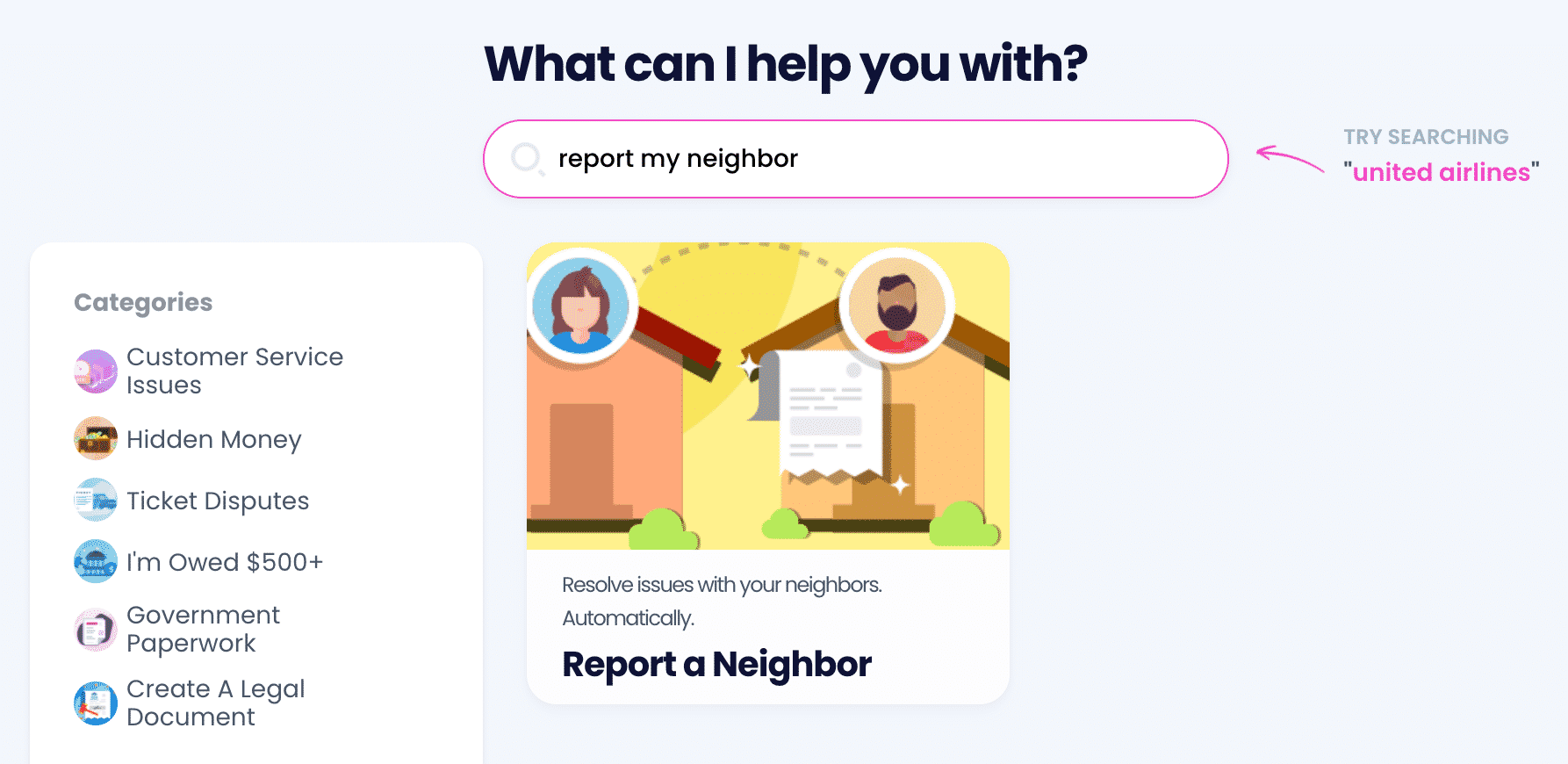 When taking preventative actions or talking to your neighbors doesn't help, a demand letter can do the trick. DoNotPay can write a demand letter in the blink of an eye! All you need to do is follow these instructions:
in your web browser
Find our Neighbor Complaints feature
Confirm that you are having noise issues
Provide more details about the situation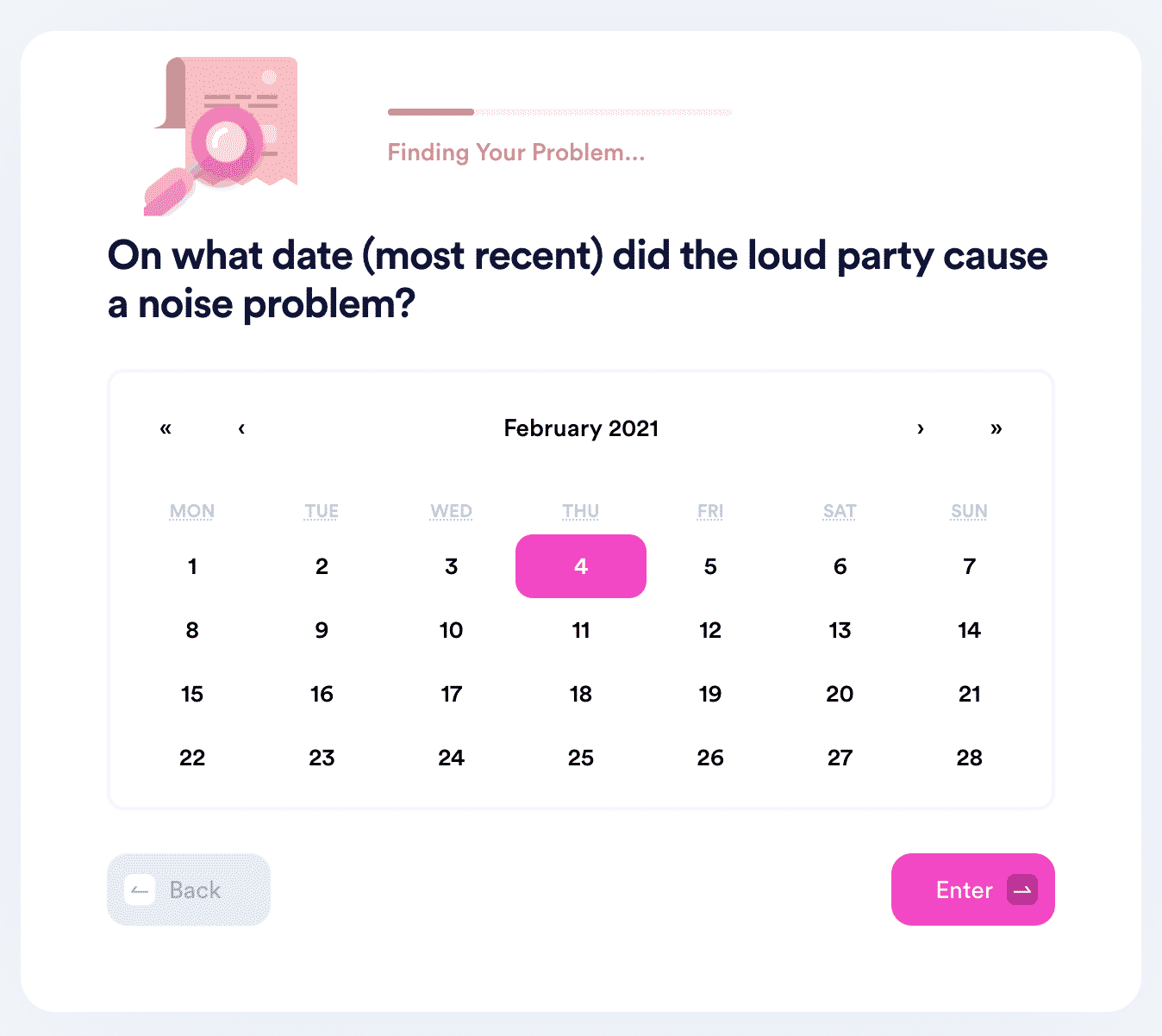 DoNotPay will create and send the demand letter to your neighbors.
What Else Can DoNotPay Help Me With?
Whether you need help dealing with bad neighbors legally or documenting neighbor harassment, we have got you covered! Here are a few neighbor-related issues we can help you out with:
Can I File a Noise Complaint With the Local Authorities?
If all other methods have failed, you may want to file a noise complaint with the police. Make sure that you:
Call the local non-emergency number
Have proper evidence
Provide proof of the ways you tried to solve the problem on your own
The best time to contact the police is while the noise is active.
More Nifty Solutions to Annoying Problems
If you're dealing with problematic neighbors or coworkers, you're not alone—our app can help you handle these issues with our Neighbor Complaints and Fight Workplace Discrimination products.
No problem is too big or too small for DoNotPay! Check out the best time- and money-saving solutions to different nuisances:
| | |
| --- | --- |
| Issues | Solutions |
| Email spam | Using DoNotPay's spam collector |
| High college fees | Applying for college fee waivers |
| Bothersome robocalls | Getting back at robocalls |
| Late delivery | Requesting a late delivery refund |
| No fax machine | Sending faxes online |
| High property taxes | Applying for property tax exemptions and appealing your property assessment |
An Array of Hacks To Help You Deal With Greedy Companies
Nobody likes to spend more money than they have to. DoNotPay is here to offer many penny-pinching hacks and also stop companies from taking advantage of you.
Almost every free trial nowadays isn't really free. Companies request your credit card info and auto-renew subscriptions. Fight this sneaky practice by using DoNotPay's virtual credit card next time you want to snatch a free trial. We'll also uncover any unwanted memberships you have mooching off of you and help you cancel them in a few clicks.
If you need to contact a company's customer service, avoid wasting your time and money on hold and count on our app to wait in your stead.
Do you need to get your money back, but you don't know how? Use DoNotPay to: