Simple Tricks To Get Your Noisy Neighbours To Keep It Down
Noisy neighbors are a common inconvenience for anyone not living in a secluded area. They can range from slightly annoying to downright disruptive to your work, sleep, and health. If you are wondering how to handle loud neighbors as effectively as possible, we have a solution!
Read this article and discover constructive ways of dealing with noisy neighbors regardless of the issue—be it the neighbor's dog barking loudly or neighbors having loud sex. Get the noise under control with DoNotPay's useful tips!
How Do You Define Loud Neighbors?
Neighbors making noise is an expected occurrence. While everyone has the right to a quiet environment, that doesn't mean that you can demand complete silence. Every day, neighbors create justified noises—such as walking, talking, and closing doors. However loud and annoying these sounds can sometimes be, they are also harder to address.
Every noise that doesn't fall under that category—including neighbors playing loud music during the day—is considered excessive and must be dealt with immediately.
Can I Report Noisy Neighbors?
You can file a noise complaint against your neighbors under particular circumstances. While there are no federal laws that address loud neighbors, most cities have a noise ordinance that specifies the acceptable range of loudness.
Before filing any legal complaints, you should read up on your state's laws and familiarize yourself with your rights.
Another solution is to check your lease contract or your building's quiet hours policy. You can typically find a clause about the noise that can help you win the battle against noisy neighbors.
How To Deal With Noisy Neighbors
You can resolve the subject of excessive noise with your neighbors in a few ways. While your immediate reaction could be to take drastic measures, this approach can be counterproductive and provoke a defensive response.
Take a look at the available options of dealing with your noisy neighbors in the table below:
Suggestions for Handling Noisy Neighbors
Description
Talk to your neighbor
In most cases, neighbors making loud noises are not aware of how annoying or disruptive their behavior is. To get the best response, you should:

Introduce yourself
Present the issue in a friendly but firm manner
Be straightforward about how the noises affect you, such as preventing you from working or your child from sleeping
Tell them how their behavior makes you feel, rather than accusing them

Suggest a compromise
You may discover that the neighbors have a valid reason for the noise, such as having a band practice or renovating the kitchen. In those cases, you can ask them to refrain from making noise at a specific time
Come up with a solution
When you present the problem, you can offer possible solutions straight away, for example:
Contact the building management
If you have completed all the above steps and the neighbors continue being excessively loud, you should bring up the local or building noise regulations with your building manager or lease office
Give your neighbors a warning
When politeness doesn't work, you should give your neighbors the last heads-up before contacting the authorities. The best way is to and let us create a demand letter for you
How Can I Create a Demand Letter With DoNotPay?
When talking to your neighbor or writing a polite note proves ineffective, a well-written demand letter typically does the trick. If you provide us with essential details about your situation, DoNotPay will write a comprehensive demand letter on your behalf! It will contain:
Arbitration notice
Information on legal repercussions the problematic neighbor will face if they fail to honor your demands
Expected compensation amount, if any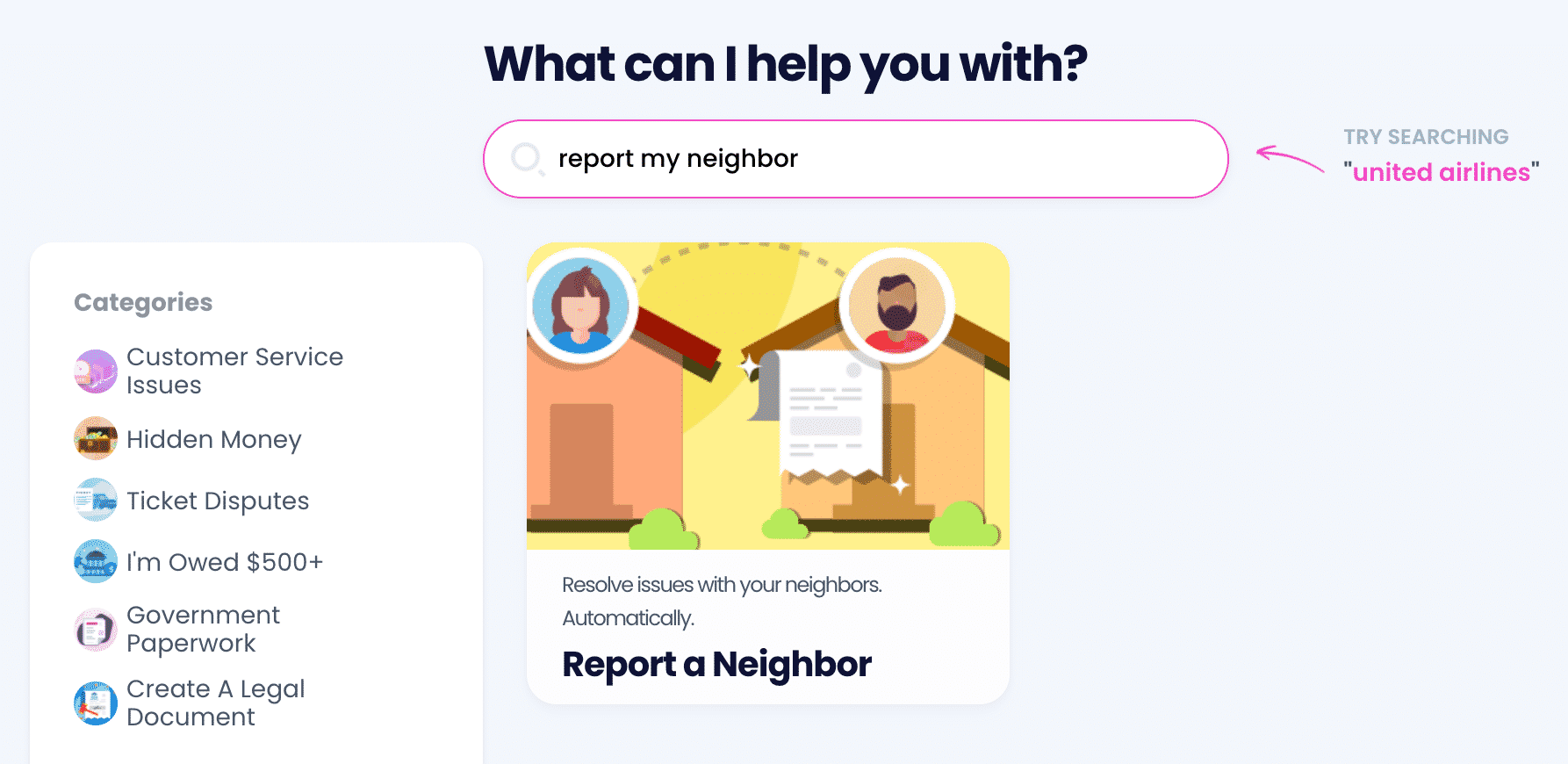 To get your personalized demand letter, you have to:
Find our Neighbor Complaint product
Indicate that you are having noise issues with your neighbor
Provide essential details about the situation
Once you complete the necessary steps, DoNotPay will create the letter and even mail it to your neighbor. You can expect the neighbors to receive the letter and respond with appropriate behavior shortly.
When Should I File My Neighbor Noise Complaint With the Police?
If nothing else works, it may be time to call the cops on your neighbors and file an official complaint. Make sure to:
Call the local non-emergency number and not 911
Contact the police at the time the noise violation is taking place or tell them when it usually occurs
Document the violation and inform the authorities of your failed attempts to resolve the problem on your own
Taking your neighbor to court should be your last resort since the process is typically expensive and time-consuming. If the case is eligible for small-claims court, use DoNotPay's assistance to sue the neighbor and get the justice you deserve.
Rely on DoNotPay To Solve Administrative Issues
Getting your documents notarized, drawing up legal paperwork, appealing parking tickets, and similar activities usually require a lot of effort. DoNotPay offers various useful products that can help you deal with administrative problems quickly and save a lot of time. We can assist you with:
How Can I Protect My Consumer Rights With DoNotPay?
Companies complicate cancellation and refund processes intentionally, hoping that consumers wouldn't want to spend hours trying to solve the issue they're having. DoNotPay knows how important consumer rights are, and that's why we created numerous products that can help you:
Many people forget to cancel their free trials on time and end up paying for the services they don't even use. To prevent that, DoNotPay has developed a nifty virtual credit card that will allow you to enjoy free trials risk-free. Our virtual credit card will also help you avoid spam email notifications by generating a random email address that you can use when signing up for a free trial.