Lost That Lovin' Feelin'? Is No Sex in Marriage Grounds for Divorce?
No marriage is perfect, and there are many different reasons to file for divorce.
Lack of intimacy in your marriage could be a symptom of an underlying issue, but is it enough of a reason to file divorce papers?
DoNotPay asks the crucial question, "Is no sex in marriage grounds for divorce?". Get the answers here!
What Kinds of Divorce Are There?
Most states recognize two kinds of divorce, namely:
No-Fault Divorces
There's no need to blame anyone—you don't have to prove your spouse has done anything wrong to justify your wish to dissolve the marriage.
Instead of looking for evidence of wrongdoing, you can initiate divorce proceedings based on:
Irretrievable breakdown of the marriage
Irreconcilable incompatibility with your spouse
Your spouse doesn't even need to agree with your decision—you are free to file for divorce on your own.
18 states only recognize no-fault divorces, meaning that you can't allege any wrongdoing as a reason for divorce. These states are:
At-Fault Divorces
In all other states, you can choose to file for an at-fault divorce, meaning you will have to prove your spouse committed one or more of the following:
Adultery
Abandonment
Cruelty or abuse
Conviction of a felony resulting in prison time
Drug or alcohol addiction
21 states allow impotence as grounds for divorce, but, in most cases, you would have to prove that your spouse is permanently incapable of sexual relations.
Deliberately withholding sex in marriage could be seen as grounds for divorce under the cruelty provision, but you would have to prove your allegation in court if you were to go this route.
The bottom line is that the burden of proof is on you—the plaintiff—to demonstrate to a court that your accusations are probably true.
How Should You Proceed if You Want a Divorce?
If the lack of intimacy in your marriage is enough for you to want out, your best route is to seek a no-fault divorce.
The first prize is to aim for a no-fault, uncontested divorce, meaning that your spouse:
Accepts that a divorce is the right thing to do
Is happy with the terms of your settlement
In such friendly divorces, you and your spouse can work together towards an out-of-court settlement, with the result that you:
Some states allow you and your spouse to file your divorce papers jointly, but in most jurisdictions, you will have to go through the process of filing and having the papers served on your spouse.
Your spouse is then free to respond that they are happy for the divorce to proceed. In the meantime, you and your spouse can work on your divorce settlement agreement.
What Is a Divorce Settlement Agreement?
A divorce settlement agreement is a legal contract between you and your spouse that regulates how your marital responsibilities and finances will be split after your divorce.
A judge will not grant your divorce if no settlement agreement is in place or if it doesn't cover every aspect of your joint finances and responsibilities. In such cases, the court will declare your divorce contested, and you will have to appear in court and accept the judge's verdict.
Your settlement agreement needs to cover:
A judge will also check that your settlement agreement is fair and equitable, meaning that the settlement you propose must take account of:
The best interests of your children
The rights of both parties
Any alimony cutoff legislation, such as the California 10-year rule
How To Set Up Your Divorce Settlement Agreement
There are two steps to setting up your settlement agreement, namely:
Negotiating the terms
Drafting the document
Negotiating the Terms
You and your spouse need to work together to hammer out a deal that is acceptable to both of you—one-sided settlements run the risk of being rejected in court.
The negotiations can be run in the following ways:
Negotiation Resources
Explanation
Lawyer

You and your spouse can hire attorneys to negotiate on your behalf, but this may have a huge impact on the cost of your divorce.
Lawyers charge up to $450 per hour, and negotiating your settlement agreement can easily cost $5,000 per spouse

Mediator

Mediation offers a lower-cost alternative to lawyers. You and your spouse must negotiate face to face, but the process is facilitated by an impartial third party, who can help you reach an acceptable resolution at a fraction of the cost of a lawyer

DIY
Drafting the Document
Once you have reached a satisfactory settlement, you need to have it drawn up as a legal document.
Both attorneys and many private mediation services offer this service but will likely charge upwards of $1,500 to perform the task.
A cheaper route is to use an online divorce service, where you can buy a settlement agreement template to download and fill out. Caution is advised, though, as many of these templates are too generic to cover your exact needs.
DoNotPay has the solution to all your woes—we can turn your agreed settlement into a watertight legal document in a few clicks and without spending a cent on lawyers' fees!
DoNotPay Gets You Out of a Loveless Marriage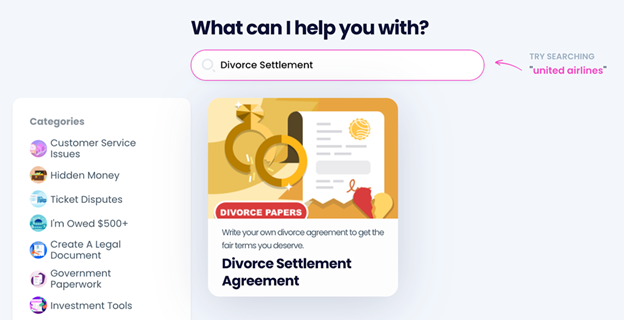 If you have had enough of your loveless and sexless marriage, DoNotPay is here to help you gain your freedom!
Our Divorce Settlement Agreement product gives you a comprehensive and tailor-made legal document that covers all the terms you and your spouse have agreed on. It will ensure your divorce can be granted quickly and with as little pain as possible.
To set your settlement agreement up, here's what you need to do:
Locate our Divorce Settlement Agreement feature
Fill out the terms you and your spouse have agreed on
Once we have all your details, we will generate your document in a flash.
You and your spouse can go ahead and sign it in the presence of a notary. If you are unsure where to find a notary in your area, we can even organize online notarization for you!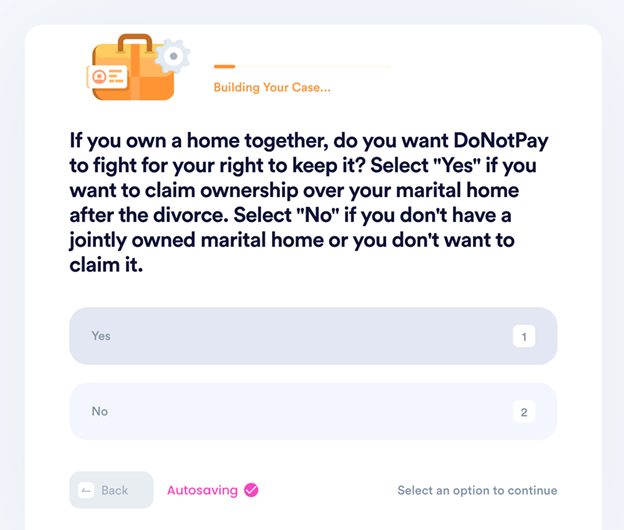 Learn How To Solve Legal Issues in Minutes!
Do you need to draft a legal document? Spending hundreds of dollars on lawyers is not the answer. We came up with a faster and more affordable solution. Not only can our app draft child consent forms, divorce settlement agreements, and powers of attorney for you, it can also provide legal assistance by helping you take anyone to small claims court!
Drafting numerous documents is not all DoNotPay does for you! Aside from drawing up contracts and agreements, we can also assist you in getting them notarized online from the comfort of your home or office!
Explore DoNotPay's Other Nifty Features
There is more assistance on the way! You can use DoNotPay's features to handle various tasks with ease, including:
We can also help you protect your safety. If you don't know how to deal with copyright infringement, stalking and harassment, work discrimination, sex offenses, and disputes with annoying neighbors, DoNotPay has got you covered.