There's Been No Response to a Demand Letter—What To Do Next
Your client breached a contract, and you sent them a breach of contract demand letter warning them that you might take further legal action. The due date goes by, and there is still no response to the demand letter—what to do next?
In this article, we will tell you how to write a final demand letter that should outline all the previous sections and a new due date by which the breaching party needs to comply with your demand. We will also tell you how to file a lawsuit if the breaching party fails to respond.
What To Expect After Sending a Demand Letter
Writing a demand letter is one of the best options for settling a breach of contract case out of court. If properly formatted and professionally written, a demand letter can help you avoid costly litigations. The demand letter will:
Notify your client of the breach
Request that your client fulfills their contractual obligations
Warn the client of your intention to sue
Check out the table below to find out what happens after sending the demand letter:
The Breaching Party May
What You Should Do
Respond to the letter
Depending on your client's response, you can either expect to receive damages or take legal action. If they deny that they breached the contract, you can sue them and demand damages or other remedies
Settle and pay
Your client might agree to all the demands in your letter and settle. In that case, you should create a settlement agreement and get your client's signature
Ignore the letter
If your client ignores your letter, you can:

File a lawsuit
Send them a final demand letter
Preparing another demand letter might seem like extra trouble, but it can save you time and money you would otherwise spend in court. In case you have no other option but to file a lawsuit, your final demand letter will serve as evidence in court.
How To Write a Final Demand Letter
In your final demand letter, you have to include the actions that you will take if the other party fails to respond again.
Follow these guidelines when writing your final demand letter:
Give a concise description of the facts
Be polite and professional
Specify your demands and legal actions you intend to take if the other party does not resolve the issue immediately
Set a deadline by which the other party needs to act
Make copies of your final demand letter
Send the letter via certified mail
You can find plenty of demand letter templates online, but you should know that they are not reliable or case-specific. With DoNotPay, you will not have this issue as we will create a professional and fully personalized demand letter on your behalf. Sign up for DoNotPay to draft your final demand letter in minutes!
Prepare a Final Demand Letter With DoNotPay
The simplest and most affordable way to obtain a convincing demand letter is by using DoNotPay. We will go through the elements of your breach of contract to make sure that your final demand letter includes valid arguments. Our app uses a comprehensive database of federal and state laws, and we will ensure your letter complies with them.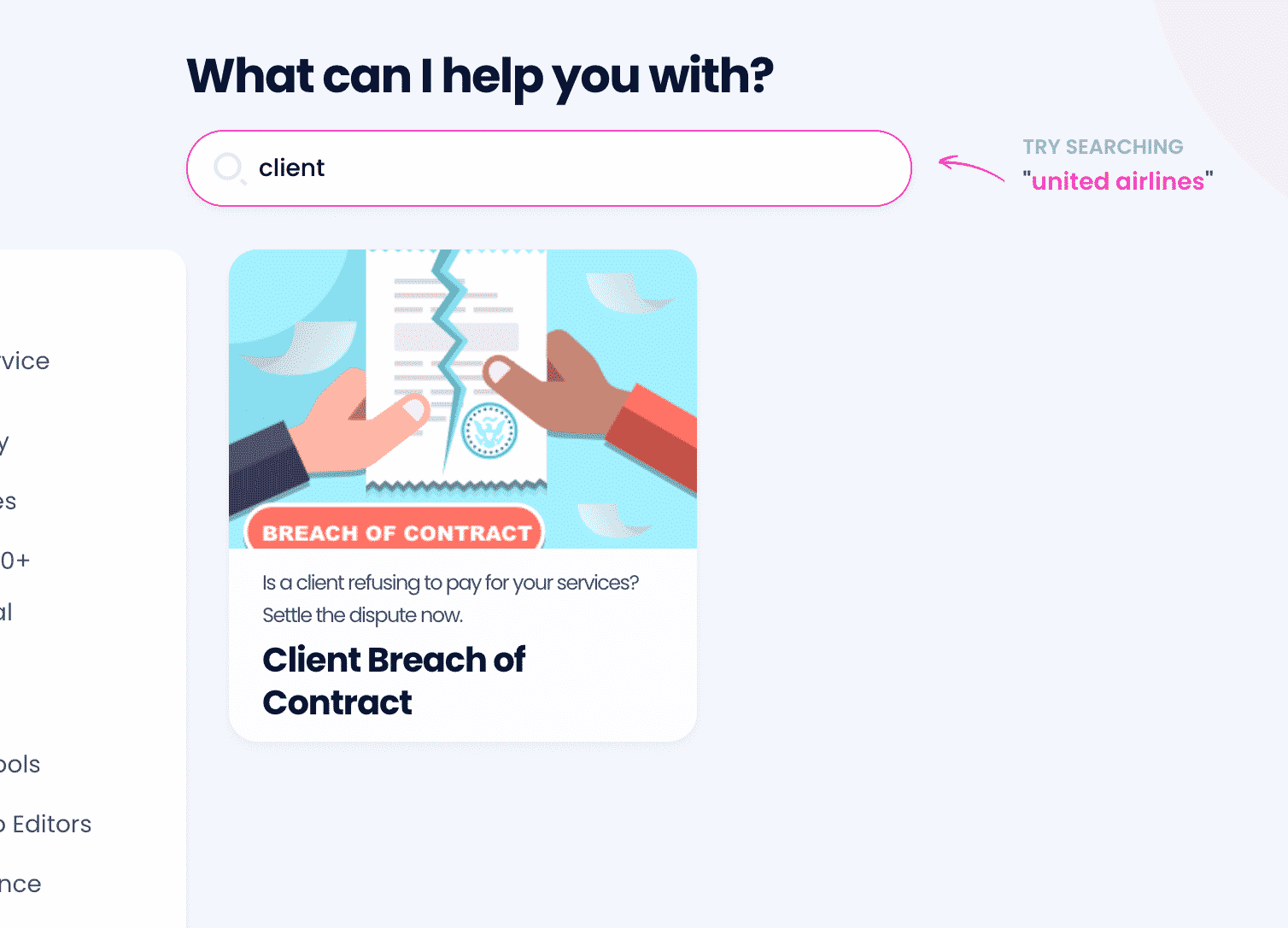 To create your final demand letter, register for DoNotPay and follow these steps:
Select the Client Breach of Contract tool
Provide all the necessary information about your case, such as:

Client's name
Client's address
Date when you entered into the agreement
Amount that the client owes you
Date when the payment was due
Date when you sent the last invoice or payment request

Enter the new due date by which you expect to be paid
Explain which services you performed for the client
Add photographic evidence (optional)
Once you complete all the steps, DoNotPay will generate your final demand letter, which you can print out, make copies of, and send to your client.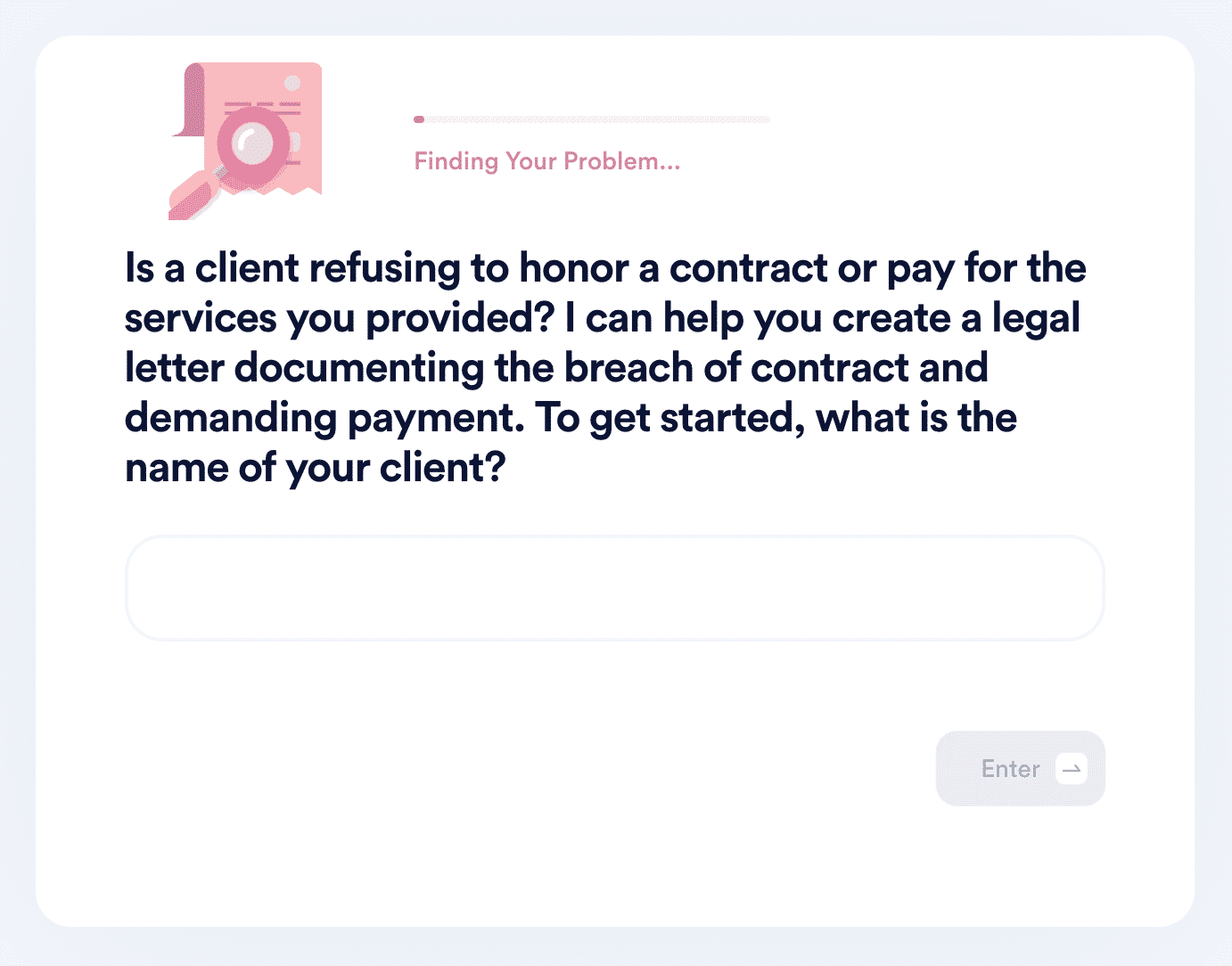 If you want to learn more about the breach of contract regulations and practices in your state, consult the table below:
Sue the Breaching Party in Small Claims Court With DoNotPay
Whether the breach of contract was fundamental, anticipatory, or material, DoNotPay can help you get compensation for the losses it caused. After the due date from your final demand letter expires, you can use DoNotPay's Sue Now feature to take your client to court.
We will help you by:
Filling out the necessary court forms
Collecting the paperwork you need for the lawsuit
Filing the complaint with the court
Generating a script that you can use at your court hearing
Follow the instructions below to start your case:
Open DoNotPay and select the Sue Now product
Type in the dollar amount that the other party owes you
Choose whether you want a demand letter or court filing forms
Explain why you're filing the lawsuit and add any proof that you have
Keep in mind that your client may try to raise affirmative defenses to breach of contract by giving a reason why they did not carry out the terms of your agreement.
Get the Upper Hand With DoNotPay
The business world is extremely competitive—that is why it is always good to have some extra capital set aside when you need to invest in your company. You can leave the bureaucratic task to us—DoNotPay will draw up business loan request letters in your stead.
If your finances are taking a hit, rely on our app. With our assistance, you will be able to:
Fight fraudulent chargebacks
Remove fake negative reviews online
Register and protect your trademark
Send mail and faxes at no additional cost
Handle clients breaching contracts and get what you are owed
Whatever the task at hand, our AI-powered app will see it through successfully.
DoNotPay—The Assistant Every Business Needs
You cannot escape bureaucracy in business. What you can do is let DoNotPay deal with it. Whether you need to register a DMCA agent or complete an Employer Identification Number (EIN) registration, our app will lead the way.
Using DoNotPay, you will also not have to worry about 83(b) election forms or Privacy Shield self-certification. From generating to filing important documents and from dealing with employees to handling clients on your behalf, our AI-driven app is your go-to solution.
Grow and protect your business with the world's first robot lawyer!