If You Have No Health Care Proxy, Who Makes Decisions for You?
Most states have laws allowing you to appoint someone who can make medical decisions for you if you become incapacitated. The question is—what if you have no health care proxy? Who makes decisions for you? This guide will answer your questions and show you how to create a health care proxy in under five minutes .
What Is a Health Care Proxy?
A health care proxy is a type of health care directive in which you appoint an individual of trust (called an agent, proxy, surrogate, attorney-in-fact, or health care representative) to make medical decisions on your behalf. The document also allows you to:
Name a different person as an alternate agent who will take over if your primary agent is unwilling or unable to fulfill their role
Specify the powers you want to transfer to the agent—as well as limitations you want to impose—such as:

Consenting to hospital admission and discharge
Withdrawing life-prolonging procedures, including dialysis, artificial nutrition and hydration, and the use of a ventilator
Administering drugs
Approving or denying surgery
Releasing your medical records when needed
Authorizing an autopsy
Arranging the disposal of your remains

List the terms under which specific health care decisions apply and provide additional instructions
Depending on your state, the document can be referred to as a:
Health care power of attorney
Designation of a health care surrogate
You can also combine the document with the following directives:
| Directive | What Is It? |
| --- | --- |
| Living will | This is a type of advance directive in which you list your preferences for health care and end-of-life treatments if you become incapacitated |
| Financial power of attorney | This document allows you to name someone who will handle your financial and estate matters |
Who Makes Treatment Decisions if You Have No Health Care Proxy?
A person responsible for your medical treatment—if you don't name a health care proxy—varies from state to state. Some states' laws clearly state which individuals can act on your behalf and in what order, while others are more flexible.
In most cases, your family is tasked with making decisions based on what they believe you would want in such situations. If your family members disagree on what is in your best interest, a court appoints a guardian to take over the decision-making process.
Here is a list of individuals potentially responsible for deciding on your health care treatment—in order of priority:
Parent of a minor or guardian
Spouse
An adult child
Parent of an adult
An adult sibling
An adult grandchild
Grandparent
Guardian to an adult
Court-appointed guardian (if no you have no family)
The best way to take the burden off your family and make sure your health care wishes are honored is to create an advance directive form. Keep in mind that even if you don't appoint a health care proxy, you can make your health care wishes known by drafting a living will.
Get a Health Care Proxy in Under Five Minutes Using DoNotPay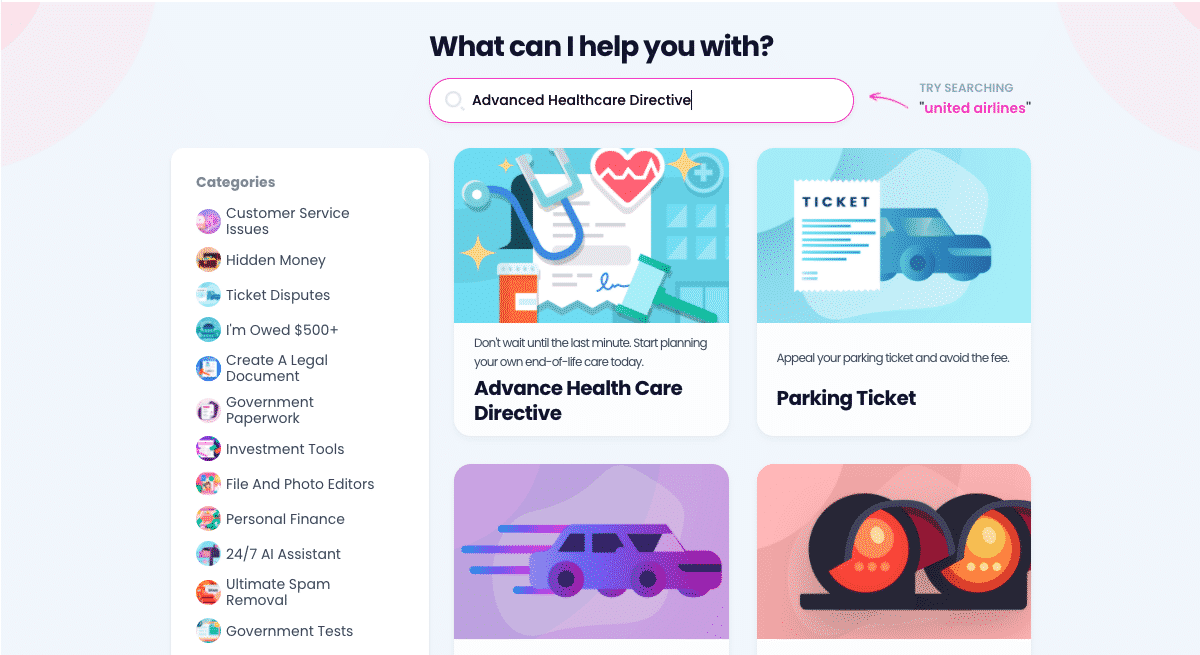 DoNotPay will help you create a living will, health care proxy, and any other advance directive in under five minutes and without any unnecessary costs. Once you provide us with a few essential details, we will draw up a personalized document that honors state-specific laws.
All you need to do is:
Select the Advance Health Care Directive tool
Answer a few questions about your medical care wishes
Type the names of your agent and witnesses
If your state requires the document to be notarized, we can connect you with an online notary in no time!
Check out our knowledge base if you need more information on advance directives! You can find helpful guides about the costs of creating a will, differences between a general power of attorney and a health care proxy, mental health care power of attorney, and much more.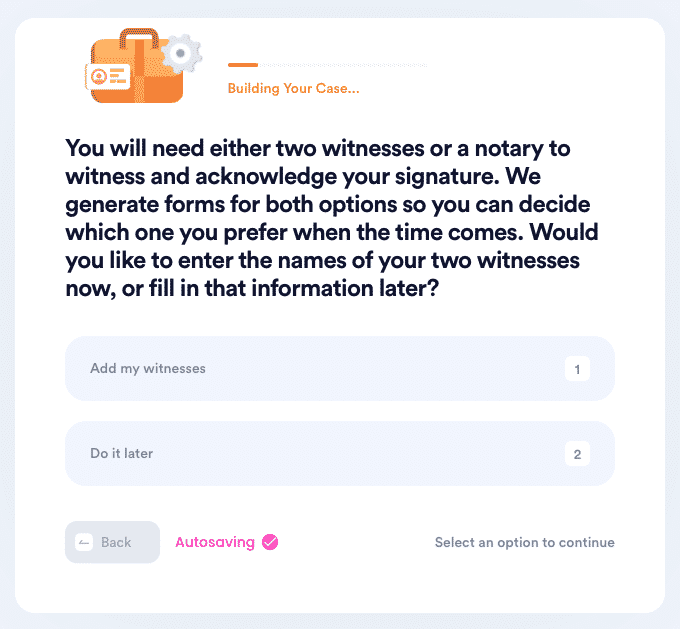 Our Platform Makes Your Life Simpler
DoNotPay offers a vast spectrum of life-changing services, including the ones listed below:
| Services | With Our App, You Can: |
| --- | --- |
| Eliminating spam and harassment | |
| Saving and getting more money | |
| Providing other useful services | Convert various files to other formats |
DoNotPay Helps You Get the Necessary Paperwork in a Heartbeat
Do you need to compose a power of attorney, revocable living trust, or a health care directive but don't know how? No worries—DoNotPay can do it for you! If you need comprehensive and valid legal documents tailored to your wishes and needs, there's no better way to get them than subscribing to our app!
We can also draft personalized FOIA requests, divorce agreements, homeschool notices of intent, and various complaints.