Getting a No-Fault Divorce in Illinois? DoNotPay Can Help
Although there is a difficult story behind every divorce, ending your marriage without putting any blame on your spouse is the way to go. If you need help understanding the uncontested divorce procedure, DoNotPay has prepared a guide to clarify it!
We'll show you how to get a no-fault divorce in Illinois and part ways on a friendly note.
What Is a No-Fault Divorce?
A no-fault divorce doesn't require you to prove any wrongdoings by your spouse to get a dissolution of marriage. Deciding to terminate the matrimony for whatever reason is enough for the court to grant the divorce, and the couple keeps control of the process.
Can You Get a No-Fault Divorce in Illinois?
Since 2016, Illinois has been a no-fault state. Before, you could get a fault-based divorce on the grounds of:
Impotence
Adultery
Bigamy
Abandonment for at least one year
Drug or alcohol abuse for two years
Attempting to take the other spouse's life
Mental or physical cruelty
A felony conviction
Infecting the other spouse with a sexually transmitted disease
To get a no-fault divorce in Illinois, you only have to state that you're ending your marriage because of irreconcilable differences—meaning you do not get along with your spouse anymore. In case you've been living separately from your soon-to-be ex-spouse for six months, the court will automatically presume that you've met the requirement.
The biggest benefit of no-fault marriage dissolution is that it qualifies you for an uncontested divorce.
Uncontested No-Fault Divorce in Illinois
In Illinois, you can file for an uncontested divorce, also known as joint simplified dissolution. It allows you to terminate your marriage without hiring a lawyer and going to court. It's a cheaper and faster option.
To get an uncontested divorce in Illinois, you and your spouse must:
Live in the state for at least 90 days before filing divorce papers
Be married for less than eight years
Not have any children
Live separately for six months before starting the procedure
Not own a house and have less than $10,000 in joint marital property
Agree to an uncontested divorce because of irreconcilable differences
How Long Does an Illinois No-Fault Divorce Take?
Because there is no waiting period, an uncontested no-fault divorce in Illinois can be completed in only two months if you meet the residency requirements. Contested cases can stretch out to several months or years.
How To Get an Uncontested No-Fault Divorce in Illinois
The uncontested divorce process in Illinois is simple, entailing only a few steps. Check out the table below for more details:
| Steps for Filing for an Uncontested Divorce | Explanation |
| --- | --- |
| Gathering the necessary forms | Go to your county's official government website or your local courthouse to get the divorce papers. Make a copy for the court, your spouse, and yourself |
| Filing the divorce papers | File your papers at the courthouse and pay a filing fee. If you can't afford it, ask for a fee waiver |
| Serving your spouse | The Prairie State laws require you to hire a professional server, the sheriff, or a third party neutral to the case to deliver the forms to your spouse |
| Getting a divorce settlement agreement | This document is a must-have in uncontested divorces. It has to define the terms you and your spouse have agreed on and needs to be written with great care. The best way to get a divorce settlement agreement is to subscribe to DoNotPay |
Get a Perfect Divorce Settlement Agreement With DoNotPay
Before DoNotPay's divorce settlement agreement tool, you had to hire expensive lawyers or create the contract yourself. Nowadays, you can get this important document in a matter of minutes, following only a few easy steps. Here's the drill:
Select our Divorce Settlement Agreement tool
Answer our chatbot's questions about your:

Income
Spouse

Choose whether you want to have your document notarized via video call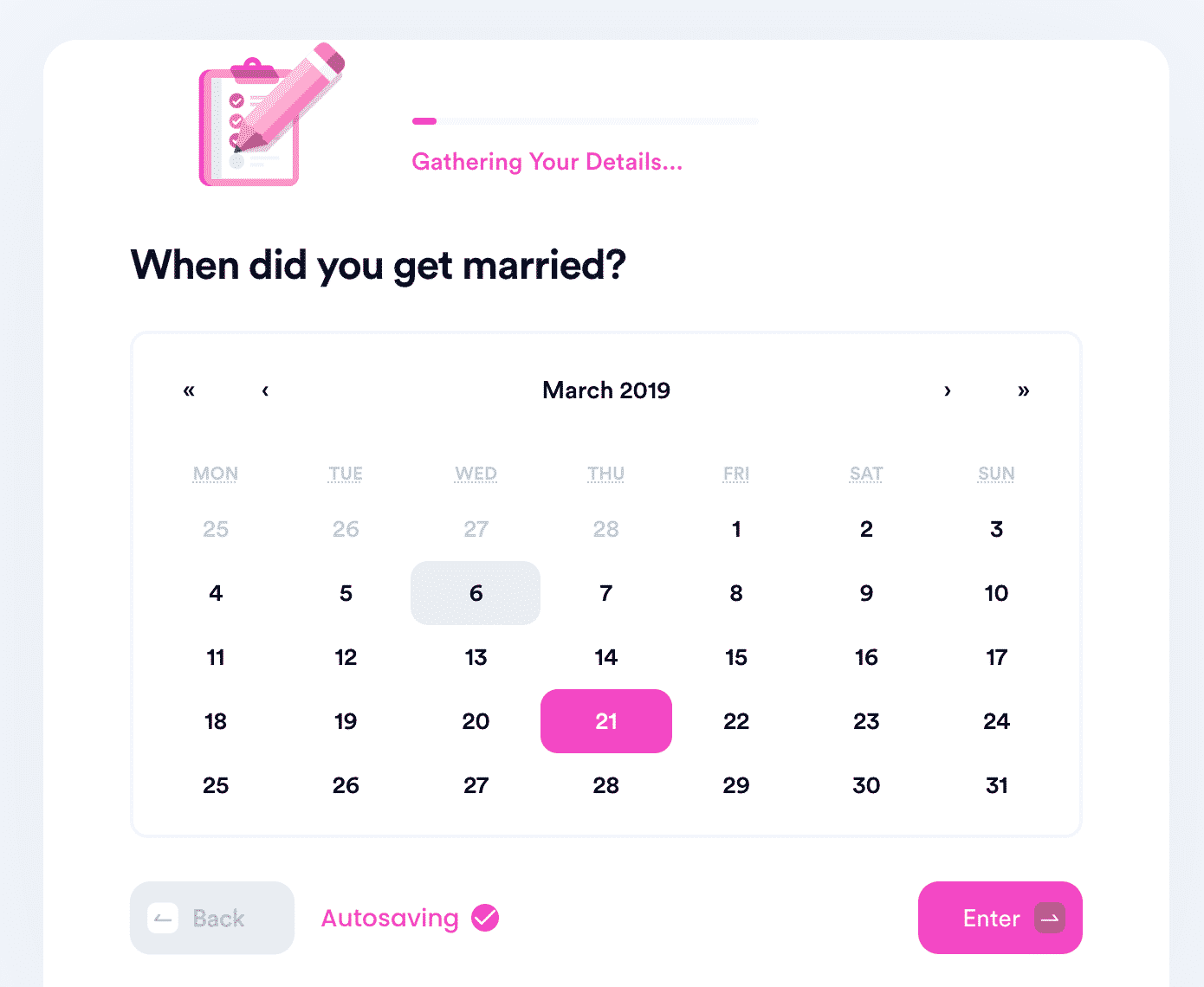 Once you submit your request, we'll collect the details you gave us and create a divorce settlement agreement accordingly. You'll also get an email with a link you can follow to set up an appointment with an online notary.
DoNotPay's assistance does not end here! Read our simple-to-follow guides and learn more about various divorce issues:
| Illinois-Specific Articles | General Divorce Articles |
| --- | --- |
| | |
DoNotPay Is Committed to Solving All Kinds of Problems for You
Are you lost in the sea of administrative tasks? By subscribing to DoNotPay, you gain access to many products and features that can assist you in:
Check Out What Our Robot Lawyer Can Do for You
Not too skilled at drafting contracts and agreements? Keep calm and let DoNotPay, your virtual assistant, do it for you! Our app can generate various legal documents, including divorce settlement agreements, child travel consent forms, and powers of attorney. All it takes is to click a few times or answer several quick questions—we do all the rest!
Besides providing personalized documents, DoNotPay takes over other tiresome legal tasks. These include having your documents notarized, filing lawsuits in small claims court, requesting crime victims' compensation, or submitting HR complaints.