No-Fault Diovrce in CT—From A to Z
Terminating a marriage doesn't always have to be a dramatic and emotionally charged experience. You and your spouse can end a relationship on friendly terms without blaming each other for the breakdown of the marriage. In the U.S. divorce law, that's called a no-fault divorce.
We'll tell you all about no-fault divorce in CT and guide you through the whole process—from collecting the paperwork to making an agreement!
Is Connecticut a No-Fault Divorce State?
Yes, Connecticut is a no-fault state for divorces, but not exclusively. According to section 46b-40 of the General Statutes of Connecticut, the state recognizes both no-fault and fault-based grounds for divorce.
No-Fault Grounds for Divorce in CT
A no-fault divorce means that neither spouse is to blame for the breakdown of the relationship. In these cases, the court doesn't take into consideration anyone's potential involvement in the breakup. Acceptable legal reasons for a no-fault divorce in Connecticut include:
Irretrievable breakdown—Both spouses agree that the marriage is broken beyond repair, without the possibility of reconciliation
Separation—The couple has lived separately and apart due to incompatibility for at least 18 months before petitioning for divorce
If the petitioner (plaintiff) files for divorce on these grounds, the court typically assumes there's no chance for reconciliation and doesn't question the reasons.
Fault-Based Grounds for Divorce in CT
Connecticut recognizes the following fault-based grounds for divorce:
Adultery—The spouse's sexual relations with a person outside of the marriage is a valid reason for a divorce in Connecticut
Desertion—It refers to willful desertion for at least one year where the spouse neglected their duty
Intolerable cruelty—Physical abuse that's endangering a person's life is a valid reason for suing the spouse for a fault-based divorce
Fraudulent contract—The spouse hid important information about themselves at the time of the marriage, and it's affecting the marriage (e.g., being a drug addict)
Absence—The spouse has been absent from the marriage for at least seven communication-free years
Habitual intemperance—The spouse suffers from alcohol or substance abuse, and it's having an impact on the marriage
Imprisonment—A person can sue their incarcerated spouse for a fault-based divorce under certain circumstances
Mental illness—The spouse has been legally confined to a mental hospital or institution for at least five years (within six years prior to petitioning for the dissolution of marriage)
To file for a fault-based divorce in Connecticut, you have to provide proof of your spouse's misconduct.
What Are the Benefits of a Connecticut No-Fault Divorce?
Fault-based divorces don't have particular advantages. That's why so many states don't even have this option. In Connecticut, it's up to you—the plaintiff—whether you're filing for a no-fault or fault-based divorce. If you qualify for a no-fault dissolution, there's no valid reason to choose the other option, and here's why:
No-Fault Divorce in CT
Fault-Based Divorce in CT

Makes it easier to reach an out-of-court settlement
Doesn't affect judge's decisions
Enables faster finalization of the divorce
Reduces the conflict between the spouses

Triggers hostility
Increases attorney's fees
Relieves negative emotions
Prolongs the process
Can You Get an Uncontested No-Fault Divorce in CT?
If you opt for a no-fault divorce in Connecticut, it doesn't automatically mean you're going through an uncontested divorce. You can file for an uncontested divorce in CT if you meet certain criteria. Here's how to qualify:
Meet the residency requirements:

Either you or your spouse has been a resident of the state for at least one year before filing the petition
The legal reason you're seeking a divorce occurred after you or your spouse moved to CT

Agree on the no-fault grounds:

Both of you agree that the breakdown of the marriage is irretrievable and based on irreconcilable differences
You have lived separate and apart for at least a year and a half before petitioning

Agree on other important matters:
If you meet all of the requirements, here's how to file for an uncontested no-fault divorce in CT:
Prepare the required uncontested divorce papers
Fill out the forms and make at least two copies of each
File the original documents with the court
Notify your spouse by serving divorce papers
Sign up for DoNotPay to draft a divorce settlement agreement hastily
Speed Up Your CT Divorce Process With DoNotPay's Help
Getting an uncontested divorce has many benefits—lower costs, simpler process, and faster finalization. To terminate your marriage this way, you need to draw up a divorce settlement agreement—a legally binding document that outlines the important terms of the divorce you and your spouse agreed on.
Creating such a document without any legal experience can be demanding and time-consuming. That's why you should let the world's first robot lawyer take care of it for you!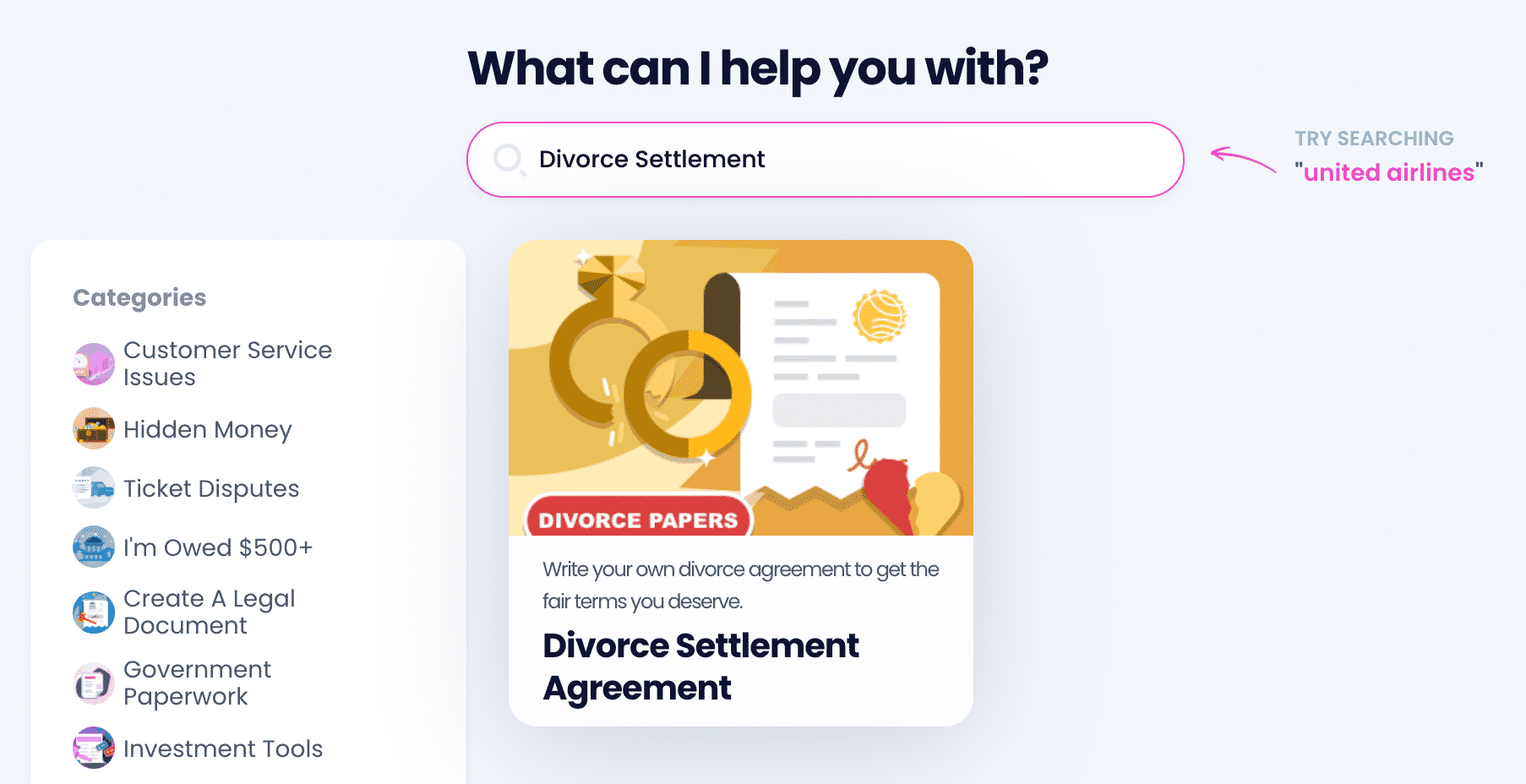 You should access DoNotPay and follow these steps:
Locate the Divorce Settlement Agreement feature
Fill out our questionnaire
Notify us if you need a notary
By using an exhaustive database of divorce laws across the U.S. and the information you provided, DoNotPay will draw up a customized divorce settlement agreement suitable for your case!
DoNotPay Solves All of Your Divorce-Related Dilemmas
Our constantly expanding learning center has all the information you need about divorces. We can answer all of your divorce-related questions, both general and Connecticut-specific:
Deal With Your Problems Like a Pro With DoNotPay
Looking for an app that's got enough features to solve any issue you're facing? Look no further—DoNotPay has got your back! Whether you can't sleep from your noisy neighbors or you want to connect with your locked-up relatives, we'll be able to help. We'll bring justice to any person or company that has wronged you and take them to small claims court for you.
The robot-lawyer app can generate numerous legal documents in your name, including:
Once you receive the documents, we can set you up with an online notary so you can get your agreements notarized from the comfort of your home.
Possibilities With DoNotPay Are Endless
DoNotPay stands out not only by the quality of products it offers but by the sheer amount of features it boasts. Check the table below out to see only some issues we can help you resolve: