Get the Scoop on a No-Fault Divorce in California
Getting a divorce is usually a dramatic and emotionally draining experience. It doesn't always have to be like that. In all states across the U.S., soon-to-be ex-spouses are allowed to terminate their marriage without any party taking the blame. If you want to know more about this type of divorce in the Golden State, DoNotPay can help!
In this article, we bring you all the information you need about a no-fault divorce in California!
No-Fault Divorce in a Nutshell
A no-fault divorce is a type of marriage dissolution where neither of the spouses has to take the blame for the breach of the marital contract. Unlike fault-based ones, a no-fault divorce doesn't require the plaintiff—petitioner—to provide any kind of evidence of the defendant's wrongdoings.
Even if the other party doesn't want to get a divorce, there's not much they can do to stop the process. In case the defendant refuses to participate in the case, the divorce will be finalized through a "default" judgment.
Is California a No-Fault Divorce State?
Yes, California is a no-fault divorce state—it was the first one to adopt that concept. All divorces are no-fault divorces in the Golden State. It doesn't matter if one of the spouses had an affair or otherwise contributed to the dissolution of the marriage—the court won't treat the case any differently.
In the majority of cases, the divorce laws in California don't punish spouses for their wrongdoings with bigger alimonies or less property.
Legal Grounds for a CA No-Fault Divorce
In any divorce case, a plaintiff must have a legal reason for filing a petition. The grounds for a divorce in California are straightforward—the court will grant the petitioner the dissolution of marriage based on "irreconcilable differences" if they prove to be true.
Besides having a reason for the petition, spouses have to meet two residency requirements as well:
At least one of the divorcing parties must have been a California resident for a minimum of six months before filing a petition
The petitioner must have been living for a minimum of three months in the county where they're petitioning for divorce
There are certain exceptions to these requirements—special rules apply if you or your spouse are currently in the military.
Uncontested No-Fault Divorce in California
In California, you get a no-fault divorce by default, but it is up to you and your spouse whether it'll be contested or uncontested. There are many advantages to getting an uncontested divorce in California, such as:
Being less mentally, physically, and emotionally exhausting
Taking less time to get finalized
Being much cheaper than the contested divorces
An uncontested divorce allows you to get a dissolution of marriage without going to court. You can qualify for this divorce type if you and your spouse agree on important matters—alimony, custody, division of marital property. In case you see eye to eye on all of these issues, you can get a divorce even without a lawyer.
How To File for No-Fault Divorce in California
Want to know what the step-by-step divorce process looks like? Check the table below:
| | |
| --- | --- |
| Uncontested No-Fault Divorce—Steps | Explanation |
| Gathering and filling out the paperwork | To make sure you're collecting the right California divorce papers, you should visit the official website of the Judicial Branch of California. Find all the required documents and fill them out as instructed on the website |
| Make copies of the forms | Keep in mind that you'll file the original divorce papers with the court, so you'll need two more copies—one for you and one for your spouse |
| Draw up a divorce settlement agreement | To get an uncontested divorce, the court has to review and approve your settlement agreement. You can draft this document yourself or have an attorney write it for you, but there's a more secure and cost-effective way! Sign up for DoNotPay to get a divorce settlement agreement in a breeze! |
| File the documents with the court | Once you gather, fill out, and sign all the uncontested divorce papers and your settlement agreement, what's left is to file them. You can do that at your local clerk's office after paying the filing fee |
| Serve your spouse with the forms | In California, you have 60 days to serve divorce papers to your wife or husband. Once you do that, your spouse has 30 days to respond to the petition |
DoNotPay Can Help During Your CA No-Fault Divorce Process
With DoNotPay, creating a divorce settlement agreement is one less problem you have to worry about! Our exhaustive database enables us to draft a rock-solid settlement agreement that meets your state requirements and includes case-specific details.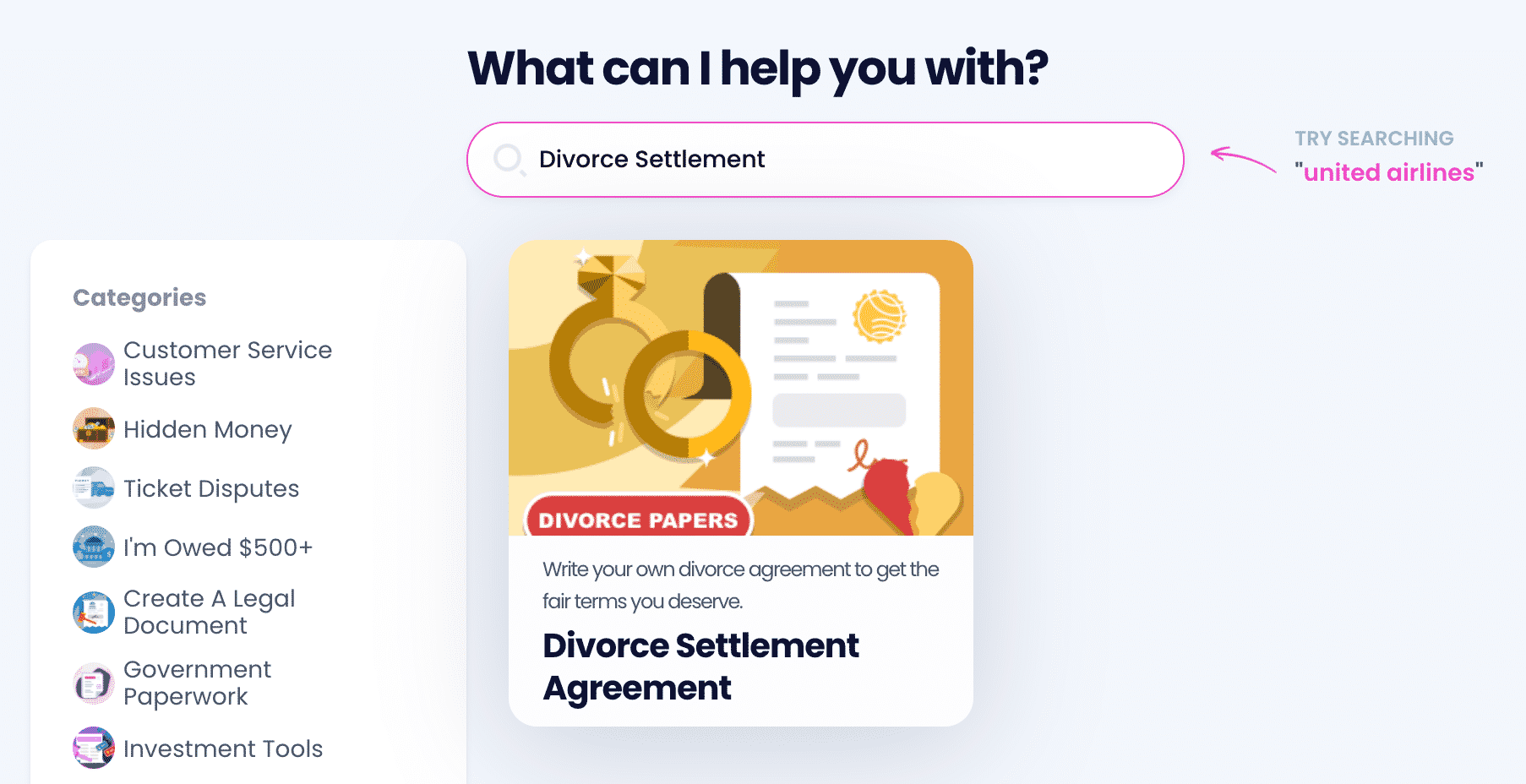 You don't have to go through any trouble to obtain it—all you need to do is open DoNotPay and do the following:
Choose the Divorce Settlement Agreement feature
Answer our chatbot's questions about your marriage
Provide details regarding your financial assets
We will send you a customized divorce settlement agreement right away! Don't know where to get it notarized? Inform us while completing the questionnaire, and we'll help you set up an appointment with an online notary.
Consult the following table to get answers to some of the most common questions about this topic:
| | |
| --- | --- |
| General | California Specific |
| | |
DoNotPay Is Righting Wrongs Left and Right
DoNotPay is a platform that puts its subscribers' safety in the first place. We can keep you safe from sex offenders, stalking, and harassment. In case you're a victim of a crime, we can help you get compensation.
Fight for discrimination at your workplace with the world's first robot lawyer or sue any company or person in small courts if you feel like you've been wronged.
Is There Anything DoNotPay Can't Do?
The short answer is no, and the list of our AI-based app's features keeps growing by the day. We offer professional assistance with issues that no other platform can help you with. Sign up now and: