How to Conduct an NJ Warrant Search the Easy Way
Getting arrested for even a minor traffic offense could greatly impact your life, even if temporarily. Being proactive and resolving warrant(s) could mean the difference between simply paying a fine or spending some time in jail. If you're unsure whether you have an outstanding bench warrant, conduct an today using DoNotPay.
Why It's a Good Idea to Do a New Jersey Warrant Search
Having an outstanding warrant for minor infractions is more common than most people think. According to warrant data published several years ago, 1.2 million Americans have open arrest warrants across 27 states. Since the other 23 states don't collect or publish warrant data, the numbers could very well be higher.
New Jersey happens to be mentioned among the states with the most outstanding warrants in the country. The good news is, you don't have to show up at a police station to find out if you have a bench warrant. In the digital age, it only takes a few clicks to conduct an .
If your warrant is traffic-related, you may have more to worry about besides getting pulled over and arrested. Likewise, failing to resolve other misdemeanor offenses could possibly result in a less favorable outcome in court. For example, the handling prosecutor might try to argue that it wasn't until you got arrested that you appeared in court.
In turn, this may affect your bond hearing and impact the level of pretrial bond supervision ordered by the judge. Depending on the infraction, not paying fines or missing court could include the following consequences in New Jersey:
The imposition of contempt sanctions by the judge for failure to appear (contempt assessment amounts are discretionary with the average amounts ranging between $60 to $70).
Suspension of driving privileges for certain traffic offenses.
If you were on bond, it could be revoked, and your co-signer (also referred to as an Indemnitor) could lose their money or property used to guarantee your bond.
Not taking care of your warrant on your own and appearing in court in custody could likely hurt your case, particularly when it comes to nontraffic misdemeanors and felonies.
How Can DoNotPay Help You With an NJ Warrant Search?
DoNotPay will scour online public records on your behalf to check if you or a family member have active warrants. If the county or state in question doesn't provide warrant information, we'll send a public record request letter to the appropriate law enforcement agency on your behalf and request for copies of any active warrants to be sent to you by email or mail.
Here's how you can use DoNotPay to check for warrants:
1. Go to the Check for Warrants product on DoNotPay.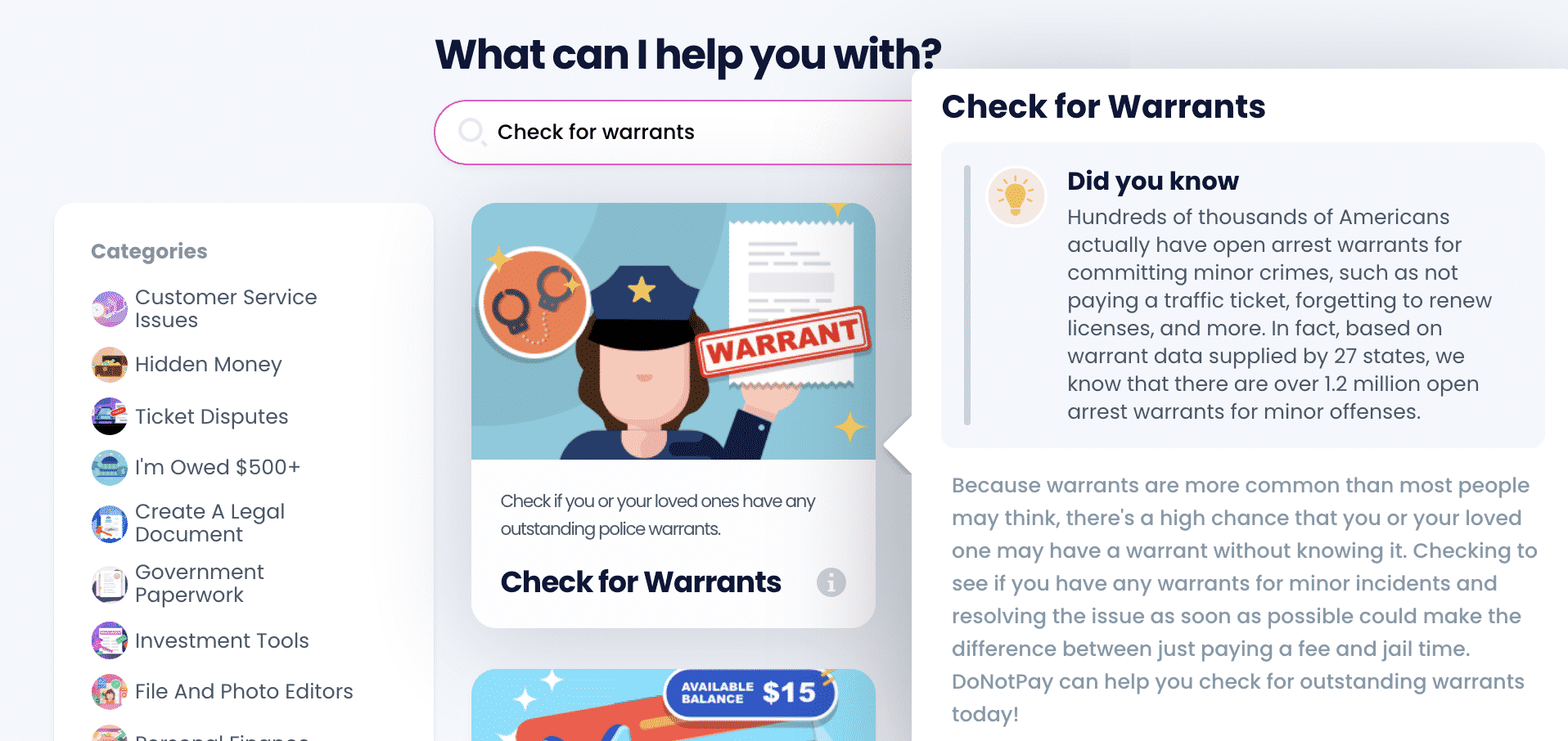 2. Choose whether you want to search for yourself or someone else, and answer a few questions to help us narrow down the search results, including current and previous addresses, age, the names of parents/relatives, and any known aliases.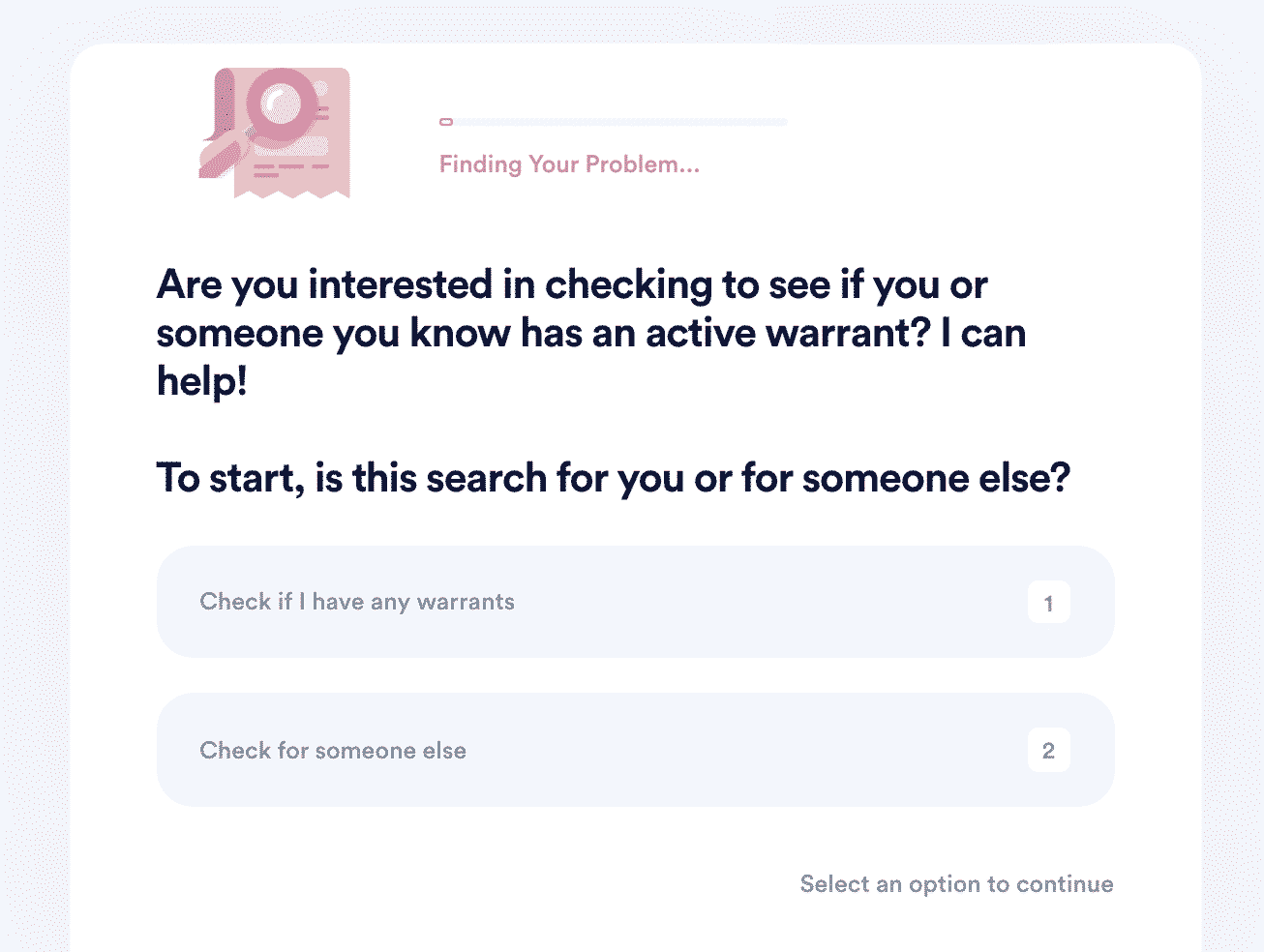 3. Select how you would like to receive the results in the case where we have to contact the police station on your behalf (by mail or email).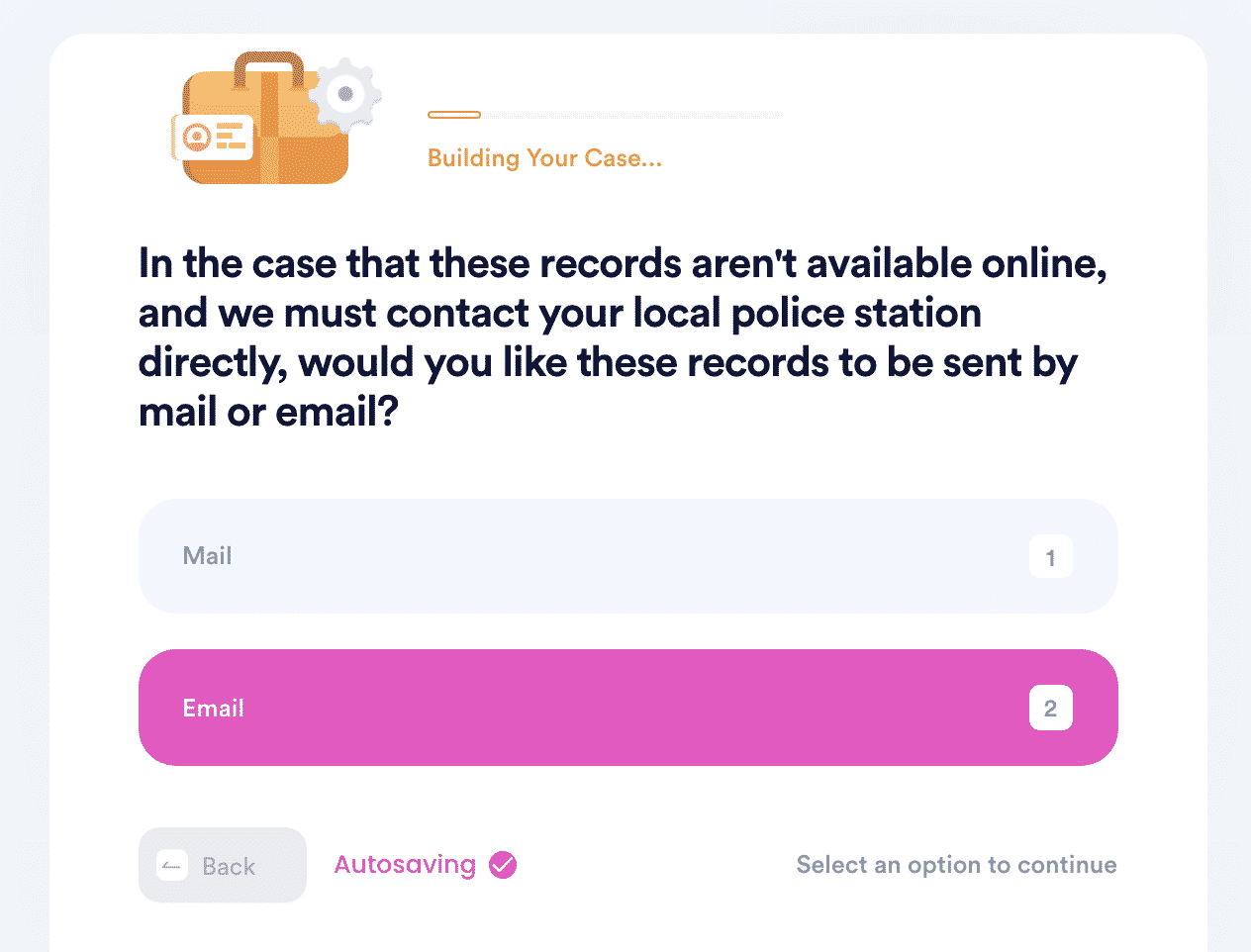 4. Enter your contact information, including email, address, and phone number.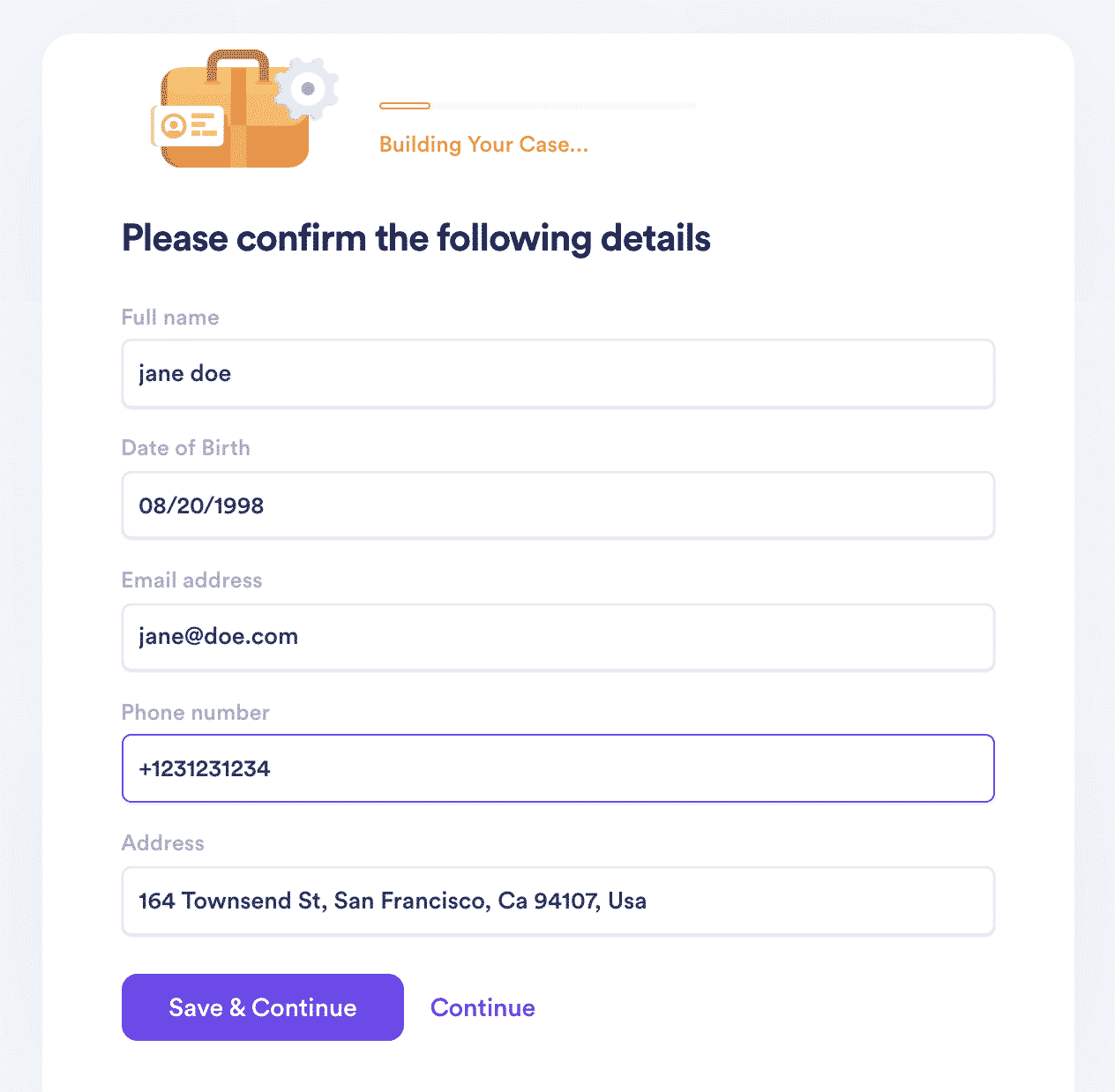 We can also help you conduct warrant searches in the following jurisdictions:
How Can You Check for Outstanding Warrants on Your Own?
There are three main ways you can check for outstanding warrants:
| | |
| --- | --- |
| Online Background Check Sites | There are countless websites online that claim to provide thorough reports on people's criminal background, history, personal information, etc. While these services can be helpful in that they do the hard work for you, they can be extremely expensive (up to $50 per search!) |
| State-Sponsored Public Records Search Sites | While most states don't have this option, if you're lucky, your state will have an online portal where you can search for outstanding warrants by entering the name of the individual and other personal information, such as your date of birth. Unfortunately, this isn't offered by most states. |
| Contact Your Local County Police Station or Sheriff's Office Directly | This is the most official and reliable option. Your county police station should have records of all warrants issued in your area and is required to make this information available upon request. However, if you visit or call for a warrant check and there is a warrant issued for you, you will have to turn yourself in and face the consequences. |
Why Use DoNotPay to Conduct an NJ Warrant Search?
While it's common for people with warrants to turn themselves in at a police station or sheriff's office, any attorney would advise them otherwise. It might seem like the right thing to do, but it should never be done without a game plan. DoNotPay's warrant search product makes it easy for you to gather information about your warrant(s) without putting your entire life on pause.
DoNotPay is also a perfect solution for those who have a warrant in New Jersey but reside out of state. Along with helping you find out if you have a warrant in NJ, we may be able to assist you in taking care of it without having to travel all the way there. We can assist you in finding out if someone else has a warrant online for free as well. To learn more about these products, DoNotPay today!
While you're here, we have a long list of other solutions to help make your life a ton easier. Check out these popular features: