Everything You Should Know About the
NJ Senior Property Tax Freeze
Not everyone can afford to pay the full price of costly property taxes each year. This is why states come up with property tax relief programs. In NJ, Senior Property Tax Freeze is one such program made to aid senior citizens. DoNotPay has all the info about this tax relief and can tell you how to check if you are eligible for property tax exemptions easily!
The Ins and Outs of
New Jersey Property Tax Freeze for Senior Citizens
The Senior Property Tax Freeze is a tax relief program that reimburses you for possible tax increases that occur after you enter the program. This means that this program doesn't actually freeze your taxes.
You get the difference between your first year of eligibility property tax amount and the one from the current year. One of the requirements is that the current year property tax amount is higher than the one from the base year.
Check all the other eligibility requirements in the table below:
Eligibility Requirements
You:

Income

Have earned $89,013 or less in 2018

Have earned $91,505 or less in 2019

Property Taxes and Site Fees

Have paid the 2018 property taxes due on your home by June 1, 2019 and the 2019 property taxes by June 1, 2020 (homeowners)

Have made payments for your site fees by December 31 of each year

Home Ownership

Have owned and lived in your home since December 31, 2015 (homeowners)

Leased a site in a mobile home park and lived in a manufactured or mobile home that you've owned since December 31, 2015 or before (mobile homeowners)

Place of Residence

Have lived in New Jersey as a renter or a homeowner since December 31, 2008

Age

Disability

Are a recipient of federal Social Security disability benefit payments
You have the right to re-apply for the Senior Tax Freeze program in case you moved from one New Jersey house to another and got reimbursement for your previous residence for the last full year you resided there.
When Aren't You Eligible for
NJ Property Tax Freeze for Seniors
?
You've seen the requirements for the property relief program in New Jersey, but there are additional factors that can prevent you from getting in. You can't get a reimbursement on:
A second home or a vacation home

Real estate you rent to someone else

Houses that contain more than four units

Houses with four units or less that have more than one commercial unit
You also can't get this tax relief if you are completely exempt from paying taxes for your house or if you made Payments-in-Lieu-of-Taxes (P.I.L.O.T.) to your municipality.
What Are
the Property Tax Exemptions for Senior Citizens and Veterans in NJ?
In addition to the Senior Tax Freeze program, you can find out more about property tax exemptions in NJ. If you live in New Jersey, you can count on the following ones:
Senior citizens, disabled persons, or surviving spouses

—People who are 65 or older, disabled, or

widowers

of such person have the right to claim a $250 tax deduction

Veterans or surviving spouses

—Honorably discharged service members and their spouses can get a $250 tax deduction

Totally disabled veterans or surviving spouses

—100% disabled veterans and their surviving spouses can get a full property tax exemption
DoNotPay Is an Easy Way To Find Out if You Are Eligible for Tax Exemptions in NJ
While the Senior Property Tax Freeze is a great program, it works differently than property tax exemptions. DoNotPay is here to help you with the latter! Follow these steps to check if you qualify for a tax exemption:
Access DoNotPay from a

web browser

Locate and choose the

Property Tax

feature

Provide us with the required info about your property and yourself
Once you finish the simple questionnaire, you'll have your answers. DoNotPay will also be there to help you with collecting the required documentation and sending applications!
You can count on DoNotPay to learn about the best ways to get help paying property taxes and see which states have low property taxes.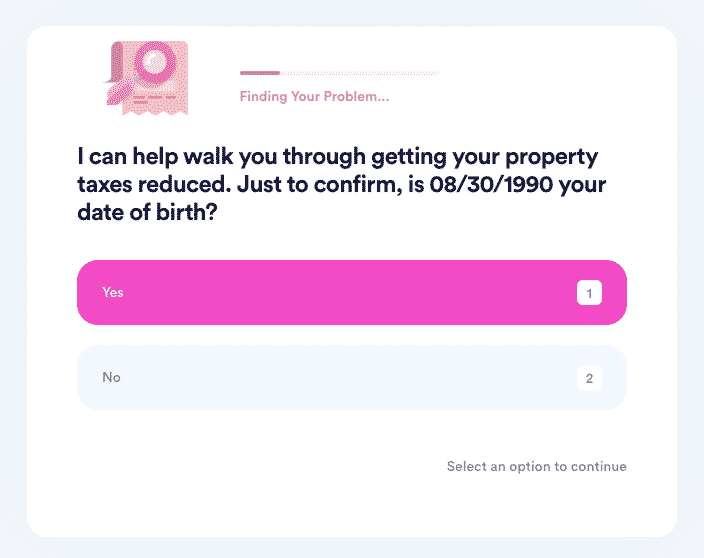 DoNotPay Makes Filing Property Tax Appeals Easy
What happens if you are not satisfied with the amount of money you are required to pay for property tax? You don't have to oblige and pay—you can file an appeal with DoNotPay instead! There are a few red flags that indicate you should consider filing an appeal:
You notice that the evaluation the assessor made mentioned property you don't own anymore

Property taxes have soared compared to the previous year

The assessor made the evaluation of your property twice
Your virtual assistant will provide you with instructions for negotiating with the assessor and help you lower your property tax expenses.
Other Ways for Lowering Your Property Taxes in New Jersey
In addition to searching for property tax exemptions and filing appeals, you can try some other ways to lower your property taxes. You may try to:
Not make any improvements to your house prior to the

property tax assessment

Be right next to the assessor while they are performing the evaluation

Look for inaccuracies on your tax bill
DoNotPay Is the Champion of Customer Advocacy
If you've never experienced an issue with a purchased item, you should consider yourself extremely lucky. When shopping goes wrong, you usually have to brace yourself for unpleasant and annoying exchanges with customer support centers. 
DoNotPay is here to make exercising your consumer rights easy. Long holds when calling customer service reps and incessant marketing spam emails can stay in the past. We will help you avoid irritating text messages from online retailers by teaching you how to bypass phone verification when signing up. 
Ask for refunds, claim warranties, fix credit card issues, or sue retailers in small claims court—these are just some of the services our platform provides. 
With DoNotPay, you can start free trials for new services risk-free. If you want to get out existing subscriptions, canceling them has never been easier!
Wait, There's More!
Our full portfolio includes features as diverse as contacting inmates and requesting college application fee waivers for students from low-income families. 
If you have a problem with bureaucracy, the chances are DoNotPay knows how to fix it with your minimal involvement. 
Leave the grunt work and unnecessary expenses behind. We will help you pass various government tests with flying colors, find unclaimed money in all states, or get out of parking tickets before you know it!