NJ Property Tax Relief—A Relief for Your Wallet

Property tax relief comes in different shapes and forms in New Jersey—it can be a tax freeze, a deduction, or a benefit program. NJ also provides various property tax exemptions you can apply for to lower your taxes.
This article will go over all NJ property tax relief programs and recommend a personalized guide to help you keep your NJ property tax low.
Why Is Property Tax So High in NJ, and Why Do I Pay for It?
Unlike Hawaii, Alabama, and Colorado, which are states with the lowest property taxes, New Jersey has one of the highest tax rates in the country—2.19%. To put this in perspective, the average NJ citizen paid approximately $8,861 in taxes in 2019.
The main reasons behind the steep rates are high property values and education costs. Besides education, property taxes in NJ also fund:
Maintenance services

Community services

Police departments

County and municipal expenses
What Are New Jersey Property Tax Relief Programs?
As one of the most expensive states to live in, NJ citizens may need help paying property taxes to keep up with the high cost of living. One way of saving a penny or two is by applying for NJ property tax relief programs, such as:
Homestead

benefit program

Deductions, exemptions, and abatements
Do I Qualify for NJ Tax Relief Programs?
Check out an overview of New Jersey property tax relief programs in the table below:
Program
Eligibility Factors
Details

Senior freeze

Age/disability:

Be 65 or older or

Receive federal Social Security disability benefit payments 

Residence—Live in New Jersey as a renter or a homeowner 

Homeownership:

Be a homeowner

Be a mobile homeowner

Income limit:

Earn $91,505 or less in 2019

Earn $92,969 or less in 2020

Property taxes and site fees:

Have paid property taxes on your home or

Have paid site fees on your mobile home

The senior freeze program provides reimbursements for tax increases to senior citizens and disabled persons

You can't qualify for a reimbursement if you have a:

Property that you're renting to someone

Vacation home or a second home

Property with four units or less that has more than one commercial unit

Property that has more than four units

Homestead

Be a New Jersey resident

Own and occupy a home as your primary residence in NJ

Pay your property taxes

Meet the income requirements:

$150,000 or less for homeowners aged 65 or over, blind, or disabled

$75,000 or less for homeowners under the age of 65 and not blind or disabled

The homestead benefit program offers property tax relief to eligible homeowners

The relief typically comes as a credit that will reduce your property taxes
New Jersey Property Tax Reduction Through Exemptions and Deductions
Aside from tax relief programs, you may be eligible for property tax exemptions in NJ. There are four main tax exemptions we will get into in detail:
Veteran

property tax deduction

Active military service property tax deferment

100% disabled veteran property tax exemption
Veteran Property Tax Deduction
To qualify for a veteran property tax deduction, you need to meet the following criteria:
Being a homeowner

Being a legal resident of New Jersey

Having active duty service in the U.S. Armed Forces with an honorable discharge
A surviving spouse, civil union, or domestic partner may also be eligible for this exemption.
Active Military Service Property Tax Deferment
As a serviceperson, deployed or mobilized for active service in time of war, you may qualify for the active military service property tax deferment. This is essentially a postponement of your tax bill. You can authorize someone to apply instead of you. As soon as your deployment is finished, you have 90 days to pay your property taxes.
100% Disabled Veteran Property Tax Exemption
To apply for the 100% disabled veteran property tax exemption, you have to:
Be honorably discharged

Be a legal New Jersey resident

Have active duty service in the U.S. Armed Forces

Own and occupy your property as your primary residence
Spouses may also apply.
Property Tax Deduction for Senior Citizens and Disabled Persons
You may qualify for an annual $250 property tax deduction for senior citizens and people with disabilities if you:
Own and occupy your home

Don't exceed the

income threshold

Have been a legal resident of New Jersey for at least one year
You may also be eligible when your spouse passes away.
Other programs also include:
Historic site property tax exemption

Five-year exemption and abatement

Urban enterprise zone property tax abatement

Non-profit organization's property tax exemption

Renewable energy system property tax exemption

Environmental opportunity zone property tax exemption

Non-residential development fee certification/exemption

Automatic fire suppression system property tax exemption
NJ Property Tax Reduction Made Easy With DoNotPay
If your head is already spinning from all the tax relief programs and exemptions you may qualify for, and the thought of collecting the necessary paperwork is giving you a headache, we have a solution! DoNotPay can comprise a detailed property tax guide that will help you: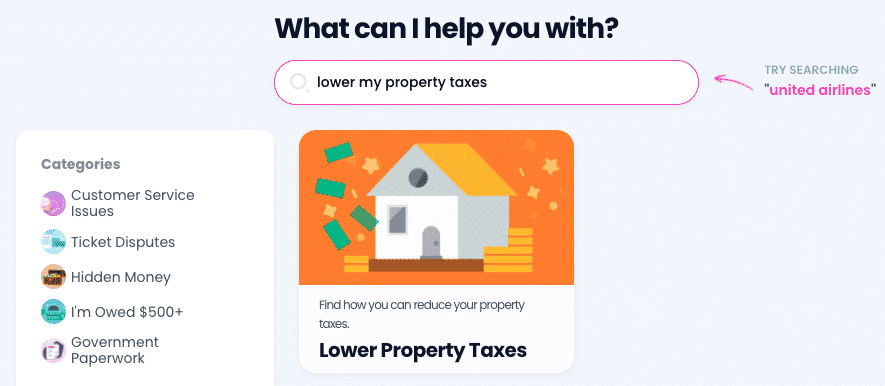 With our guide, dealing with exemptions and appeals will be a piece of cake!
Reduce your property taxes by getting our guide in the following way:
Open DoNotPay in any

web browser

Navigate to the

Property Tax

feature

Answer a few questions about yourself and your property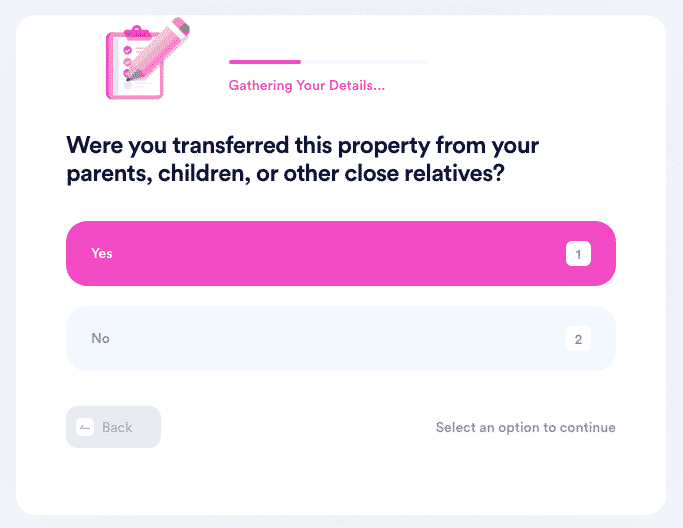 Use Our Robot Lawyer To Eliminate Pesky Tasks
Administrative tasks are often time-consuming, which is why many people give up on them before even trying to tackle them. Requesting refunds, canceling services, signing up for clinical trials, reporting stalkers and robocalls, and trying to find unclaimed money are all processes that would usually take a long time to resolve.
With the help of DoNotPay, though, all of these admin hurdles become a piece of cake. In just a few minutes, our app can assist you in appealing parking tickets, getting in touch with your imprisoned loved one, getting an extended warranty, reporting copyright infringement, and so much more!
Don't Break the Bank—Sign Up for DoNotPay!
Our app can save you lots of money by helping you get a refund from any airline, sign up for a free trial without your credit card info, earn off persistent and illegal spam emails, and get an application fee waiver for a college you apply to.
With DoNotPay, you can even schedule a DMV appointment or jump the phone queue when getting in touch with a customer service representative without breaking a sweat!