NJ Property Tax Deduction for Senior Citizens and Disabled Persons
From A to Z
Anyone who owns property needs to pay property taxes. The good news is that homeowners have the right to ask for help paying property taxes based on different criteria. In NJ, the property tax deduction for senior citizens and disabled persons is one such option.
DoNotPay can help you determine if you are eligible for this property tax exemption.
What You Should Know About the
NJ Property Tax Deduction for Senior Citizens and Disabled Persons
The state of New Jersey provides senior citizens and people with disabilities with some relief regarding property taxes. If you meet certain requirements, you may have the right to claim a property tax deduction of $250 per year.
Take a look at the table below for more details:
Eligibility Criteria
Eligibility Criteria for Surviving Spouse/ Civil Union Partner

Individuals who are 65 or older

People who are disabled

Residents of NJ for at least one year before October 1 of the pretax year

Owners who live in their house from October 1 of the pretax year

Individuals with incomes that don't exceed the proposed amount

People who are 55 or older at the time of their spouse's death

Widows

who are 55 or older as of December 31 of the pretax year

Spouses who live in the same home for which the deceased person received the deduction while they were alive

Spouses who are residents and citizens of NJ for at least one year prior to October 1

Individuals who have not remarried or formed a new registered civil union partnership
If you are a surviving spouse or a civil union partner who lost their spouse, you will have to provide some proof when requesting a property tax deduction. This includes:
Birth certificates

Death certificates

Marriage/Civil union certificates

Probated wills

Physician's certificates

Deeds

Social Security documents

State tax returns
What Are Other
New Jersey Property Tax Exemptions
Apart from the property tax exemption for senior citizens and disabled people, New Jersey offers some tax relief for veterans and their spouses. Take a look at the table to find out whether you fall into those categories:
Property Tax Exemption For:

Individuals Who Are:

Tax Deduction Amount

100% disabled veterans or surviving spouses

Honorably discharged disabled veterans

Full or partial owners and permanent residents of the home

Legal residents of New Jersey

Unremarried surviving spouses of disabled veterans

Surviving spouses who are legal residents of NJ

Unremarried surviving spouses of service persons who died on duty

Full property tax exemption

Veterans or surviving spouses

Honorably discharged members of the U.S. Armed Forces

Unremarried surviving spouses of service members who died while on duty

Surviving spouses of active-duty veterans who haven't remarried

Legal residents and property owners in New Jersey

$250 per year
Find Out if You Are Eligible for an
NJ Property Tax Exemption
With DoNotPay
If you feel like it is too difficult to figure out whether you meet the criteria for a property tax exemption, don't worry—DoNotPay will do the job for you! Why deal with something time-consuming and complex on your own? With our app, you only need to follow three simple steps:
Open DoNotPay in a

web browser

Find and access the

Property Tax

feature

Answer some questions about yourself and the property you own
DoNotPay will create a guide to property tax reductions for you. Your virtual assistant will also help you with collecting all the forms and submitting the applications.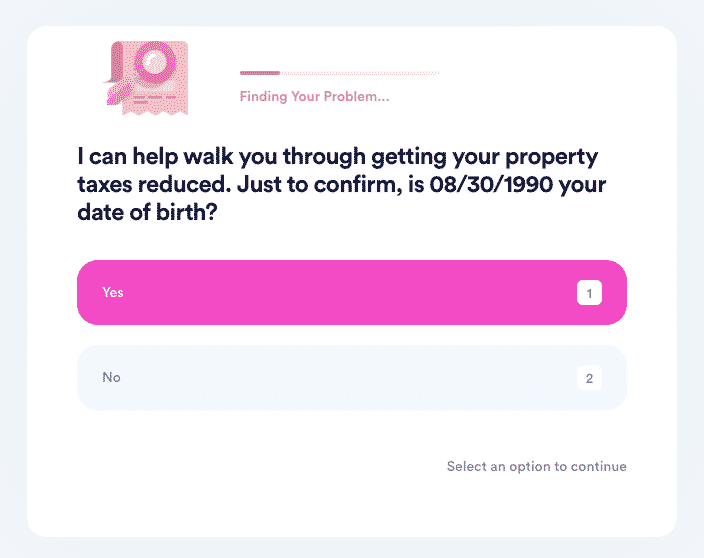 New Jersey Property Tax Relief
—What Can You Do To Lower Your Taxes?
Property taxes are an annual expense that takes a lot of money from our pockets. Some states have low property taxes, but reducing the expenses is often appreciated by people who need financial help no matter where they live.
How can you lower your property taxes? You can try any of these suggestions:
Looking for property tax exemptions

Avoiding home renovation before the

property tax assessment

Being in the house while the property assessor evaluates the property

Making sure there are no inaccuracies on your tax bill

Filing a property tax appeal
You'll have to handle some of these on your own, but DoNotPay can help you file appeals and search for property tax exemptions!
DoNotPay Can Help You File Property Tax Appeals
Filing property tax appeals is the last resort to lowering your taxes. You should use this option in case one of these situations applies to your case:
Noticing a tax increase that is much bigger than the previous year

Seeing that the assessor evaluated your property twice

Noticing that your assessment includes property that is not yours anymore
You can use DoNotPay to appeal your previous property assessments. We will help you negotiate with your assessor and collect the evidence to lower the assessed value.
Don't Let Companies Take Your Hard-Earned Money!
People love to subscribe to all sorts of services—especially if there are free trials involved. The problem is that most of them forget that they signed up for anything in the first place. Companies are aware of this, which is why they auto-renew memberships as soon as the free trials expire.
Don't let them get away with it—use DoNotPay to sign up for free trials and cancel subscriptions right before they renew. If you want to save even more money, use our platform to learn how to handle high bills, parking tickets, college application fees, canceled or delayed flights, or faulty services you should get refunded for.
Use DoNotPay To Stop Illegal Activities and Earn off Scammers!
Our AI-powered platform can assist you in dealing with all sorts of scammers. If you got any of the following, the world's first robot lawyer will help you seek justice:
Do you want to protect yourself and your loved ones from stalking and harassment as well? Use DoNotPay to learn how! If the situation with a stalker escalates, our app is going to help you take them to small claims court by preparing all the paperwork and your court statement.
Don't stop there—check out how you can bypass phone number verification, claim any type of warranty, or pass any government test with flying colors!