Understanding NJ Property Tax Assessments 
Owning a home in New Jersey is a huge deal. It is not easy to purchase and maintain a property, let alone pay your property tax bills.
Why wouldn't you try to lower your taxes? There are different ways you can save some money. One of them is to understand NJ property tax assessments and learn how to appeal your past tax bills. 
DoNotPay can show you how to pay property taxes if you're struggling, get fair property tax assessments, apply for exemptions, and help your senior family members get tax relief. 
What Is a Property Tax Assessment?
A property tax assessment is an evaluation of your property's value. Local governments are in charge of property tax assessments, and they perform them to collect tax money to support local communities.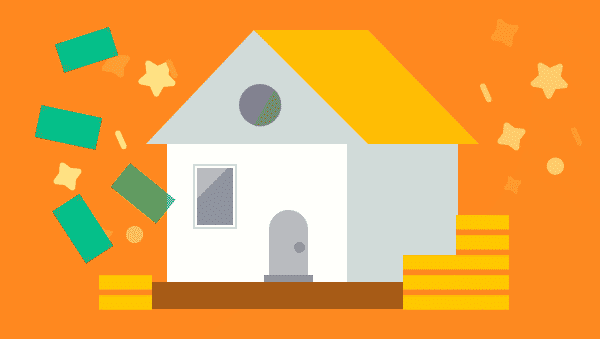 You should know there are three different values connected to tax assessments:
| | |
| --- | --- |
| Values | Explanation |
| Appraised value | The fair market value is the basis of the appraised value of your property. The market value equals the price you would be able to get if you were to sell your real estate.  |
| Assessed value | This is an adjusted value reached by multiplying the appraised or market value by the assessment ratio. Tax exemptions can sometimes be subtracted, too. |
| Taxable value | This value is calculated by subtracting any property tax exemptions from the assessed value. This taxable value is then multiplied by your jurisdiction's tax rate. |
The assessed value has no impact on the market or appraised value of your property, only on your tax bill. 
A taxing jurisdiction, i.e., your city, county, or municipality, sets the tax rates. You can take part in public hearings to participate in proposed tax rates. 
NJ Property Tax Assessments and the Bigger Picture
If you are wondering what the property taxation process looks like in New Jersey, here are the usual stages:
Assessment

—A local assessor establishes your property's value

Budgeting

—All taxing districts set their annual budgets, including the tax levies for their district and all other dedicated purposes

Calculation

—A property tax rate is calculated for all tax levies in line with state law

Billing

—A local tax collector uses the tax rate and your property's assessed value to create a bill for your property's share of each property tax levy

Payment

—You get a tax bill in four installments due in February, May, August, and November

Disbursement

—Once the bills are settled, the levies are disbursed among taxing districts
You should know that any unpaid property tax accrues interest and results in a lien.
Who Is in Charge of New Jersey Property Tax Assessments?
Every municipality has a certified local assessor who is in charge of establishing the value of properties in their municipality. Some assessors perform this task for a few municipalities. 
The County Board of Taxation and the New Jersey Division of Taxation supervise the work of municipal assessors. 
Assessors perform the following activities:
Establish the value of the property based on market data, state laws, the

state constitution

, rules, and court decisions

Deal with appeals and advise the governing body on tax appeal defense and settlements

Supervise reassessments or revaluations 
They do not influence the budget or tax rate of municipalities they work for. 
What Is a Property Tax Assessment in NJ Based On?
Assessors establish properties' value based on the market value. It is not always the case that the assessed value of your property equals the market value as assessors do not reassess the values of all properties with any market change.
Here are some reasons why your property's assessed value could change:
New constructions, improvements, or zoning changes

Assessors using a state-approved plan that reassesses all property annually or over five years

The town performing a town-wide revaluation

You filing an appeal and proving your property's assessed value was higher than the market value of comparable homes
How To Appeal Your Property Tax Assessments
Has paying your property tax bills been a burden? You should check your property's assessed value. If you believe the value is too high, you should file an appeal. 
As tax assessors often do mass appraisals of properties, they can make mistakes. They might not be aware of certain specifics of your property that is connected with its value.
Should you decide to appeal, you can make an informal appeal or a formal one.
You can opt for an informal appeal by getting in touch with the assessor to discuss the matter

If you and the assessor are not able to reach an understanding and find a solution, you can choose to submit a formal appeal
Some tax assessors might not be open for informal appeals. In that case, you will go straight to a formal appeal. 
To appeal your property tax assessments, you will need to follow a specific procedure, gather evidence, and fill out an appeal form. DoNotPay will provide all relevant information should you decide to appeal your NJ property tax assessment. 
Can You Appeal NJ Property Tax Assessments on Your Own?
You can file an appeal for your New Jersey property tax assessment by yourself. What you need to know is what your rights are and how you can file an appeal correctly. 
The starting point would be proving the assessed value of your property is unreasonable. The basis of this is the market value. It means you need to get familiar with real estate prices in your community and collect data about the value of neighboring properties. 
You need to file your appeal according to the strict rules of your local government. You should know what assessment calendar your county or city follows and what the tax appeal filing deadline is.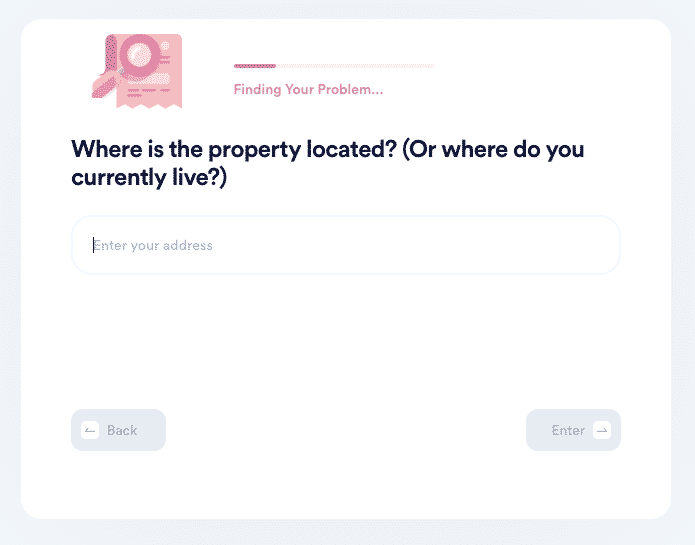 Different counties may have different assessment calendars. For example, the deadline to appeal the Monmouth County property tax assessment is January 15. Other NJ counties can use alternative assessment calendars.
To collect all necessary information, you could get in touch with:
A real estate agency

Your neighbors

A lawyer

The County Board of Taxation
Another option is to get your hands on DoNotPay's straightforward property tax guide to understand and carry out the whole process effortlessly.
DoNotPay Guides, You Save Cash 
DoNotPay can share with you all relevant information on reducing property taxes, including the property tax assessment appeal process in New Jersey and other U.S. states and counties. 
You can find everything in one place since we update our property tax database regularly.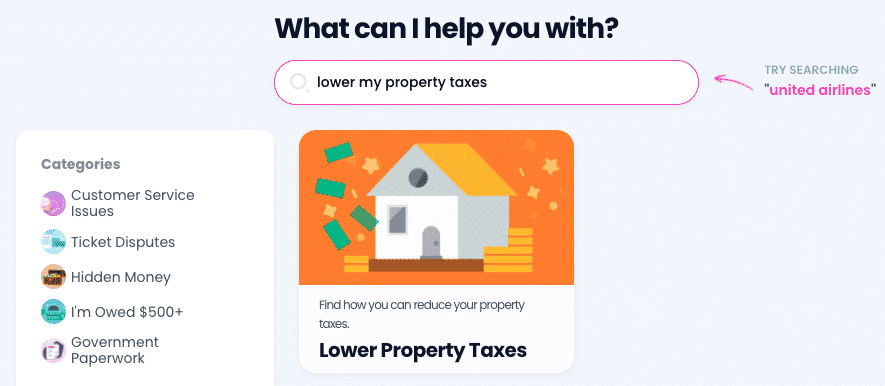 Follow these simple steps:
Open DoNotPay in your

web browser

Opt for the

Property Tax

feature

Answer a few simple questions about you and your property
In a few clicks, DoNoPay will create your personalized guide to property tax reductions. 
What documents do you need to collect? What forms to fill out? Should you file your appeal at the County Board of Taxation or Tax Court of New Jersey? DoNotPay will provide answers. 
The guide you will get has a whole section covering the appeal process. Use our instructions to find out how to appeal, but also to check whether you qualify for any property tax exemptions.
If you are mulling over purchasing a property in other U.S. states, you might want to take a look at the states with low property taxes. 
We can provide information on property tax exemptions in Texas, Colorado, New York, Kentucky, or Louisiana. How about finding out everything about assessment rules in Michigan or California? DoNotPay is here to lead the way. 
Clear Out Your Daily Tasks Fast With DoNotPay
Are your parking tickets piling up, but the process of appealing them is way too complicated? Do you struggle to pay your bills but are not sure how to get an extension? Is it time to extend your driver's license, but reaching the DMV is a nightmare?
DoNotPay will turn all of these dreadful tasks into easy-to-do items you can check off your agenda quickly!
Get rid of spam emails, texts, and calls quickly using our AI-powered app!
Learn how to secure compensation from airlines, get your college fees waived, claim your lost funds, or reduce your property tax—all with a few clicks!
Subscription Issues? DoNotPay Can Help!
If you are looking to test out a service, think twice before disclosing your payment info. Companies will often ask you for your credit card details even when signing up for a free trial—they charge you once the trial expires. 
Use our virtual credit card, and don't worry about unwanted charges! 
Our credit card gets automatically approved for any free trial, but it rejects any real charges since there is no money on it.
DoNotPay will locate and cancel all your unwanted subscriptions without you having to deal with customer service reps.
We can also help you request refunds from companies or take them to small claims court if they refuse to cooperate.