File an
NJ Property Tax Appeal Form
With Ease
People often need to look for help paying property taxes because the sums they need to set aside annually for this cost are too much. It's not rare that we feel like the tax assessment is not right, and that's when property tax appeals come in. DoNotPay can help you file an NJ property tax appeal form the easy way.
What Makes You Eligible To File a
New Jersey Property Tax Appeal Form
?
You can file a property tax appeal in case you feel like the property tax assessor hasn't done their job properly. Filing a property tax appeal in New Jersey is based on two standards:
True Market Value Standard

—all assessments must be 100% of true market value as of October 1 of the previous year

Common Level Range Standard

—this assessment is the average ratio of the district in which your house is located. The County Tax Board uses it to determine the fairness of your assessment
You should find out your district's average ratio before filing an appeal. This ratio changes every October 1.
How To Find Out if Your Property Tax Assessment Is Fair
New Jersey Legislature came up with a formula to test the fairness of property tax assessments. This is known as Chapter 123. When you file an appeal, the Tax Board has to determine the property's true market value and compare it to the taxable assessed value.
There are three possible scenarios:
The assessment gets reduced to the common level if the ratio of the assessed value is 15% higher than the average ratio

No adjustments will happen if the assessment falls within the common level range

The Tax Board has to expand the assessment to the common level if the assessed value to true value ratio is below the common level
How To File
NJ Property Tax Appeal Forms
With DoNotPay
In case property tax appeal requirements seem too complicated to figure out on your own, you should know that you don't have to go through it by yourself. If you are looking for a simple way to appeal your past assessments, you should turn to DoNotPay for help. 
Sign up for DoNotPay in your web browser and find the Property Tax feature. The simple instructions will guide you through the process. We will assist you in negotiating with your tax assessor and make sure you gather all the evidence that can help you lower your property's assessment value.
DoNotPay Can Help You Find Out if You Qualify for a Tax Exemption in NJ
Before the situation escalates to filing a property tax appeal, you should first find out if you are eligible for a property tax exemption in New Jersey. DoNotPay offers another neat feature that will figure out whether you qualify for tax exemption in NJ.
You only need to complete these simple steps: 
Open DoNotPay in any

web browser

Locate and open the

Property Tax

feature

Tell us some key info regarding your property and yourself
DoNotPay will generate your personalized guide to property tax reductions. We will also tell you how to collect the forms and submit your applications. DoNotPay can provide info on states with low property taxes.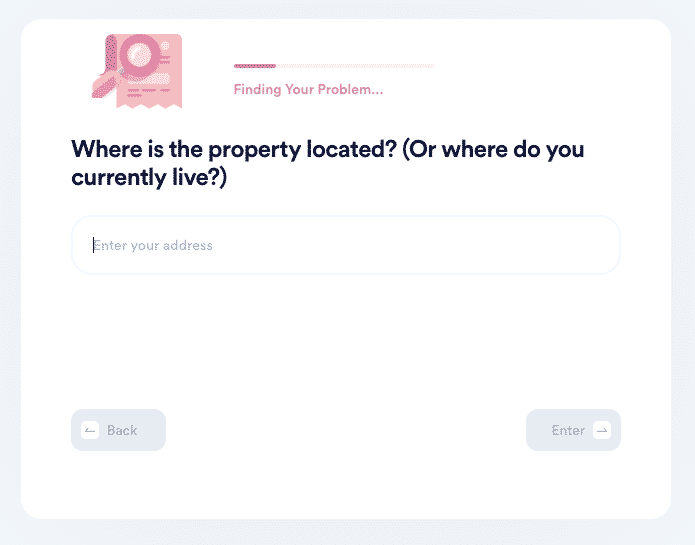 What Are Property Tax Exemptions in New Jersey?
You may be eligible for some of the available property tax exemptions in New Jersey. As in any other state, these exemptions are mostly offered to senior citizens, veterans, or current service members. Take a look at the table below for a more detailed explanation:
Property Tax Exemption Type
You Must Be:
Tax Deduction Amount

Veterans or surviving spouses

An honorably discharged U.S. Armed Forces active duty veteran

A

widow

of an active-duty veteran who didn't remarry or 

An unremarried surviving spouse of a service member who died while on duty

A legal resident and a property owner in New Jersey

$250 per year

100% disabled veterans or surviving spouses

An honorably discharged disabled veteran

An unremarried surviving spouse of a disabled veteran

An unremarried surviving spouse of a service person who died on duty

A full or partial owner and a permanent resident of the home

A legal resident of New Jersey.

The deceased veteran's spouse also has to be a legal resident of NJ

Full property tax exemption

Senior citizens, disabled persons, or surviving spouses

65 or older

A permanently and totally disabled individual

The unremarried surviving spouse (age 55 or older) of a disabled individual

A legal resident of New Jersey

An owner of and a permanent resident of the home

Without an income that is larger than $10,000 in the year for which the deduction is claimed

$250 per year
What Else You Can Do To Lower Your Property Taxes
If you're wondering how to lower your property taxes, there are a few ways:
Avoid renovating your home before the property tax assessment

Be present while the assessor is performing the evaluation

Search for any inaccuracies on your tax bill
DoNotPay Is Your Pocket-Sized Treasurer 
To pay or to DoNotPay—that is the question! Our nifty app finds money where you didn't even know you had it.
With our app, you can avoid college application fees, cancel unused subscriptions, explore free trials, and get out of paying for unfair parking tickets. 
We can also help you with high bills by composing due date extension letters or reducing property taxes, just as we can locate missing money that you can reclaim in any state you've ever lived. 
To top it all, we'll even assist you in requesting compensation from any airline—whether it is for poor in-flight Wi-Fi, a delayed, or a canceled flight.
Can't Find Your Head in All the Paperwork? DoNotPay Sorts It Out for You!
You no longer have to cash out on pricy legal advisors to do simple paperwork for you—our app can draft legal documents for you in a matter of minutes! 
We can write small claims court scripts, dispute letters for chargebacks and refunds, personalized letters to connect with inmates, DMCA takedown notices for copyright protection, and cease and desist letters for stalking and harassment protection. 
If you need to get a DMV appointment before taking a driving exam or any other government test, we're there to schedule it in your stead!