What Are the NJ Power of Attorney Requirements, and How To Get a POA the Easy Way
Drafting a power of attorney (POA) in New Jersey can be tricky, especially if you don't know which type of document to choose and what's included in each one. In case you're not sure where to start, don't worry because DoNotPay will help you!
Our article will explain all NJ power of attorney requirements, different types of POAs in NJ, and how to get one in a few clicks!
What Is a NJ Power of Attorney?
A power of attorney is a legal document with which a person—called the principal—gives authority to another person—the agent or attorney-in-fact— to perform certain duties for them. The most common types of power of attorney documents in New Jersey are:
General POA
A general power of attorney lets the principal authorize the agent to act on their behalf in all matters, as allowed by the state of New Jersey. It comes into effect upon signing and ends when the principal becomes incapacitated or mentally incapable of making decisions for themselves.
Durable POA
Unlike general POAs, durable POAs remain in effect even after the principal becomes incapacitated. The powers it transfers to an agent need to be specified in the document.
Limited POA
A limited POA grants the agent limited powers to handle some aspects of the principal's finances. This type of POA can also be time-limited.
Springing POA
A springing POA comes into effect when one or more physicians confirm that the principal is physically or mentally incapable of making decisions for themselves.
What Powers Does a Durable Power of Attorney in NJ Transfer?
A durable POA in NJ authorizes an agent to have power over the principal's:
Real property transactions
Tangible personal property transactions
Stock and bond transactions
Commodity and option transactions
Banking and other financial institution transactions
Business operating transactions
Insurance and annuity transactions
Estate, trust, and other beneficiary transactions
Claims and litigation
Personal and family maintenance
Benefits from Social Security, Medicare, Medicaid, or other governmental programs, or military service
Retirement plan transactions
Tax matters
New Jersey Power of Attorney Requirements
A New Jersey power of attorney letter needs to be:
Recorded in writing according to the state laws of New Jersey
Formulated properly so it states what powers will come into effect upon the principal's incapacitation
Signed in front of two witnesses and a notary so it's ensured that all signing parties are of sound mind and executing the document of their own free will
How To Draft a Durable Power of Attorney in NJ
If you want to create a durable POA in New Jersey, you will have to meet specific requirements within the document. Check out the table below for more details:
| | |
| --- | --- |
| Requirement | Details |
| Selecting an agent | You have to select a trustworthy and qualified individual who will do everything in your best interest as your agent |
| Deciding when the POA becomes effective | Both parties must agree on the date when the POA will take effect |
| Inserting the personal information | Both the principal and the agent have to input their legal names and contact info |
How To Get a Power of Attorney in New Jersey Without a Hassle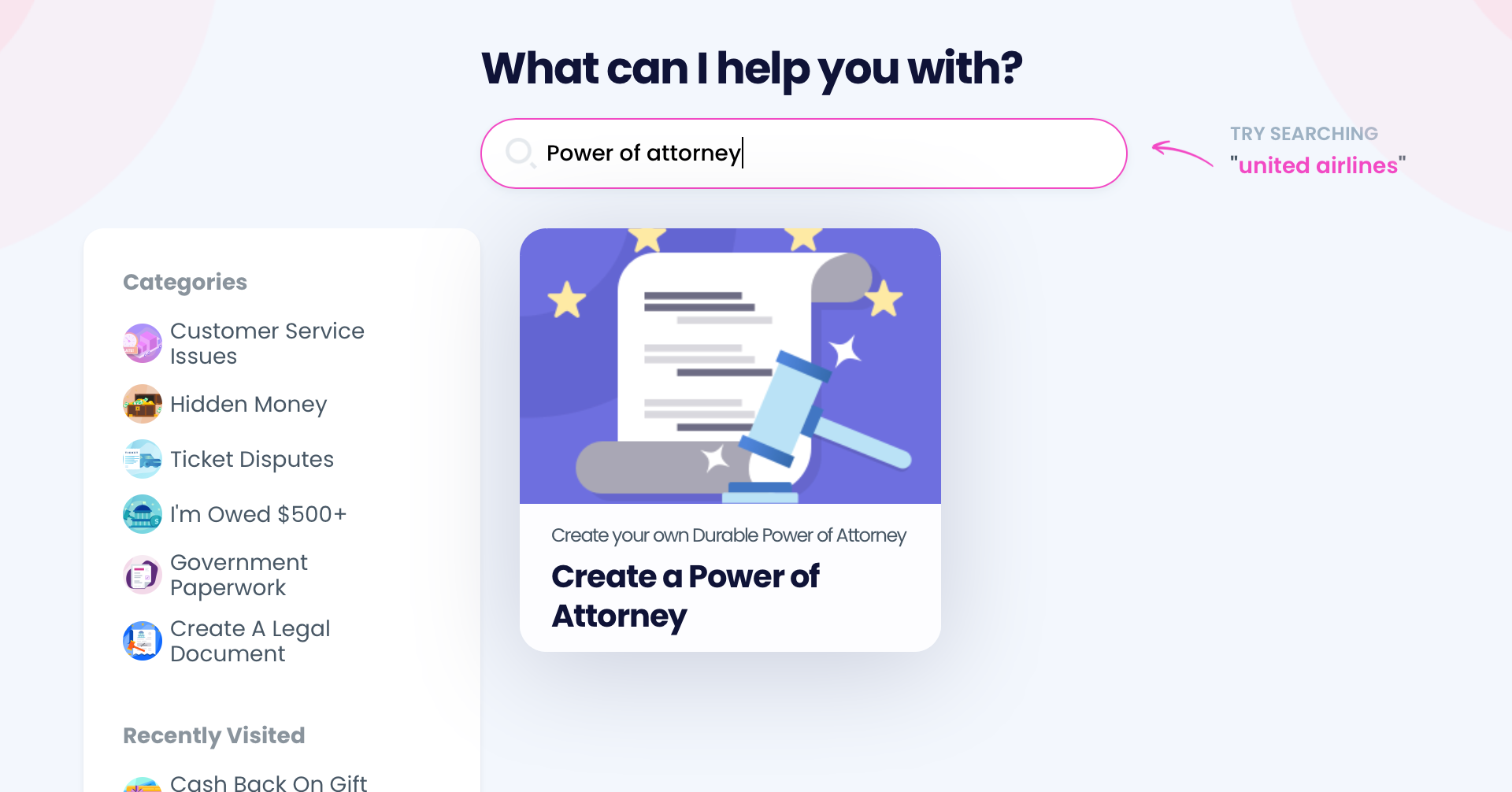 If you're looking to get a power of attorney in New Jersey without a hassle, DoNotPay can help! Using our AI-based app, you'll be able to draft a POA that's:
Valid
Reliable
Professional
Perfectly fitting to your needs
Sign up for DoNotPay and follow these steps to get a personalized power of attorney document:
Select our Create a Power of Attorney product
Fill in the details you want to be included in your POA
Specify the powers you want to give to the agent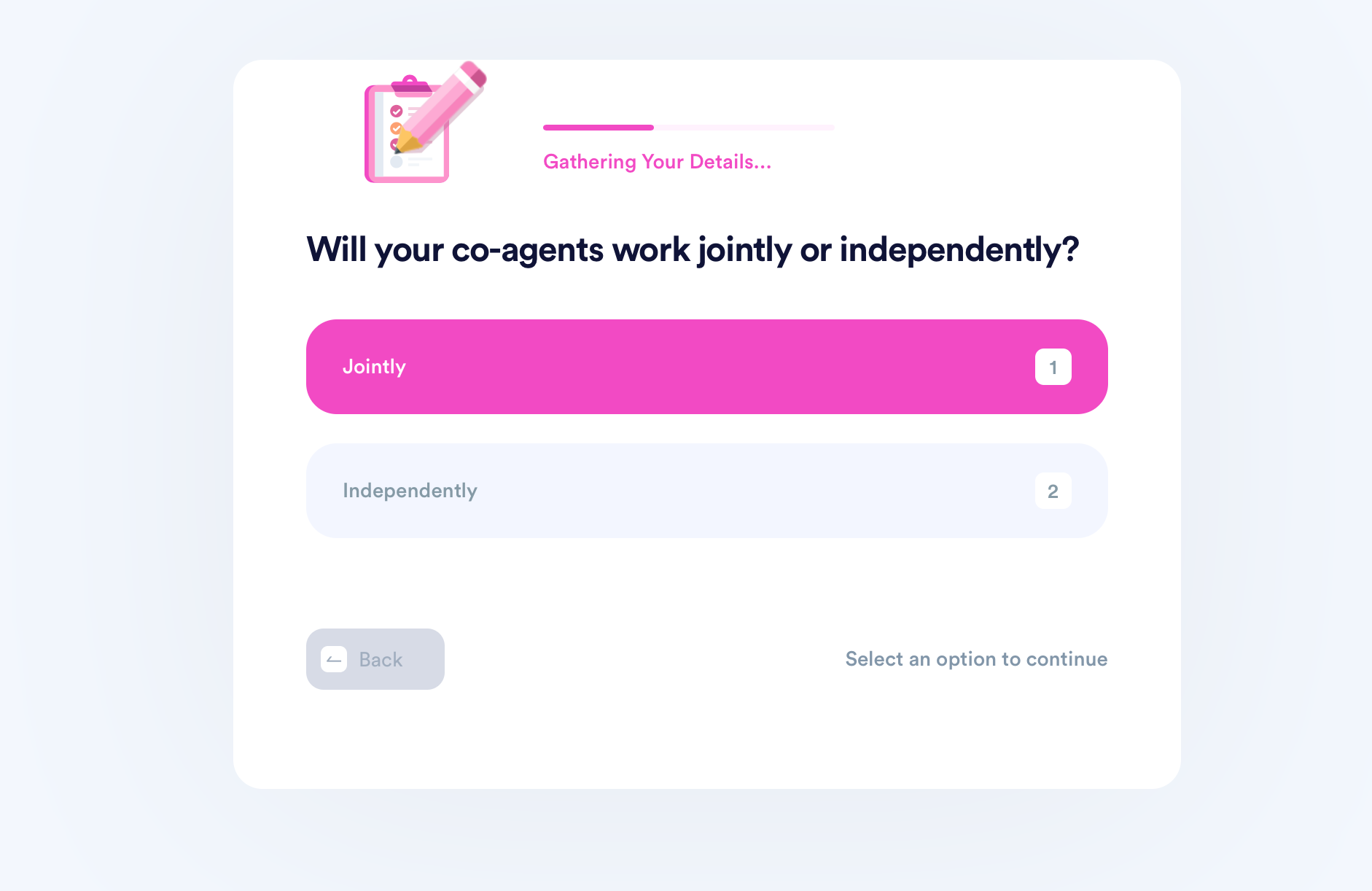 Once we process your request, we'll generate the POA and send the notices that you and your agent need to go through.
You can then use DoNotPay to get your power of attorney document notarized through the same app. We'll set you up an appointment with an online notary, and you'll be able to get your POA notarized via an audio-video call.
Want To Draft a Power of Attorney in NJ? Here's What You Should Know
Frequently asked questions about NJ POAs include:
Does a NJ power of attorney give an agent the power to change a will?
Can you create a power of attorney document between two siblings?
Is a lawyer required for the creation of a POA?
Does a NJ Power of Attorney Give an Agent the Power To Change a Will?
An attorney-in-fact isn't authorized to change, alter, or revoke a will.
Can You Create a POA Between Two Siblings?
It's possible to create a power of attorney agreement between two siblings. The principal also has the option to appoint two or more agents.
Is a Lawyer Required for the Creation of a POA?
Although it's not required by law, it's advisable to have a lawyer during the creation of the POA as they're professionals who know the law inside out. If you can't afford one, use DoNotPay as we offer a reliable solution for creating a POA that won't break the bank.
Need Anything Else? Rely on DoNotPay!
DoNotPay is the world's first robot lawyer that's here to deliver no matter the type of assistance you need. Are you frustrated by greedy companies? So are we—that's why we created a plethora of products that will help you fight money-hungry corporations:
Got charged auto-renewal fees once your free trial ended? No more! Our nifty Virtual Credit Card product will prevent this from happening ever again. Here's how it works:
You sign up for a free trial using our virtual credit card
It gets accepted on the free trial page
The service realizes there are no funds on the virtual credit card once the trial is over
The service cancels the trial in your stead, and you don't get charged
Earn Money Along the Way!
Our AI-driven app doesn't only help you fight corporate attitudes, but it also finds ways for you to earn some money. Whether it's by assisting you in applying for clinical trials, finding unclaimed money, getting you free raffle tickets, waiving your college application fees, getting you robocall compensation, or reducing your property taxes, DoNotPay will deliver.
If you're dealing with text or email spam or with real-life stalkers and harassers, you can count on DoNotPay to get rid of and help you earn off them!