The Breakdown of NJ Jury Duty Laws
All U.S. citizens have a right to a fair and unbiased trial—that is why serving jury duty is an important civic obligation. If you were summoned for jury duty in the Garden State, you must familiarize yourself with the NJ jury duty laws. This article will tell you all about jury duty—how it works, how much it pays, and what the penalties for missing it are.
If you have a job and need to request time off from your employer, , and our app will do it for you in a few minutes.
How Does Jury Duty in New Jersey Work?
You can't volunteer to be on a jury in NJ—prospective jurors are randomly selected by a computer from the lists of:
Registered voters
Licensed drivers
Filers of NJ personal income tax returns
Applicants for homestead rebates
After a prospective juror is selected, they get a green Juror Summons postcard containing summons information and the name of the website where the juror can complete a questionnaire. If you don't have access to a computer, you can complete your questionnaire on paper and mail it back to the court.
This questionnaire helps the court determine whether you qualify to be a juror. To be eligible for jury service, you need to:
Be a resident of New Jersey
Have U.S. citizenship
Be able to read, write, and understand English
Be physically and mentally able to perform service
Not be convicted of a felony
Be at least 18 years old
You Received the Green Juror Summons Postcard—What Now?
After you receive your summons, you'll need to check whether your services are needed. You can do so by visiting the Juror Reporting Page after 5 p.m. the evening before you are supposed to report for service.
Once you determine that the court needs your services, you will have to appear in court (adequately dressed) and go through the selection process where the judge and the attorneys ask you questions to learn whether you can be objective about the case.
When you complete your jury service, you won't be called for another three years.
How Much Does Jury Duty Pay in New Jersey?
New Jersey courts offer compensation of $5 per day for each day of service for petit jurors. If you have to serve for more than three days, your attendance fee will increase to $40 per day. Grand jurors are paid an attendance fee of $5 per day.
Federal jurors are paid $50 per day.
Employment and Jury Duty in NJ
The most common questions about jury duty and employment are:
Question
Answer
Can I be exempt from jury duty because of work?
Having a job isn't a reason enough to get you out of jury duty—if you don't show up, you can be fined or held in contempt of court. You could request to be excused if serving jury duty would cause undue hardship for you or your employer
Can my employer fire me because I'm serving jury duty?
According to N.J.S.A 2B:20.17, your employer cannot penalize you in any way because of jury duty. The violation could result in:

A criminal charge
Disorderly person's offense
Possible civil action for monetary damages

Is my employer required to pay me for jury duty?
There is no statutory requirement in New Jersey that obligates an employer to pay full salaries to their employees while serving jury duty
Create a Notice of Leave in Mere Minutes With DoNotPay
When you start preparing for jury duty, the first step you should take is to notify your employer that you'll miss out on work. If you don't know how to do that, DoNotPay can help you by creating a leave request letter in a few steps. This letter will inform your employer of your absence and remind them of the laws protecting you.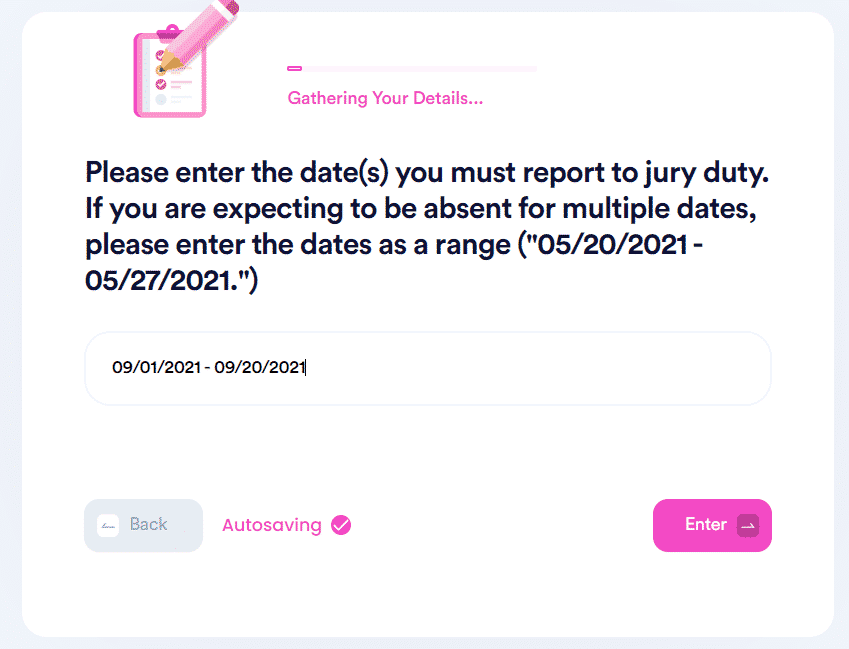 Follow the steps below to get your leave request letter immediately:
in any web browser
Choose the Request Jury Duty Leave feature
Provide information about:

The place where you live
Your workplace
Dates of your jury service
The court where you're supposed to serve

Add the photo of your jury summons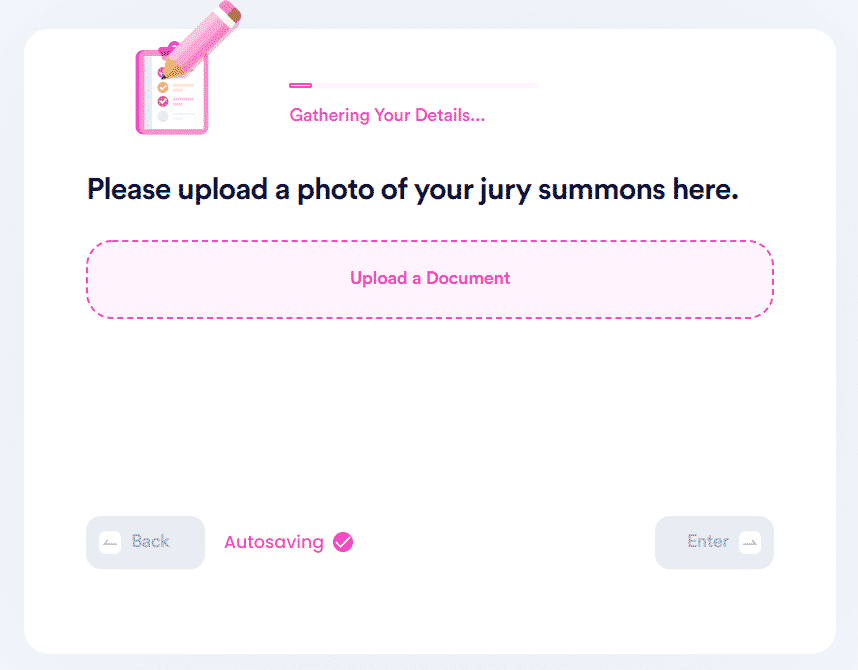 Deal With Administrative Issues With Ease
Drafting contracts and agreements, getting your documents notarized, disputing parking tickets, and creating passport photos will become a breeze once you sign up for DoNotPay.
We can also help you:
DoNotPay Helps You Protect Your Consumer Rights
Don't let companies take advantage of you! With our help, you'll be able to cancel any subscription or membership and request a refund.
As a consumer, you may be overwhelmed with endless steps and piles of paperwork you need to go through to get what you're owed. This is where DoNotPay comes in—let us be your assistant and fast-track the following:
Have you forgotten about a free trial you signed up for? Avoid being charged by using our app! With DoNotPay's virtual credit card, you'll get unsubscribed automatically without the company taking any money from you.
Are you getting spammed via email or text? Get rid of spam for good with our nifty app!