Find Out All About NJ Divorce Mediation With DoNotPay
The divorce process can be an emotional rollercoaster, especially if you and your spouse don't agree on how to handle it.
An uncontested divorce can help you avoid paying astronomical lawyer fees and wasting time on court hearings. To get an uncontested divorce, you and your spouse must set your differences aside and resolve all issues.
Mediation can help you and your partner see eye to eye on all divorce-related matters. If you don't know much about NJ divorce mediation, we are here to explain everything.
and find out how to create a divorce settlement agreement for your uncontested divorce with little to no effort.
A Guide to Understanding the Mediation Process
Mediation is a process during which you and your spouse work together with a neutral third party to resolve all issues that might arise during your divorce. Mediation will help you reach a quick and friendly divorce without going to court and engaging lawyers.
During your mediation sessions, you can expect to discuss the following:
Financial aspects of your divorce
Child support, custody, and visitation
What Is the Role of Divorce Mediators in NJ?
A mediator typically meets with each party individually to try to understand everyone's side of the story. After that, they continue to have as many sessions as necessary with both parties present.
The role of a mediator in NJ is to:
Help you and your spouse find a solution that works for both of you
Facilitate communication
Reveal all the important information regarding the court systems and common issues that you might come across during your divorce
Help you create a divorce settlement agreement, which is a crucial document if you want to have an uncontested divorce
You should create a divorce settlement agreement because it outlines all the important terms of your divorce. This document should cover various divorce-related concerns, such as child support, visitation, and custody, asset division, shared property and debts, spousal support, etc.
NJ Divorce Mediation Process—How To Prepare for Your First Session
To prepare for the first mediation session, you should consider doing the following:
| | |
| --- | --- |
| Ideas | Details |
| Be ready to communicate in a civil way | You should be open to communicate clearly and without shifting blame onto your partner. Fighting with your spouse during a mediation session will only waste your time and money |
| Set your emotions aside | Keep a cool head and try not to involve too much emotion in your mediation process. The calmer you are, the faster you'll reach an agreement |
| Prepare a list of all the points that you don't agree on with your partner | Once you come before a mediator, you should have all the information that they require for your case. This includes all the points on which you don't agree with your partner. This way, you'll provide a clear idea of what you need to discuss with your spouse and the mediator |
| Set a clear goal of what kind of compromise you want to reach | You need to know exactly what you want to achieve during mediation. If you set a goal before you attend your first mediation appointment, you can reduce the time spent in sessions significantly. Feel free to ask for anything you want |
| Collect all the necessary documents | Find out which papers and forms you'll need during your mediation and bring them to your first session |
How Long Can NJ Divorce Mediation Take?
While mediation in New Jersey can take anywhere between two months and a year, you and your spouse can speed up the process if you agree on all points of your divorce.
A mediation session in New Jersey usually lasts around two to three hours.
How Much Can You Expect To Pay for Divorce Mediation in NJ?
The cost of mediation typically ranges between $100 and $250 per session, but mediators who are also attorneys can charge even more. In most cases, the cost of your mediation will be split into two equal parts.
If mediation sessions are too pricey for you, you can avoid them, provided that you can reach an agreement on your own. Not sure how to create a divorce settlement agreement by yourself? DoNotPay can help you create a perfect agreement in a few clicks!
Creating a Divorce Settlement Agreement Is Quick and Easy With DoNotPay
DoNotPay will help you get your hands on a professional, customized divorce settlement agreement that doesn't cost the earth. Our platform will enable you to avoid the expenses of divorce mediation, high lawyer fees, and court-related charges.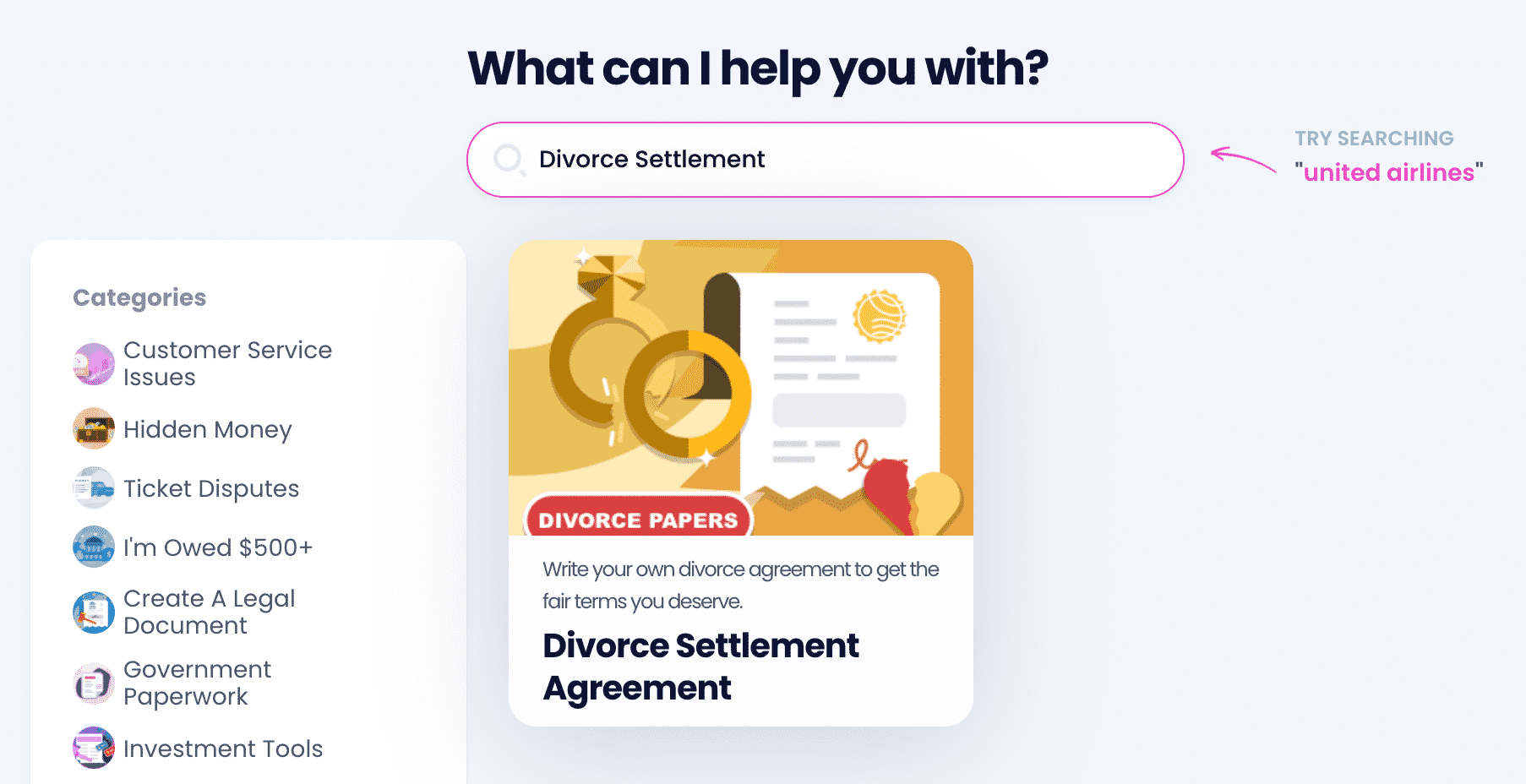 To get your document in a matter of minutes, you should and do the following:
Open our Divorce Settlement Agreement product
Add all the necessary information about your spouse, children (if applicable), and similar
Tell us all about your joint assets and how you want to divide them
After you complete these steps, we'll ask you whether you want to get your document notarized. If you select this option, we'll help you find an online notary in New Jersey who will witness your signing of the document.
How Else Can DoNotPay Help With Divorces?
You can consult our learning center to find out more about divorce-related topics. We'll answer all the questions you might have, including:
Deal With Your Problems Like a Pro With DoNotPay
Looking for an app that's got enough features to solve any issue you're facing? Look no further—DoNotPay has got your back! Whether you can't sleep from your noisy neighbors or you want to connect with your locked-up relatives, we'll be able to help. We'll bring justice to any person or company that has wronged you and take them to small claims court for you.
The robot-lawyer app can generate numerous legal documents in your name, including:
Once you receive the documents, we can set you up with an online notary so you can get your agreements notarized from the comfort of your home.
Possibilities With DoNotPay Are Endless
DoNotPay stands out not only by the quality of products it offers but by the sheer amount of features it boasts. Check the table below out to see only some issues we can help you resolve: