NJ Divorce Forms—PDF Versions Can Get Your Divorce Started Online!
Filing for divorce anywhere can be a nightmare of paperwork, when all that you want is for the process to be over quickly, cheaply, and without hassle.
In an ideal world, you want your New Jersey divorce to be manageable without court appearances and with no need for expensive lawyers.
DoNotPay gets this, and we are here to help you source your NJ divorce forms. PDF versions make the first step easier, and we will guide you through the rest!
How Does Divorce in NJ Work?
To get a divorce in New Jersey, you must fulfill the residency requirement, meaning that you or your spouse have lived in the state for at least one year before filing.
You can file for a fault-based or a no-fault divorce in NJ. In fault-based divorces, acceptable grounds are:
Adultery—in which case the residency restrictions do not apply
Separation—if you and your spouse have lived apart for at least 18 months
Prison term—any prison sentence of over a year is grounds for divorce
Extreme cruelty—which will need to be proved in court
Commitment to a mental facility—at least one year
To file for a no-fault divorce, you can cite irreconcilable differences between you and your spouse.
If divorce is a step too far, you also have the option in NJ of filing for a divorce from bed and board—this is similar to a legal separation in other states.
What Divorce Forms Do You Need in NJ?
To file for divorce in New Jersey, you will need to obtain and fill out the following forms:
| Divorce Forms | Explanation |
| --- | --- |
| Complaint for divorce | This form requests the court to grant your divorce and gives details of your joint and individual financial situation and any children from the marriage |
| Certification verification and non-collusion | This certification asserts that you and your spouse are not working together to engineer a divorce of convenience |
| Certification of no pending proceedings | You and your spouse must certify that you are not currently involved in other litigation against each other |
| Certification of self-represented litigant and dispute resolution alternatives | If you intend to represent yourself in any court proceedings, you need to certify this and confirm that you will abide by any court orders for mediation to resolve your case |
| Certification regarding redaction of personal identifiers | This certifies that you have ensured that no personal identifiers—such as social security numbers—have been mentioned on your forms |
| Summons | The summons will be served on your spouse, together with copies of your divorce papers |
You can get NJ divorce forms free as hard copies from the clerk of your county court, but you can also buy a complete pack in fillable PDF format for $25.
What Do You Do Once You Have the Required NJ Forms?
As soon as you have obtained and filled out the necessary forms, you need to file them with your county court.
The easiest way to do this is to upload them to the Judiciary Electronic Document Submission (JEDS) system. The alternative is to file the forms in person at your—or your spouse's—county court.
Whichever method you choose to file your divorce forms, you will need to pay the filing fee of $300 upon filing.
Once you have filed your forms, you should have them served on your spouse by a deputy sheriff or a professional process server.
Having received the papers, your spouse has an opportunity to respond and signal whether the divorce will be:
If your spouse elects to contest the divorce, it will go to trial. If you and your spouse can cooperate towards an out-of-court settlement, your divorce will be deemed uncontested or friendly—this is also known as a collaborative divorce in New Jersey.
In such cases, you can usually avoid court proceedings, and your divorce will be granted within six to eight weeks.
How Can You Secure an Uncontested NJ Divorce?
The key to getting your uncontested divorce granted in New Jersey is to set up and sign a divorce settlement agreement before your case comes to court.
A divorce settlement agreement is a legal document that regulates how every aspect of your marriage will be dissolved when you divorce, including:
Your settlement agreement is a contract between you and your spouse and becomes binding when the judge in your case signs your divorce decree.
To negotiate and draft your settlement agreement, you have the following options:
Lawyer
Online service
DoNotPay
Lawyer
Hiring attorneys is the traditional route for many couples in a divorce but may not be necessary if you and your spouse can agree on the major points of your settlement.
Attorneys charge around $310 per hour, and negotiating and drafting a settlement agreement can easily cost $5,000 per spouse.
An alternative is to submit to a process of mediation, in which you negotiate with your spouse under the facilitation of a mediator who helps you reach an acceptable settlement. This is considerably less expensive and less adversarial than using lawyers.
Online Service
Various websites offer low-cost templates for you to fill out, but—while they are cheap—many of these are highly generic and don't take account of your circumstances.
Some may also not be valid under the New Jersey jurisdiction.
DoNotPay
DoNotPay has the solution to your settlement agreement needs!
We can create a tailor-made settlement agreement for you that covers your exact needs—no need to cut-and-paste or pay expensive lawyers!
DoNotPay Has You Covered in NJ!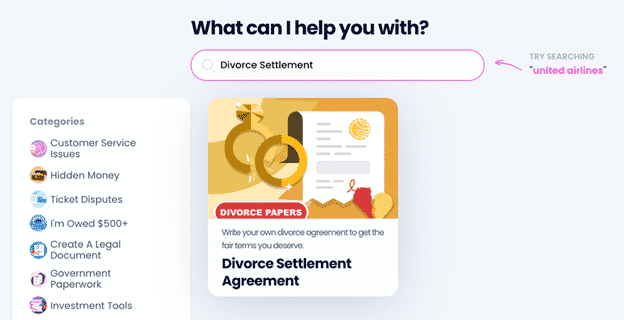 With all the PDF and online options in New Jersey, filing for divorce is relatively easy—DoNotPay makes the whole process a cakewalk!
Our Divorce Settlement Agreement product takes all the points you and your spouse have agreed on and creates a watertight and comprehensive settlement agreement in a flash. You have the benefit of:
No lawyers' fees
No worries about validity in NJ
No need to cut-and-paste from multiple cheap templates
Here's how to get your settlement agreement set up:
Go to your web browser and sign up with DoNotPay
Click on our Divorce Settlement Agreement feature
Fill out the terms you and your spouse have agreed on
Once all the terms of your agreement are filled out, your document is ready to go.
You and your spouse can sign it in the presence of a notary, and your divorce can proceed.
Even if you are struggling to find a notary in your area, there's no need to panic—use DoNotPay's online notarization service, and the job is done!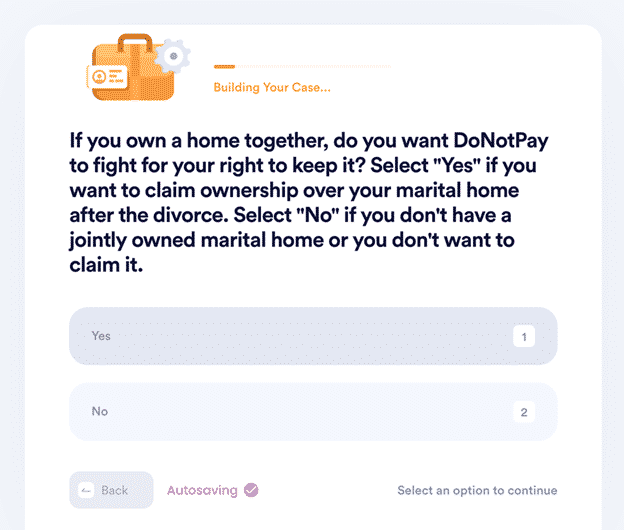 Use DoNotPay To Complete a Variety of Tasks at Any Time
Why waste time and money completing mundane tasks on your own when you can let DoNotPay assist you? Take a look at the table below to find out what our AI-powered app can do for you:
| DoNotPay Can | Services |
| --- | --- |
| Protect your safety and privacy | |
| Draft legal documents | |
| Help you get your money back | |
DoNotPay Has More in Store for You!
Since communication is key, you'll appreciate our feature that helps you get in touch with customer service reps quickly! We'll also show you how to send faxes online and have your documents notarized by an online notary with ease!
Going on vacation? Use DoNotPay to take a valid passport photo at home or get a tourist visa!