Do You Need a Nigeria Tourist Visa? DoNotPay Helps You Decipher the Entry Permit Requirements
A trip to Nigeria is a journey through landscapes and reserves of lush vegetation and exciting wildlife. Besides spotting lions, elephants, and antelopes in their natural habitat, you can also:
Explore Obudu Mountain Resort
Relax on Gulf of Guinea beaches
Partake in eco-tourism in Yankari National Park
Visit hectic Lagos, the biggest city in entire Africa
Admire breath-taking stone formations and tour sacred shrines
Tour rainforests of the Afi Mountains and spot gorillas and chimpanzees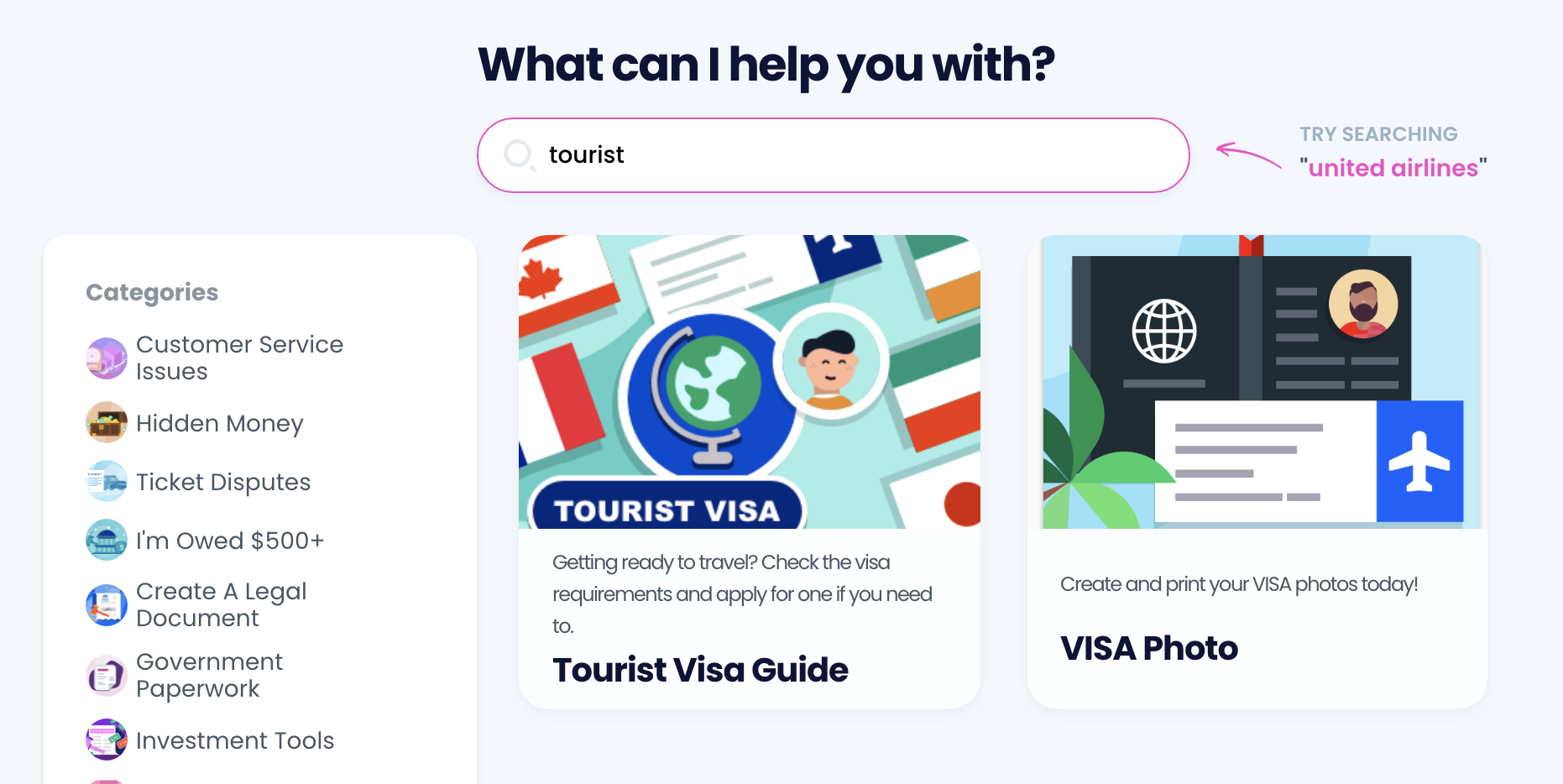 Before you set off, ensure you have a Nigeria tourist visa and learn what other requirements you must meet for your trip. DoNotPay helps you get a grasp of all related procedures and necessary documents.
Nigeria Tourist Visa—Everything You Need To Know About the Entry Permit
To obtain the Nigeria tourist visa, U.S. citizens must:
Have a valid passport
Complete the online application form
Before applying, ensure that your passport:
Is valid at least six months after the planned departure date from Nigeria
Has one blank page for the entry stamp. The immigration officers will only stamp completely blank pages
The Nigerian authorities grant single-entry and multi-entry visas. The latter option is available for stays between seven and 90 days. The validity of the visa usually starts from the day the document is issued.
What Are Other Nigeria Tourist Visa Requirements?
To get your entry permit, you must provide two photos. At some point, you may also be asked to enclose proof of your trip duration, such as:
Round-trip airline ticket
Travel itinerary from a travel agent
Hotel reservation—You can also provide a host's invitation letter, but ensure it is addressed to the Nigerian embassy
Note that the Nigerian Embassy doesn't recommend purchasing flight tickets before they approve the permit.
You may also need to present the bank statement confirming you have sufficient funds to support yourself for the duration of your stay. Nigeria doesn't impose currency restriction limits, so you can bring in and take out as much money as you wish.
Photo Details
The photos for the Nigeria Tourist Visa must be taken within the last six months, the required size being 50 x 50 millimeters. Your face must be centered and the expression neutral. Ensure good photo quality to avoid delays in visa processing.
The Minors Policy
To be eligible for a tourist visa for Nigeria, a minor traveler must provide the following additional documents:
A copy of a birth certificate with parents' names
Copies of parents' passports with personal biodata
Signed and notarized letter of approval from the parents
How Much Does the Tourist Visa to Nigeria Cost?
To obtain the Nigeria Tourist Visa, you must pay the visa cost and processing fees and present the receipts to the Nigeria Immigration Service. Refer to the table below for the details:
| Type of Service | Fee |
| --- | --- |
| Visa cost | $160 |
| Processing fee | $30 |
Note that the price is the same for single-entry and multi-entry visas.
What Is the Nigeria COVID-19 Travel Policy?
After visa approval, Nigerian authorities require their visitors to prove they aren't COVID-19 carriers.
You must provide a negative COVID-19 PCR or serology test administered 72 hours before your arrival. You must:
In case you don't follow the procedure and arrive in Nigeria without valid proof, the authorities will send you to quarantine for a prolonged time. Note that children under ten don't have to provide a negative test.
How Can DoNotPay Assist Me With Visa Applications?
Researching the requirements for a tourist visa for Nigeria or any other country is a long and demanding process. Even navigating through the embassy or immigration office websites tends to be an arduous task.
To avoid inconveniences and problems, subscribe to DoNotPay and find out if you need a tourist visa in no time. In case you need a travel permit, we will help you figure out what documents you must prepare to apply.
We can even contact the appropriate embassy to confirm whether you can apply online. If yes, DoNotPay will get back to you with the application link. If not, you will receive a PDF version of the form you can print and fill out.
To avoid searching for scattered visa information online and enjoy our efficient service:
Access DoNotPay and select Tourist Visa Guide
Confirm you hold a valid U.S. passport
Choose the destination country
After taking these simple steps, you will get all the info in the blink of an eye.
Do You Plan To Visit Other Countries During Your Trip?
If you want to explore other African travel gems, refer to the following table to learn about visa policies of other countries on the continent.
Use DoNotPay To Deal With a Plethora of Bureaucratic Tasks!
Tired of dealing with bureaucracy? We understand the struggle, and that is why our app makes handling administrative tasks a breeze!
Regardless of whether you need to compose a legal document, such as a power of attorney or a child travel consent form, appeal property taxes or your parking tickets, file a financial aid appeal and a FOIA request, or get a document notarized, DoNotPay has got you covered!
In case you also need to submit anonymous HR complaints, our app will provide you with the easiest way to do so!
Go on a Stress-Free Shopping Spree With DoNotPay
Do you like to shop until you drop? With DoNotPay, you won't have to worry about dropping! We'll make sure you can:
If you need more money to continue your shopping spree, let our app help you find any unclaimed funds under your name and enter numerous giveaways and sweepstakes!