Nice Trademark Classes—Explained by DoNotPay
Registering a trademark is important if you want to ensure that your brand's reputation is protected from potential infringers trying to steal your business name, logo, slogan, and similar.
But before you begin with the registration process, you must get familiarized with Nice trademark classes.
DoNotPay will break down the Nice agreement, provide all the info on trademark classes, and assist you in registering a trademark!
Do You Have To Register a Trademark?
While getting a trademark is not required in the U.S, registering one can help potential customers differentiate your products from those of your competitors.
When filing a trademark application, you must identify in which Nice trademark class your goods or services belong to and register and protect your mark accordingly.
The Nice Agreement Explained
The Nice Agreement, established in 1957, proposes an international classification of goods and services with the purpose of making trademark registration easier. The agreement is updated every five years, and the current version groups products into 45 trademark classes split into two categories:
Trademark Classes for Goods (34 classes)
Trademark Classes for Services (11 classes)
The United States Patent and Trademark Office (USPTO) also uses this classification.
While you cannot register a trademark that is already in use under the same class, you can register the same trademark under a different class. For example, Finlandia (a name registered by two companies) is in two different classes:
Class 32—Alcoholic beverages
Class 29—Cheese
What Are Nice Trademark Headings?
Nice trademark headings are the official names of the classes.
What Are Trademark Classes for Goods?
The classes you can choose for your goods are:
Class 1—Chemicals
Class 2—Paint
Class 3—Cosmetics and cleaning preparations
Class 4—Lubricants and fuel
Class 5—Pharmaceuticals
Class 6—Metal goods
Class 7—Machinery
Class 8—Hand tools
Class 9—Electrical and scientific apparatus
Class 10—Medical apparatus
Class 11—Environmental control apparatus
Class 12—Vehicles
Class 13—Firearms
Class 14—Jewelry
Class 15—Musical instruments
Class 16—Paper goods and printed matter
Class 17—Rubber goods
Class 18—Leather goods
Class 19—Nonmetallic building materials
Class 20—Furniture and articles not otherwise classified
Class 21—Housewares and glass
Class 22—Cordage and fibers
Class 23—Yarns and threads
Class 24—Fabrics
Class 25—Clothing
Class 26—Fancy goods
Class 27—Floor coverings
Class 28—Toys and sporting goods
Class 29—Meats and processed foods
Class 30—Staple foods
Class 31—Natural agricultural products
Class 32—Light beverages
Class 33—Wine and spirits
Class 34—Smokers' articles
What Are Trademark Classes for Services?
If your business offers services, the trademark classes you should look into are:
Class 35—Advertising and business
Class 36—Insurance, financial, monetary, and banking services
Class 37—Building construction and repair
Class 38—Telecommunications
Class 39—Transportation and storage
Class 40—Treatment of materials
Class 41—Education and entertainment
Class 42—Computer and scientific services
Class 43—Hotels and restaurants
Class 44—Medical, beauty, and agricultural services
Class 45—Personal and social services
How To Register a Trademark
Once you have determined which class is the most suitable for your goods or services, you need to follow the next steps to register your trademark:
Step
Details
Perform a clearance search
You need to see whether your desired trademark is already in use under the same class. To do this, you can search the USPTO database
Fill out the application form
Completing the application form will require you to provide the following information:

Your contact info and address
The description of your trademark
List of goods and services you provide
The trademark class you wish to register the trademark under

Pay the filing fee
The fee you have to pay depends on the filing option you choose. You can decide between:

TEAS Plus—To register for TEAS Plus, you need to pay $250, and you can only choose goods and services identifications that have been approved by the USPTO
TEAS Standard—If you choose TEAS Standard, you can include a personalized description of your trademark. This option costs $350
The registration process usually takes between 12 and 18 months to be completed. Filling out the application incorrectly or forgetting to include key details can prolong the process.
If you want to ensure that your trademark registration gets approved as fast as possible, ! We will fill out the form for you and ensure that it is error-free so that your registration goes smoothly.
Trademark Registration Is Easy and Simple With DoNotPay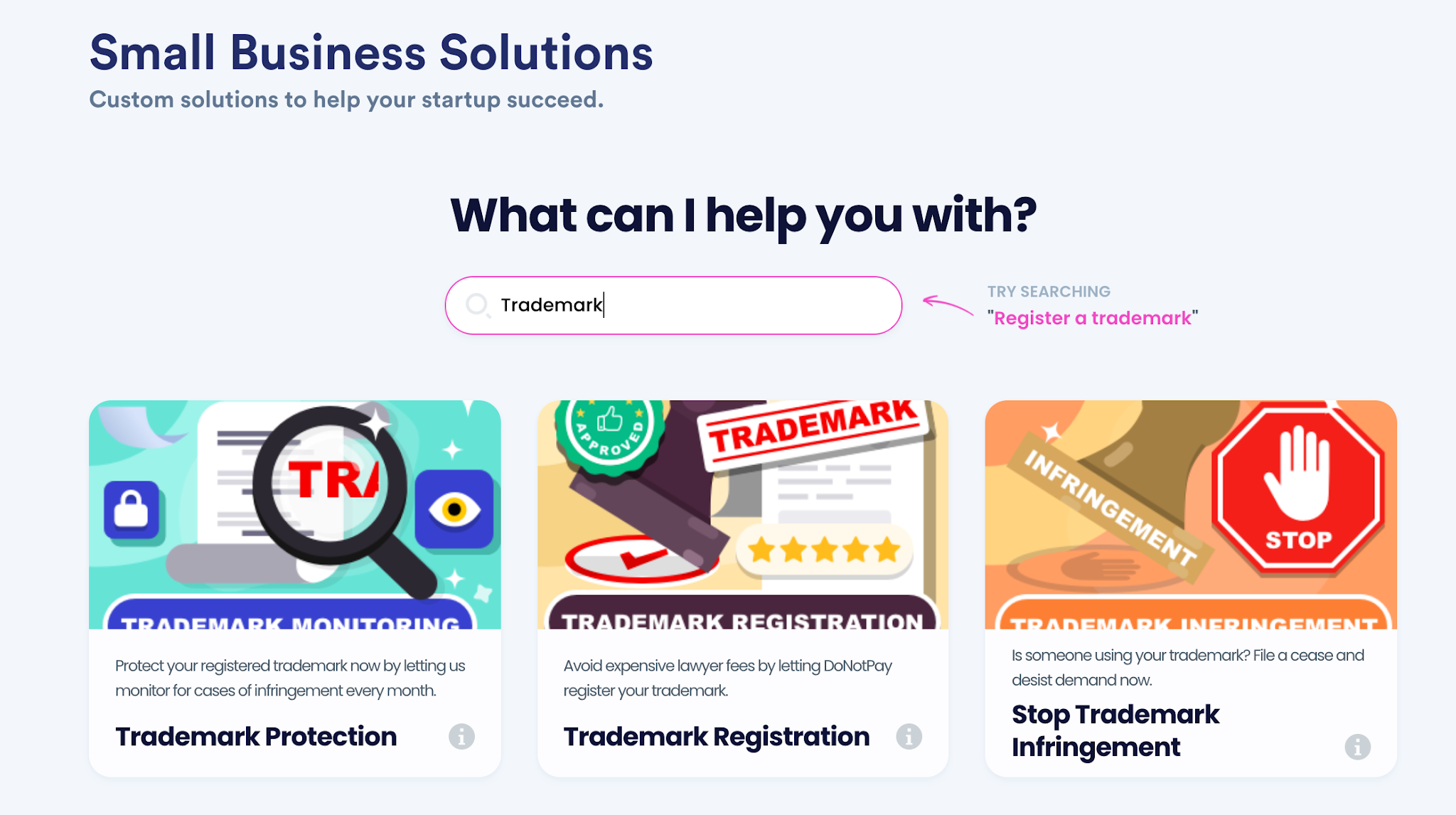 Don't want to go through the hassle of completing the trademark registration process by yourself? DoNotPay can help! Our AI-powered app will do all the work for you, including:
Doing a clearance search
Completing the form
Forwarding the application to the USPTO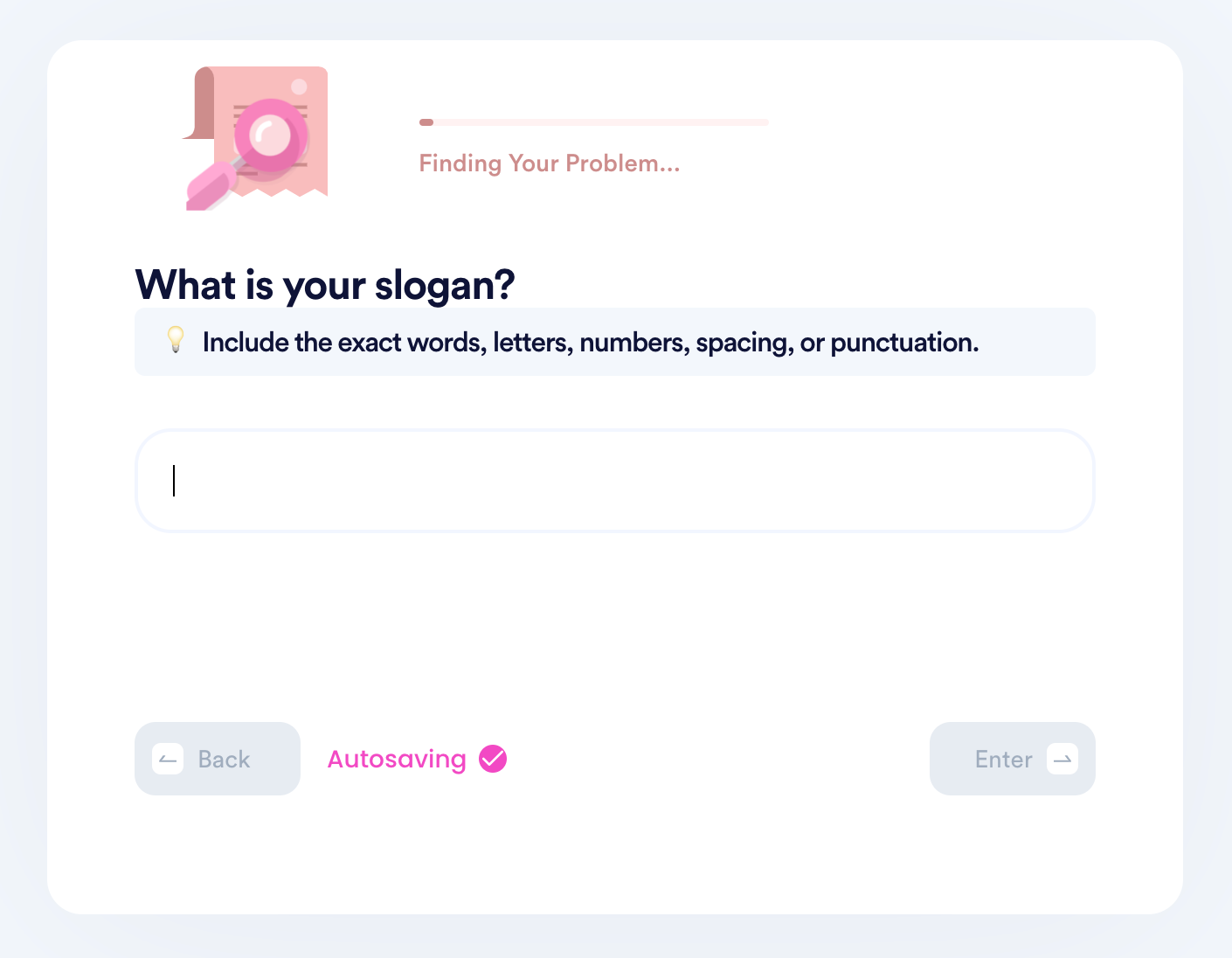 If you , registering a trademark will only require you to:
Locate our Trademark Registration tool
Answer our chatbot's questions regarding your trademark
Pay the required filing fee
We will process your request in no time and send you a tracking number so you can be aware of your application's status at all times.
How Long Does a Trademark Last?
Unlike copyright protection, which lasts as long as the author is alive plus an additional 70 years, trademarks last only ten years. You can renew your trademark if it is still being used between the fifth and the sixth year of being registered.
Resolve Various Business Problems With the Help of DoNotPay
Handling annoying administrative issues is the last thing you want to worry about while trying to build a business empire. The good news is that you do not have to! DoNotPay has developed many nifty products that make various pesky tasks easy to complete.
Some of the small-business-related matters we can help you with are:
Taking out business loans
Obtaining an Employer Identification Number (EIN)
Automating the filing of 83(b) election forms
Requesting your money from customers who won't pay
Registering a DMCA agent
DoNotPay can also make communication with your clients or business partners easier as we enable you to fax and mail your letters, forms, and other important documents without leaving your office.
Maintain a Good Business Reputation
It is no secret that building a trusting relationship with clients takes time and effort, so why have all that hard work ruined by negative online reviews that are fake? DoNotPay is here to help you remove illegitimate, fake reviews in a matter of clicks!
Want to dispute unfair chargeback requests but are not sure how to go about it? By using our Fight Chargebacks feature, you can have DoNotPay create a customized chargeback rebuttal document in a few minutes.
With our app, you can also protect your trademark from people trying to use it, file the self-certification request with the Privacy Shield program, and handle many other aspects of your business hassle-free!