Do You Need a Nicaragua Tourist Visa as a U.S. Traveler?
If you are hoping to visit Nicaragua soon, you should do your best to find updated information about the entry requirements. The immigration officials at the airport may refuse to let you pass even in the case of the smallest mistake or a missed piece of paperwork.
In this article, we solve the mystery of Nicaragua tourist visa—whether you need it, for how long you can stay in the country as a U.S. citizen, and much more. Filing a visa request has never been easier with DoNotPay—the world's first robot lawyer—and we will show you how to do it quickly and efficiently!
Is a Nicaragua Visa Necessary for U.S. Tourists?
Nicaragua forms part of the Central America Border Control Agreement (CA-4) along with Guatemala, Honduras, and El Salvador. According to the rules of this agreement, you can travel to one or all these countries and stay for up to three months without a tourist visa. Even though you don't need a visa to visit Nicaragua, you must purchase a tourist card for $10.00 once you arrive at the airport. If you don't leave the country before your 90-day stay period expires, you may be subject to fines.
Besides the tourist card, you must have:
Valid travel document
One empty visa page for the stamp
Onward or return airplane ticket to Nicaragua
Evidence of available financial assets
Proof of Yellow Fever immunization issued at least ten days before the trip
$42 departure tax, which can sometimes be included in your airplane ticket price
What Can I Do if I Want To Stay in Nicaragua for More Than 90 Days?
Three months may not be enough to visit all the lovely places in Nicaragua, which is why you can request an extension of 30 to 90 days from Nicaraguan Immigration. To do so, you must prepare:
Completed extension of the stay request form—can be found in the Immigration Office
Passport whose remaining validity exceeds your stay in Nicaragua for at least six months
Nicaraguan entry or exit stamp issued by the immigration officials upon your entry into the country
$25 for each additional month of stay (a maximum of $75)
All the paperwork and proof of payment must be submitted before the initial three-month stay period ends.
How Can I Contact a Suitable Nicaraguan Embassy or Consulate in the USA?
The United States has one Nicaraguan embassy and five consulates. Whether you want to inquire about any other type of visa or check the updated requirements, you can contact one of these authorities for clarifications. Check out the locations and contact details in the following table:
| Authority | Phone Number |
| --- | --- |
| Embassy of Nicaragua in Washington, DC | (202) 939-6570 |
| Consulate General of Nicaragua in Houston, TX | (713) 789-2762 |
| Consulate General of Nicaragua in Los Angeles, CA | (213) 252-1170 |
| Consulate General of Nicaragua in Miami, FL | (305) 265-1934 |
| Consulate General of Nicaragua in New York City, NY | (212) 983-2446 |
| Consulate General of Nicaragua in San Francisco, CA | (415) 765-6821 |
How Did COVID-19 Affect the Entry Requirements in Nicaragua?
Like all other countries affected by the COVID-19 pandemic, Nicaragua has implemented some entry rules for foreign citizens. Refer to the table below for additional information about the current restrictions and requirements:
| Criteria | Yes/No |
| --- | --- |
| Is a negative COVID-19 PCR or antigen test mandatory? | Yes |
| Can a vaccination certificate be provided instead of a negative COVID-19 test? | Yes |
| Do you have to undergo a health screening procedure upon arrival? | Yes |
| Is there a curfew in Nicaragua you should adhere to? | No |
| Do you have to quarantine upon arrival in Nicaragua? | No |
| Are there any intercity or interstate travel restrictions in the country? | No |
| Are public transport and commercial flights operating regularly? | Yes |
Quick and Easy Visa Applications Are Possible With DoNotPay
Are you looking for the easiest way to find the most accurate information and apply for a tourist visa without any hassle? If yes, DoNotPay has got you covered! By using AI technology, our app will help you prepare all you need for your visa request, including:
Documents required for your application
Suitable online and printable application forms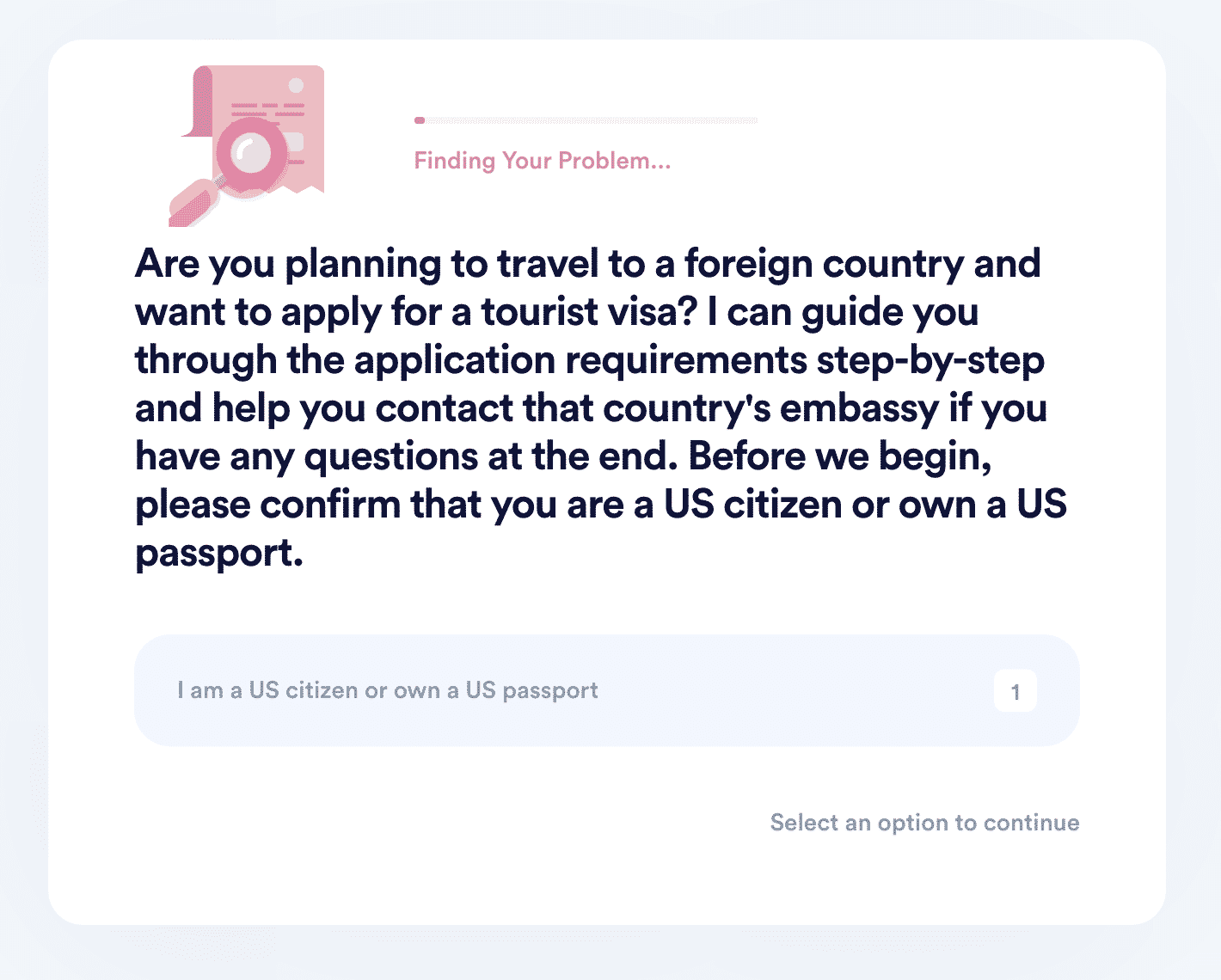 We can also reach out to your local embassy to check if it accepts email applications. If it does, you won't need to spend money on fuel or travel to the nearest visa-issuing authority. You can send a request from the comfort of your home and wait for your trip stress-free!
To use DoNotPay's help, follow the instructions below:
Visit DoNotPay and sign in to your account
Enter Tourist Visa Guide in the search box
Click on I Am a U.S. Citizen or Own a U.S. Passport
Select the desired destination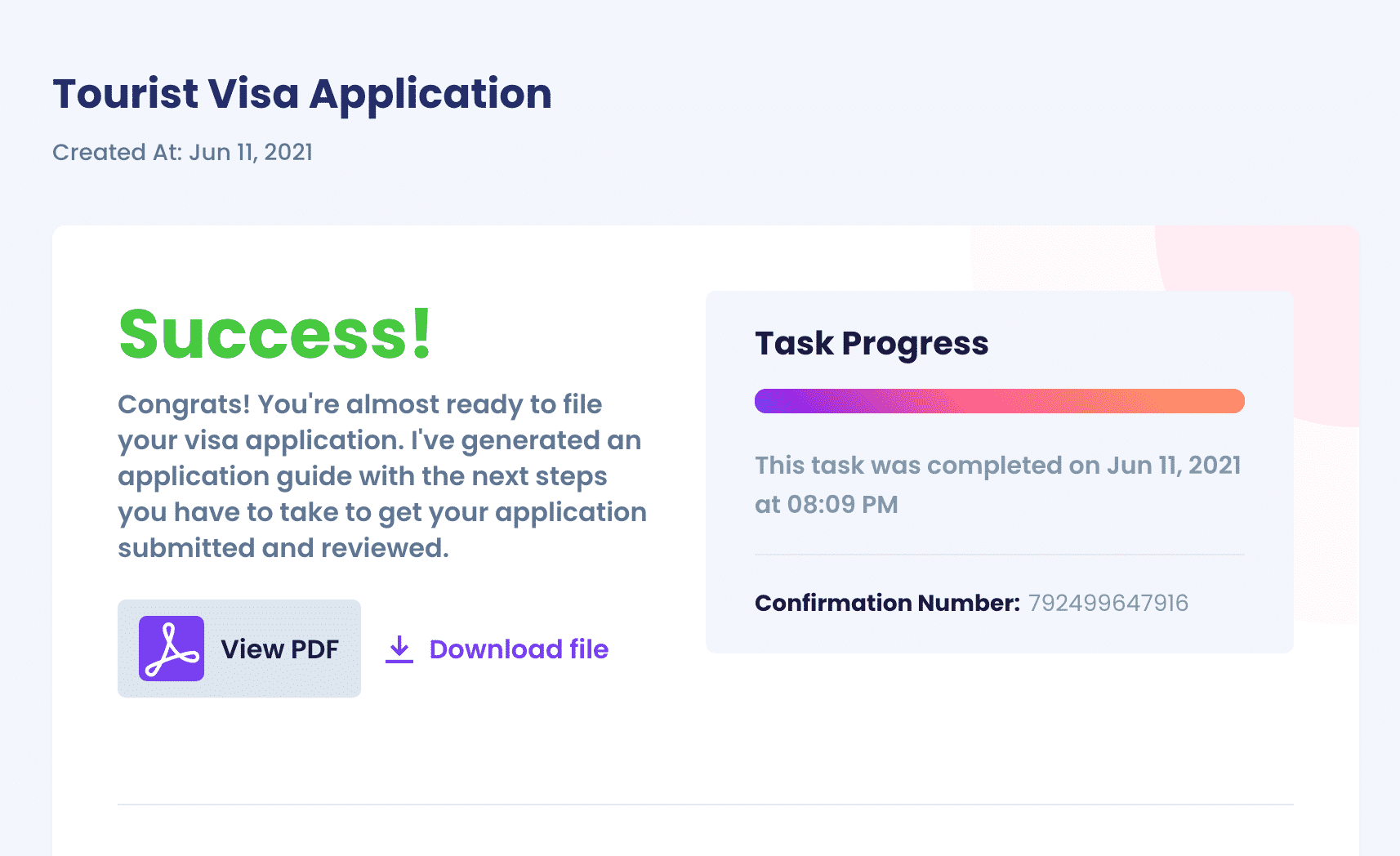 DoNotPay Helps You Get Tourist Visas for Any Country
North and Central America have much more to offer to U.S. travelers! You can use DoNotPay and its Tourist Visa Guide feature to simplify future visa applications for countries such as:
Choose From a Variety of DoNotPay's Amazing Tools
Did you manage to solve the issue with our app? If the answer is yes, you may also be interested in checking out other interesting features we offer. DoNotPay can help you:
| Get Rid of Spammers By | Deal With Uncooperative Merchants By | Get Help With Your Studies By |
| --- | --- | --- |
| | | |
Let DoNotPay Prepare Important Documents for You
Are you having a hard time drawing up a contract due to insufficient legal expertise? Say goodbye to failed drafts—DoNotPay can generate divorce settlement agreements, powers of attorney, child travel consent forms, and many other legal documents in under five minutes!
We will also help you create anonymous HR complaints and demand letters for your neighbors if you are experiencing any issues with them.