NH Property Tax Relief
—How Does It Work?
Property taxes are not a pleasant yearly expense, so any chance to lower your tax bill should be taken. The NH property tax relief program is one of the ways to get help with paying property taxes. People of New Hampshire can use DoNotPay to learn about property tax exemptions available in this state.
Low and Moderate Income Homeowners Property Tax Relief in NH
The Low and Moderate Income Homeowners Property Tax Relief program exists to help reduce the burden of the state education property tax for certain homeowners. This program is available for:
Individuals who are single and have a gross income of $20,000 or less

Heads of the NH household with an income of $40,000 or less

People who are married with an adjusted gross income that does not exceed $40,000

Owners of a homestead subject to the State Education Property Tax

Residents of the property on April 1st of the year when they want to apply
It usually takes up to 120 days to process the application for the Low and Moderate Income Homeowners Property Tax Relief program.
Lower Your Taxes With New Hampshire Property Tax Exemptions
If you live in New Hampshire, you should also take a look at the property tax exemptions available in the Granite State. This way of lowering the tax bill is focused on people who struggle financially or have some disability. Check out the table below to get more information:
Property Tax Exemption
NH Residents Can Apply if They:
Elderly Exemption

Are 65 or older

Have resided in New Hampshire for the past three years in a row

Own or co-own the dwelling

Have a yearly income of $34,000 (single persons) or $47,200 (couples)

Exemption for the Blind

Have a confirmation from the Blind Services Program, Bureau of Vocational Rehabilitation, or Department of Education that they are legally blind

Exemption for Deaf or Severely Hearing Impaired Persons

Lived in NH for at least five consecutive years before April 1st in the year in which the exemption is claimed

Have an income of less than $13,400 (single) or $20,400 for (married)

Exemption for Home Improvements To Help People With Disabilities

Use special equipment for mobility because of their disability

Live in the property as their main residence

Exemption for the Disabled

Have been declared to be disabled under the federal Social Security Act

Have been an NH resident for at least five years
Not Sure if You Are Eligible for Property Tax Exemptions in NH? DoNotPay Can Tell You!
If finding out whether you meet the requirements for property tax exemptions in NH is too tiring, you can ask DoNotPay for help. Our app will do the work for you and leave you with a clear and concise answer. 
To learn if you are eligible for property tax exemptions, you only need to:
Sign up for DoNotPay

in any web browser

Locate and choose the

Property Tax

product

Provide some personal information

Inform us about the home you reside in
In case you have the right to apply for the property tax exemption in New Hampshire, DoNotPay will provide you with helpful instructions.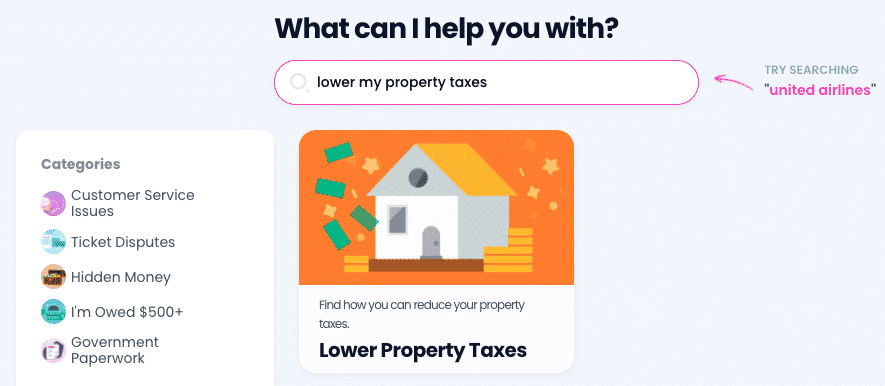 Property Taxes in Other U.S. States
If a thought of moving to another state has ever crossed your mind, you should inform yourself about property tax rates in that area. DoNotPay has all the information about states with low property taxes. 
You can check the best options in the table below:
What Else Can You Do To Reduce Property Tax?
If moving away from New Hampshire is not on your list, you should consider lowering your taxes in one of the following ways:
Filing

property tax appeals

Avoiding home renovations

Following the property tax assessor in your home

Checking the tax bill for errors
Filing Property Tax Appeals To Lower Your Taxes
If you want to appeal your past property tax assessments, you should use DoNotPay to help you deal with the task. You'll find all the info you might need about tax assessor negotiations in our Lower Property Taxes product.
Avoiding Home Renovations To Lower Your Taxes
In case you plan on renovating your property, it is best to wait until the property tax assessment is made. Any improvement to the home ensures the growth of the property tax value and thus of your tax bill.
Following the Property Tax Assessor in Your Home To Reduce Your Taxes
You should go around the house with the property tax assessor while they are evaluating the property. This action will help you see if they are doing their job properly, and you might prevent a mistake on your tax bill.
Inspect the Tax Bill To Lower Your Taxes
If you weren't present while the tax assessor made the assessment of your home and find your tax bill suspicious, you should check it in detail. It is possible that a mistake got through. If that is the case, let your local property tax authorities know and solve the issue.
DoNotPay Is the Champion of Customer Advocacy
If you've never experienced an issue with a purchased item, you should consider yourself extremely lucky. When shopping goes wrong, you usually have to brace yourself for unpleasant and annoying exchanges with customer support centers. 
DoNotPay is here to make exercising your consumer rights easy. Long holds when calling customer service reps and incessant marketing spam emails can stay in the past. We will help you avoid irritating text messages from online retailers by teaching you how to bypass phone verification when signing up. 
Ask for refunds, claim warranties, fix credit card issues, or sue retailers in small claims court—these are just some of the services our platform provides. 
With DoNotPay, you can start free trials for new services risk-free. If you want to get out existing subscriptions, canceling them has never been easier!
Wait, There's More!
Our full portfolio includes features as diverse as contacting inmates and requesting college application fee waivers for students from low-income families. 
If you have a problem with bureaucracy, the chances are DoNotPay knows how to fix it with your minimal involvement. 
Leave the grunt work and unnecessary expenses behind. We will help you pass various government tests with flying colors, find unclaimed money in all states, or get out of parking tickets before you know it!